Wednesday, Jul 5, 2023
Felecia Watson is the recipient of the AICPA Scholarship for Minority Accounting Students
by Adam Grybowski
Image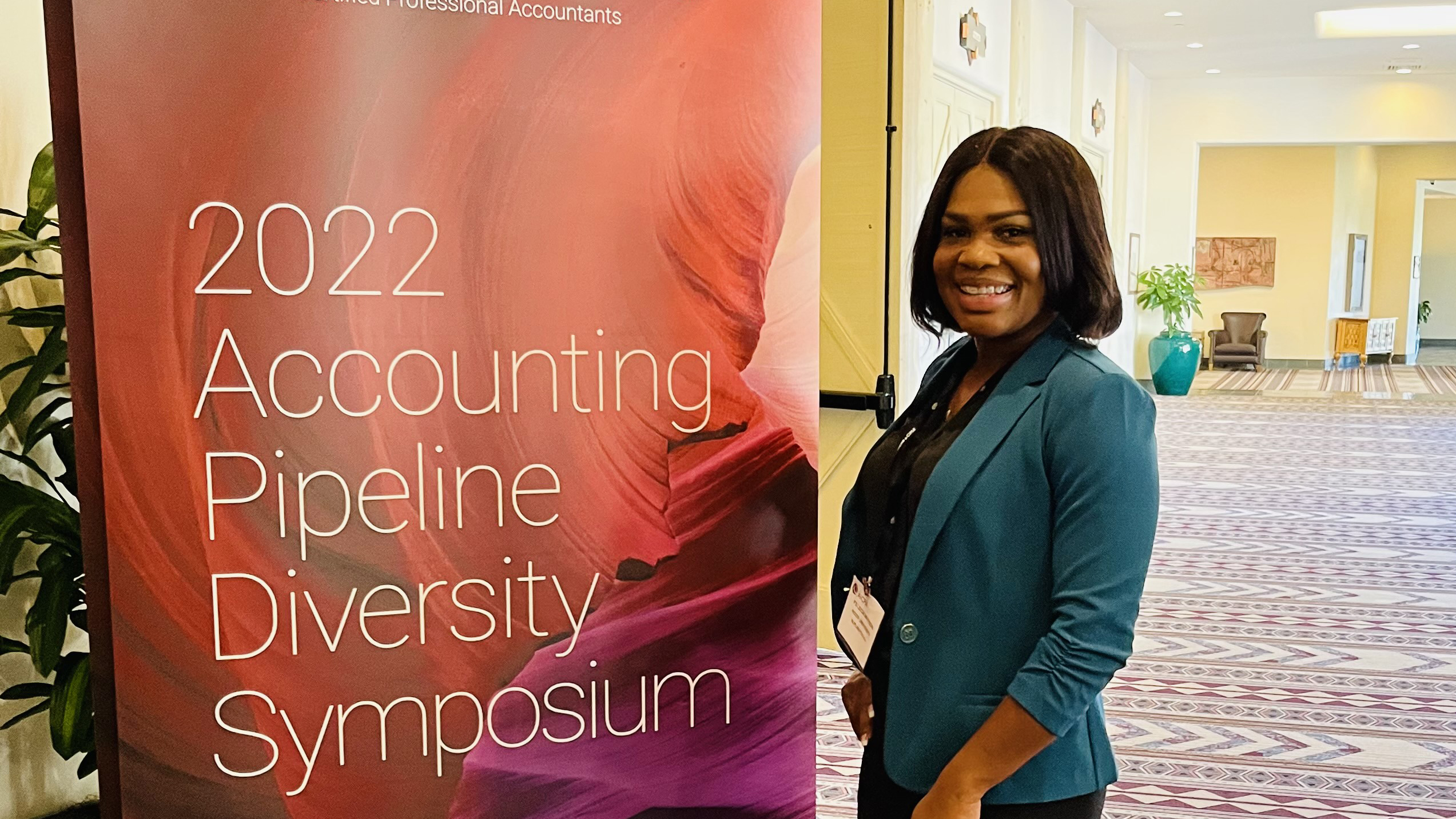 Felecia Watson, a Rider University senior majoring in accounting, received a $5,000 scholarship award this spring from a national professional organization for certified public accountants. 
Through its Scholarship for Minority Accounting Students, the American Institute of CPAs (AICPA) provides awards to outstanding full-time undergraduate students from underrepresented racial groups at regionally accredited institutions. The scholarship is meant to encourage their selection of accounting as a major, entry into the profession and ultimately achieving the CPA designation.
For Watson, who is the vice president of Rider's chapter of Beta Alpha Psi, an honor organization for accounting, finance and information technology students and professionals, receiving the scholarship represents more than financial assistance. She feels both validated and encouraged to continue the pursuit of her career aspirations. 
"As an aspiring certified public accountant, I'm driven to make a positive impact in the world of accounting and contribute to the growth and success of businesses and individuals," she says. "This scholarship empowers me to further my education, gain specialized knowledge and develop the skills necessary to excel in the accounting profession."
I'm driven to make a positive impact in the world of accounting."
The AICPA Scholarship Award for Minority Accounting Students was created in 1969 with the purpose of increasing representation of ethnically diverse CPA professionals. Notable disparities remain present in the accounting field. A 2019 report published by the Association of International Certified Public Accountants found that of all CPAs, a mere 2% are Black, and only 1% of partners at CPA firms are African American.
Rider has long worked to increase diversity and inclusion in the accounting profession. In 2011, Dr. Evelyn McDowell, an associate professor and chair of Rider's Department of Accounting, which is one of only 2% of programs worldwide with accreditation from the AACSB International, co-founded the University's Aspiring Accounting Professionals program. The program helps to create a pipeline to help underrepresented students graduate and gain entry into the accounting field. The program has graduated more than 120 students. 
The AICPA has supported accounting students for more than 130 years. The AICPA Foundation awards more than $1 million in scholarships, grants and fellowships to hundreds of students each year, with recipients receiving on average $5,000 toward their education.