Wednesday, Oct 5, 2022
Reynolds-Jackson represents the 15th Legislative District in the New Jersey General Assembly
by Adam Grybowski
Image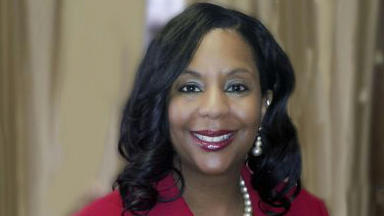 Rider University will welcome Assemblywoman Verlina Reynolds-Jackson as the keynote speaker for Rider's Unity Day on Oct. 11 at 6:30 p.m. in the Bart Luedeke Center's Cavalla Room.
"An Evening with Assemblywoman Verlina Reynolds-Jackson," which is co-sponsored by the Rebovich Institute for New Jersey Politics at Rider University and Rider's multicultural studies program, will feature a conversation between Reynolds-Jackson and Micah Rasmussen, the director of the Rebovich Institute, and Dr. Victor Thompson, an associate professor and chair of Rider's Department of Sociology and Criminology, followed by a Q&A with attendees.
Reynolds-Jackson, a Democrat, has represented the 15th Legislative District in the New Jersey General Assembly since 2018. The 15th District includes Trenton, Lawrence, West Windsor, Hopewell and Ewing, among other townships and boroughs. She was the deputy majority leader from 2020-21 and is currently the outreach chair.
She recently sponsored legislation alongside state Sen. Shirley Turner meant to ensure elections in New Jersey remain fair and secure by expanding the right to vote, prohibiting deceptive practices and making electronic interference a misdemeanor crime. In 2020, she was one of six primary sponsors for a bill that requires school districts to include instruction on diversity and inclusion as part of implementation of New Jersey Student Learning Standards. Gov. Phil Murphy signed the bill in March 2021.
"Assemblywoman Reynolds-Jackson has been central to legislation that is not only important to New Jersey but part of our larger national conversation," says Rasmusen. "We look forward to hearing more about her views on why she believes these are important issues for her constituents." 
Unity Day is meant to unite students, faculty, staff and the greater Rider community through events that celebrate the diverse elements of the University. It also raises awareness and provides education on social justice issues of the past and how they have been overcome. A full schedule of events is available at rider.edu/unityday. 
Reynolds-Jackson earned a bachelor's degree in sociology from The College of New Jersey and a master's degree in administration from Central Michigan University. She is also a certified municipal finance officer, a designation she received from Rutgers. Before being elected to the General Assembly, she served on the Trenton City Council from 2010-18.
The Rebovich Institute for New Jersey Politics is dedicated to public service and scholarly analysis of government, public policy, campaigns and elections in New Jersey. It was founded in 2001 by the late Professor David Rebovich (1949–2007). Today, the Rebovich Institute is a dynamic and creative home where students can network, study and gain practical experience in New Jersey politics.
"An Evening with Assemblywoman Verlina Reynolds-Jackson" is free and open to the public.