Thursday, Nov 2, 2023
Reception honored the office's role in benefiting student success and retention
by Diane Cornell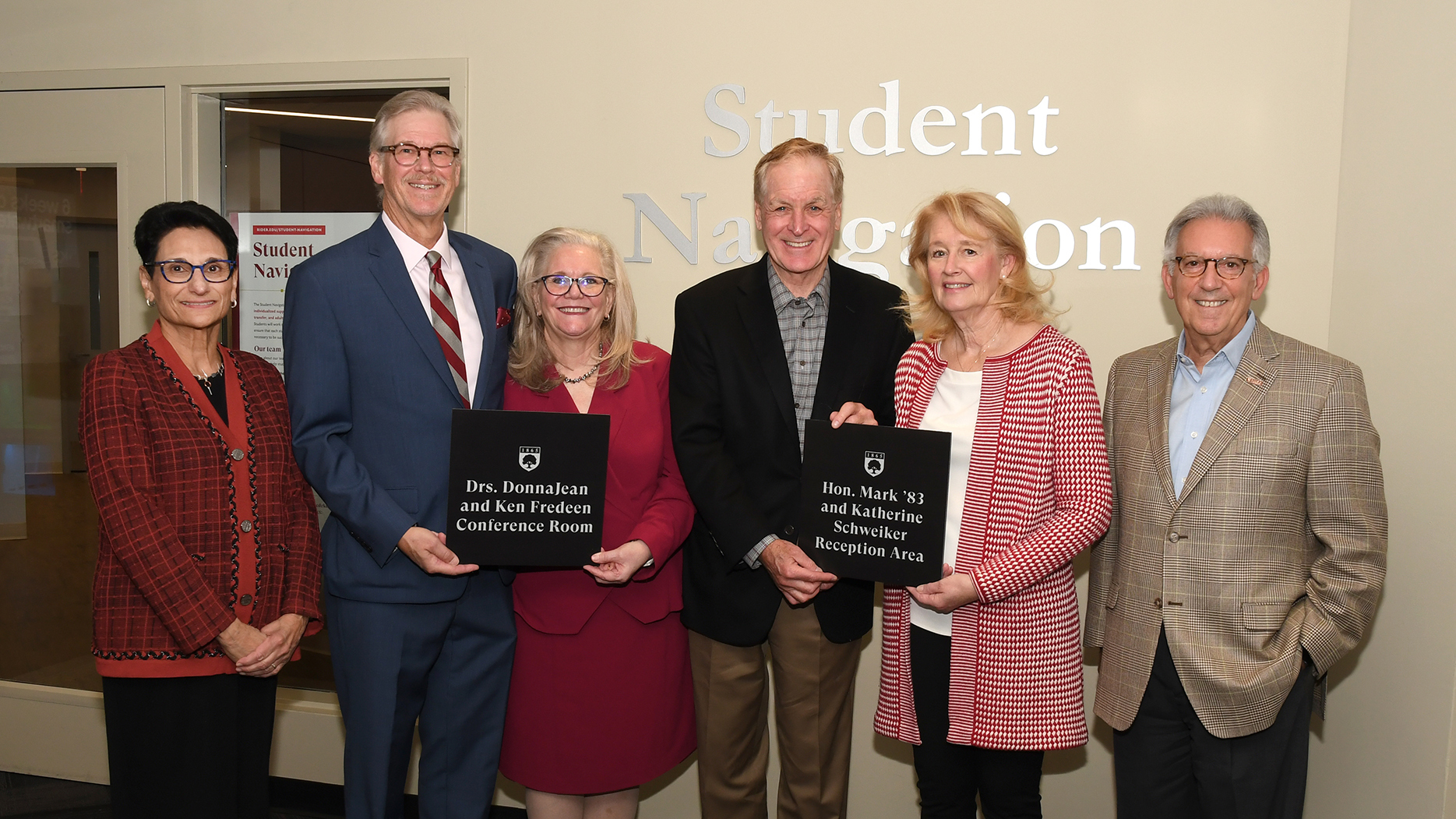 Rider University dedicated two spaces in the Student Navigation Office on Oct. 25, celebrating the office's role in helping students transition to campus life.
The University named the reception area for former Pennsylvania Governor and current University Trustee Hon. Mark Schweiker '83 and his wife, Katherine Schweiker. Rider also named the Student Navigation Office conference room for Provost and Senior Vice President for Academic and Student Affairs Dr. DonnaJean Fredeen and her husband, Dr. Ken Fredeen. The spaces were dedicated in honor of the Schweikers' and Fredeens' support of Rider's largest fundraising campaign Transforming Students - Transforming Lives.
The Student Navigation Office assists first-year and transfer students, ensuring they have all the resources they need to be successful in their first year on campus and beyond by connecting students to appropriate resources for academic, social and professional development. 
Dr. Cynthia Martinez, an assistant professor of Spanish and Latinx studies says she sees the many ways the office benefits both students and faculty. "I've seen direct evidence of the office helping students work through issues that we might expect, like making an action plan to improve academic performance or helping them choose their courses.
"I've also seen more ways the office has supported students through issues that we may not expect," she says, such as helping students feel more at home in their classes and on campus; advocating for students in academic and extracurricular contexts; and supporting students through complex and precarious financial questions.
It is part of what Rider does best – supporting students so they have every chance of success."
Sophomore Sarah Rose Sammarone, an elementary education and psychology double major, says she has appreciated how staff at the Student Navigation Office "not only talked about the expectations for classes I was taking, but they also genuinely wanted to know about my life goals and to get to know me on a personal level, which made me feel accepted."
Students are assigned a faculty adviser as well as a navigation coach. "This pair then work together to track students' academic progress, assist them with course selection and introduce them to our Engaged Learning Program," says Student Navigation Office Director Cristian Vergara.
The Student Navigation Office is currently supporting a total of 722 students, 605 freshmen and 117 transfer students. The University has seen its student retention rate steadily increase since the office first opened in the fall of 2020. Last year, Rider's retention rate rose nearly four points to 80.6%, one of the highest rates the University has ever seen. 
"My husband and I are honored to have our names associated with a place that provides guidance to students, helping them pursue their dreams of an education and their goal of a fulfilling career," says Dr. DonnaJean Fredeen. "It is part of what Rider does best – supporting students so they have every chance of success."
Dr. DonnaJean Fredeen has served as Rider's provost since 2013. Mark Schweiker earned a master's in management from Rider and was awarded an honorary Doctor of Laws from Rider in 2004. He currently serves as the senior vice president and corporate development officer of Renmatix, Inc., a sustainable alternatives company making clean bioproducts for food ingredients, personal care and other select industrial applications.