Saturday, May 13, 2023
More than 1,200 students earned their bachelor's, master's and doctorate degrees
by Rachel Stengel '14, '20
Image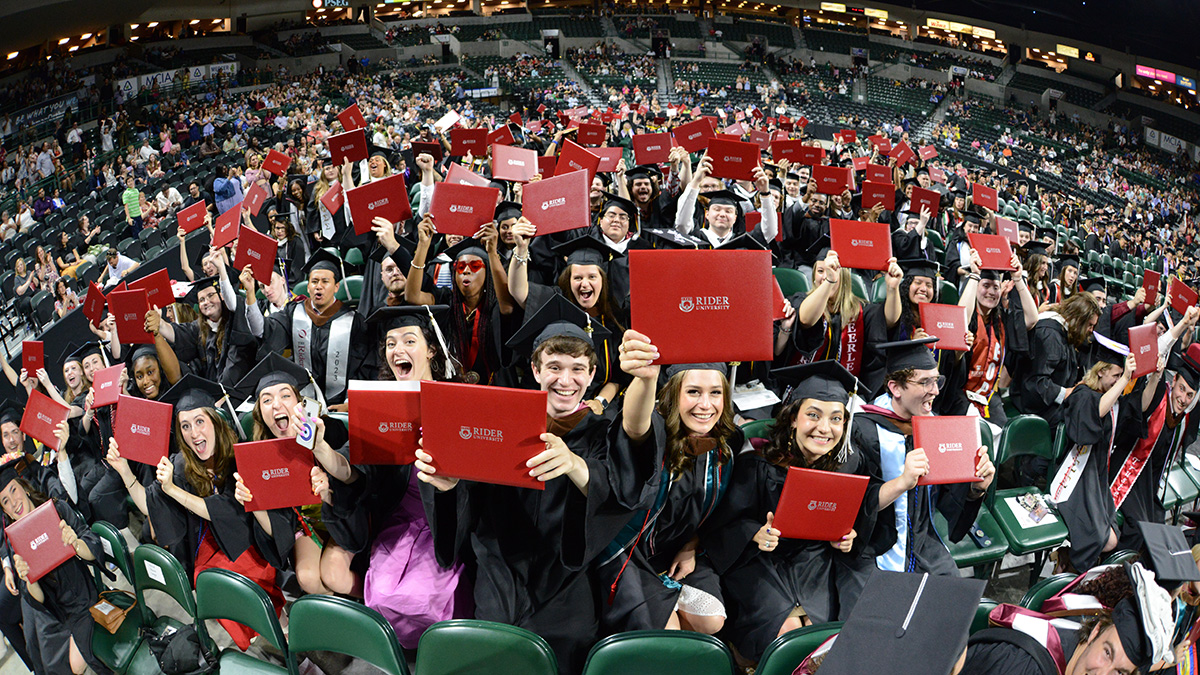 Rider University celebrated the undergraduate and graduate Class of 2023 at the CURE Insurance Arena in Trenton on May 13. More than 1,200 students earned their degrees.

President Gregory G. Dell'Omo, Ph.D., applauded the graduates for their resilience during the COVID-19 pandemic and remembered all those who lost loved ones.

"You faced these circumstances with courage and overcame them with hope instead of despair, with faith instead of doubt," he said. "Everyone with us today shares that hope and faith in your future."

Lewis Schiff received an honorary Doctor of Business. He is the chairman of the Board of Experts for Birthing of Giants, a strategic planning program for owners of growing companies. He also serves as the executive director of Moonshots and Moneymakers, a week-long workshop at the University of Oxford for business leaders. Schiff has been a mentor to students in the course "Inside the Entrepreneurial Mind" and at the Moonshots and Moneymakers conference, where a select group of Rider students are able to attend the conference each summer.
"On one hand, we celebrate your huge accomplishments today. And, on the other hand, what comes next?" Schiff asked grads. He encouraged them to remember the lessons they learned during their time at Rider as "what got you here today will also get you through your future."

Senior biology major Sanjana Butala delivered the student speech. She reflected on her experience as a transfer student, nearly 8,000 miles away from her family, and urged graduates to stay optimistic and grateful in the face of uncertainty. Butala is headed to medical school and hopes to pursue a career as a plastic and reconstructive surgeon, focused on helping victims of domestic violence. 
"Life will always be uncertain," she says. "You can either grow or be comfortable." 

Members of the Class of 2023 are from 31 states and one U.S. territory with 75% of graduates calling the Garden State home. About 4% of the class are international students, hailing from 18 different countries, including Kuwait, Nigeria, Singapore and Venezuela. Approximately 38% of graduates are underrepresented students. Among graduate students, 35% earned their undergraduate degree from Rider as well. 
Honorary degree recipient Lewis Schiff

Sanjana Butala, student Commencement speaker