Beckett Village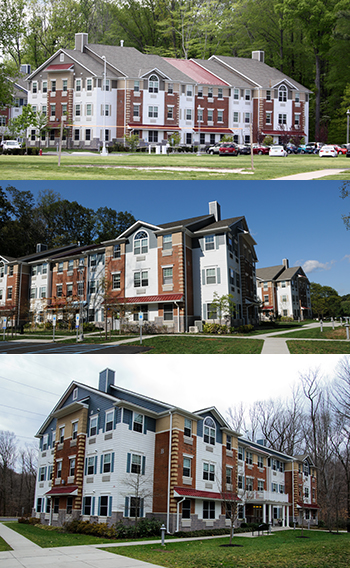 STEVEN R. BECKETT '74 AND SHARON MCDONALD-BECKETT VILLAGE
Built in 2009, Beckett Village is Rider University's first Green residence hall constructed to LEED Silver standards. LEED is an acronym for Leadership in Energy and Environmental Design, a program of the United States Green Building Council. In order to receive LEED certification, a building must be designed and built to exacting standards that improve indoor air quality, use energy efficiently, reduce waste, and encourage sustainable practices by residents and users.
The Beckett Village Apartments are the perfect marriage of sustainability and modern comfort. Right from the start, these apartments were destined to be green machines. A team of horses instead of gasoline burning machines was used to clear the wooded area at the beginning of construction. The wood cleared was then used to make furnishings throughout the landscape; benches, garden beds, and raised furniture were all made from the harvested lumber. Appliances within the buildings are all Energy-Star certified. This means that heaters, washers, dryers, refrigerators, and AC units use less energy than average. Storm water management, low-flow faucets, and native plantings around the grounds reduce the use of water. Low VOC paint and carpets were selected because they don't emit harmful odors or gasses over long periods of time. In order to cut down lighting costs, 90% of all interior spaces offer views to the outdoors and allow natural sunlight to illuminate rooms.
These are just some of the factors that make Beckett Village the most sustainable place to live on campus. Most people believe that going green means, "hugging trees and planting flowers" but the reality is that being Earth-friendly is as simple as using less water, energy, and natural resources. Beckett Village is able to provide all of the expected modern comforts, while still being able to keep a small ecological footprint. The bottom line is that you don't have to live in a tree or off the grid to be green- we just need to be conscious of the resources we use, and make sure that they'll be around for tomorrow.
Previous Stop: Office of Sustainability Management | Next Stop: Bees
---