Donor Recognition Societies
Rider University is committed to promoting a greater understanding of and involvement with the University among its constituencies. We vow to recognize our donors with expressions of appreciation, customer service, and stewardship. Our promise is to:
Acknowledge any and all contributions in a timely, accurate, and appropriate manner.
Recognize donors in meaningful ways that faithfully adhere to any stated wishes regarding anonymity and other levels of public disclosure.
Report to donors in a consistent and accurate manner on the use and impact of their financial contributions.
Rider University has many Gift Clubs, but many of our most generous donors are members of the President's Society of Donors, the university's most prestigious donor recognition organization, the Legacy Society, which recognizes those who give to the university through deferred gifts, or The 1865 Society which recognized those who contribute to the University for five or more consecutive years.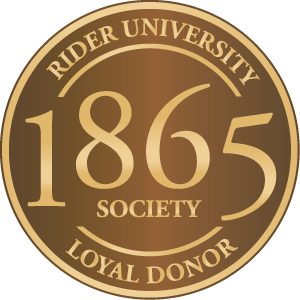 Recognizes the loyalty and dedication of our most committed donors whose annual gifts serve as the foundation for Rider's growth. Members of this group have made gifts for five or more consecutive years.
---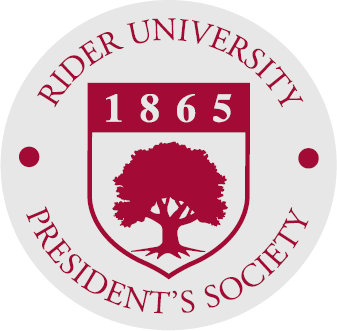 Gifts of $1,000 or more during a fiscal year (July 1 – June 30).
---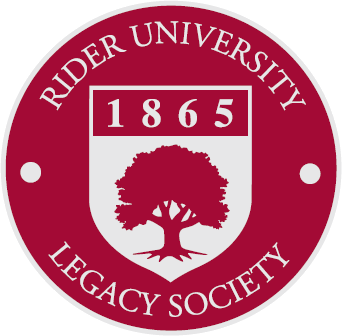 The Olsen and Westminster Legacy Societies were established to recognize, honor, and thank those who have created a provision in their wills or estate plans to benefit Rider University and Westminster Choir College, and who have informed the University of their commitment. These provisions include all planned gifts, such as gifts that provide life income payments to you (e.g., charitable trusts or gift annuities, bequests, and paid life insurance). Legacy donors may direct their gift to establish a named endowed scholarship fund at Rider, etching their family names in the history of Rider, forever.
---
Lawrenceville Campus Gift Clubs
| | |
| --- | --- |
| Circle of Excellence | $100,000 and over |
| Andrew J. Rider Society | $25,000 – $99,999 |
| Trustees' Society | $10,000 – $24,999 |
| Founders' Club | $5,000 – $9,999 |
| Franklin B. Moore Club | $2,500 – $4,999 |
| President's Club | $1,000 – $2,499 |
| Cranberry Club | $500-$999 |
| Bronc Club | $300-$499 |
| Century Club | $100-$299 |
| Contributors | Up to $99 |
Westminster Choir College Gift Clubs
| | |
| --- | --- |
| Circle of Excellence | $100,000 and over |
| Williamson Society | $25,000 – $99,999 |
| Trustees' Society | $10,000 – $24,999 |
| Maestro's Guild | $5,000 - $9,999 |
| Bristol Sponsors | $2,500 – $4,999 |
| Talbott Sponsors | $1,000 – $2,499 |
| Quadrangle Club | $500-$999 |
| Bravo Club | $300-$499 |
| Chorus of Support | $100-$299 |
| Contributors | Up to $99 |