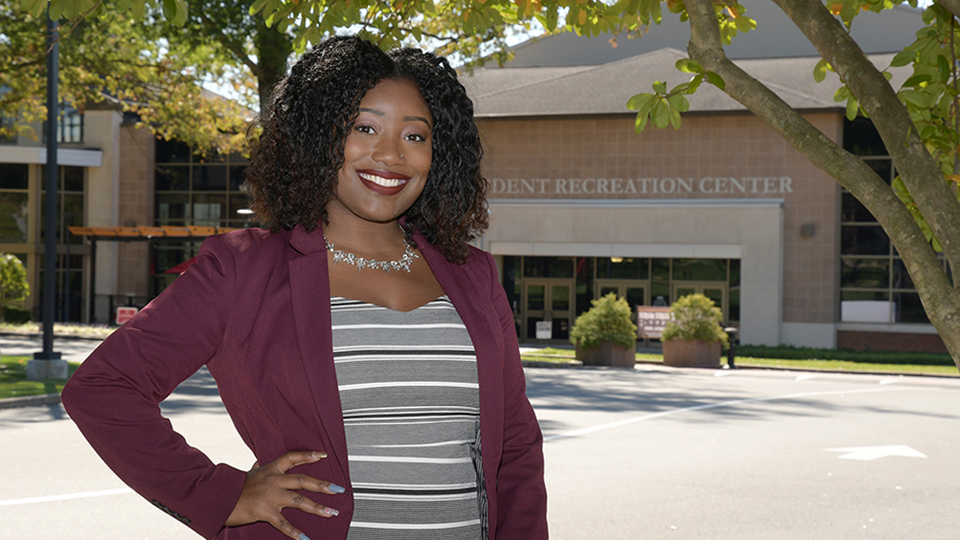 Talent Acquisition Coordinator at Dun & Bradstreet
Major: Master of Business Administration (MBA)
The Rider MBA program has been my steppingstone, giving me the foundation to, one day, start my own business.
Why Troi Chose Rider
Growing up in Newark, N.J., Troi always dreamed of becoming a lawyer. Her parents were involved in law enforcement, so she came by this naturally. Yet, while criminal justice was in her blood, she found her own unlikely passion in high school — baking — and her entrepreneurial spirit led her to pursue an undergraduate business degree focused on entrepreneurship and leadership, followed by an MBA at Rider.
She was introduced to Rider University at a Mid Atlantic Placement Conference during her senior year, where she met with residence life departments from colleges and universities up and down the east coast. Having been an undergraduate resident assistant (RA), she loved being involved with students and campus life. When Rider offered her a position as a community director in Residence Life, she knew it was her ticket to enroll in the Norm Brodsky College of Business. The challenge of being a full-time student and full-time employee was somewhat daunting, but Troi's drive to succeed was palpable and she went all in.
Rider's Impact on Troi's Career
Newly graduated at just 22, Troi was one of the youngest students in the MBA program amidst a cohort of seasoned professionals and older students who were looking to advance their careers and knowledge base. She embraced the diversity of age and culture, drawing on the experiences of fellow students through day-to-day projects and group work. Along the way, she learned that, even at her young age, she was respected and considered a valuable team player.
Troi found the Rider MBA program to be open and flexible, helping her focus on her unique interests. The program opened her eyes to her own adaptability as she learned to network and interact with students of different backgrounds. Encouraged by her advisor, Troi recognized that Rider had her best interests at heart, and she was able to connect the dots to create her own pathway in the program. A course in consulting with Dr. Ronald Cook, associate dean for graduate programs, professor of entrepreneurship and the founder of the Center for Entrepreneurial Studies, introduced her to the field of human resources where she could link her passion for people with the real world of business.
Continued Success
The unique combination of supervising a staff of 12 as a community director while completing the MBA program resulted in real-life skills transferable to the business world. Shortly after graduating, Troi landed a position at Dun & Bradstreet as a talent acquisition coordinator. In her position, she interfaces with high-level executives and is exposed to daily challenges unique to recruiting talented personnel. Most notable, she strives to be a sincere and ethical leader, determined to establish meaningful relationships which she believes to be the key to any business success. When not busy at work, Troi still enjoys baking for family gatherings and holidays and she remains resolute about opening her own business, a bakery establishment or restaurant, in the future.
Campus Leader
Troi lived on the Rider University campus and served as a community director in Hill Hall as well as a residence hall association advisor and Zeta Tau Alpha faculty/staff advisor.

8 + 4 = 12
While managing a full course load in the MBA program, Troi managed a staff of 12, akin to a small business within Residence Life, including eight community assistants and four office assistants.

Adaptable
At 22 years old and fresh from her undergraduate studies, Troi was among the youngest students in the MBA program amidst a group of seasoned professionals.
Looking back, everything I did and the sacrifices I made were 110% worthwhile. The Rider MBA program has been my steppingstone, giving me the foundation to, one day, start my own business.
Master of Business Administration (MBA)