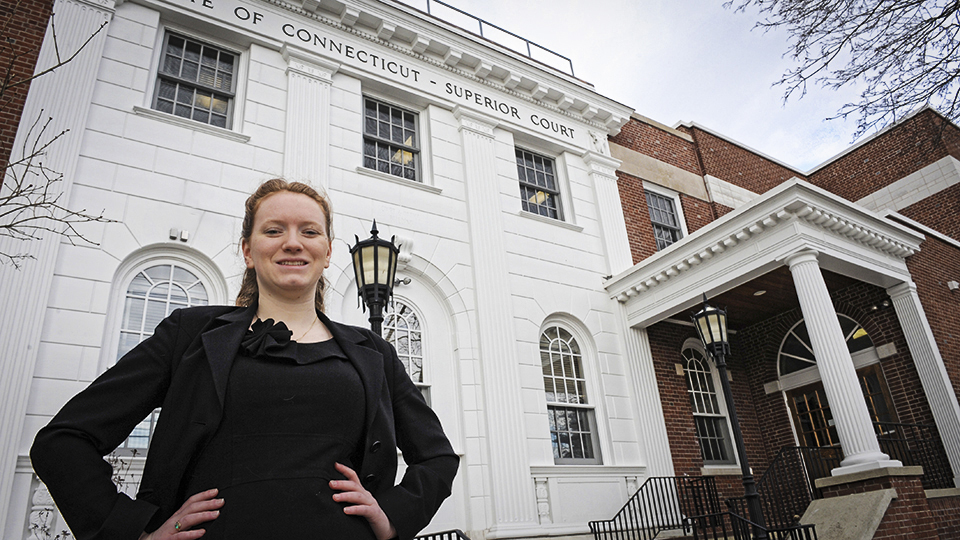 Clerkship at Milford Superior Court
Majors: Global Studies, Political Science, French
By the time I graduated, I had a better of idea of where I wanted to go, what I wanted to do and who I wanted to be.
The Proof Is In Our People
Why Susie Chose Rider
While visiting Rider with her parents, Susie met with Dr. Roberta Fiske-Rusciano in the Department of Political Science. "She asked, 'What is it that you want to be?' When I said the secretary general of the United Nations, she looked at me and said, 'Well, we're going to have to start right now.'"
Rider's Impact on Susie's Success
At Rider, Susie developed an important global perspective as head delegate on a Model United Nations Team that captured the Outstanding Delegation and Outstanding Position Paper awards. "Being part of the Model UN team expands your horizons," Susie said. But she says her two most important courses were Dr. Fiske-Rusciano's Global Village classes, which use teleconferencing to link students with peers in other countries to study culture, history and conflict resolution. "Rather than just learning something in a textbook, you get hands-on, face-to-face contact with a different culture."
While at Rider, Susie held five internships relating to almost every facet of her three majors, including a summer internship at the United Nations Department of Public information-NGOs (non-governmental organizations), which led to additional work on the Africa 101 Project. She also interned at Cartus – Global Relocation Management; the John S. Watson Institute for Public Policy: Center for the Positive Development of Urban Children; United Front Against River Blindness; and the New Jersey Division of Criminal Justice.
Continued Success
After earning a law degree from Vermont Law School, Susie was offered a clerkship at Milford Superior Court and passed the bar exam in July to become a licensed attorney. "I'm in court every day, which I love. Right now, I'm currently a criminal clerk. I handle all the criminal trials across the docket."
2 Number of leadership roles Susie held during her senior year as president of the Global and Multinational Studies Society and as head delegate of the Model United Nations Team.

5 Number of internships Susie held while at Rider, including the New Jersey Division of Criminal Justice, where she worked as a special detective on the biggest drug ring bust in state history. This last internship was "my most invaluable internship experience. That's what sent me to law school and made me realize who I am and what I want to be."
Being part of the Model UN team expands your horizons.
Global Studies, Political Science, French