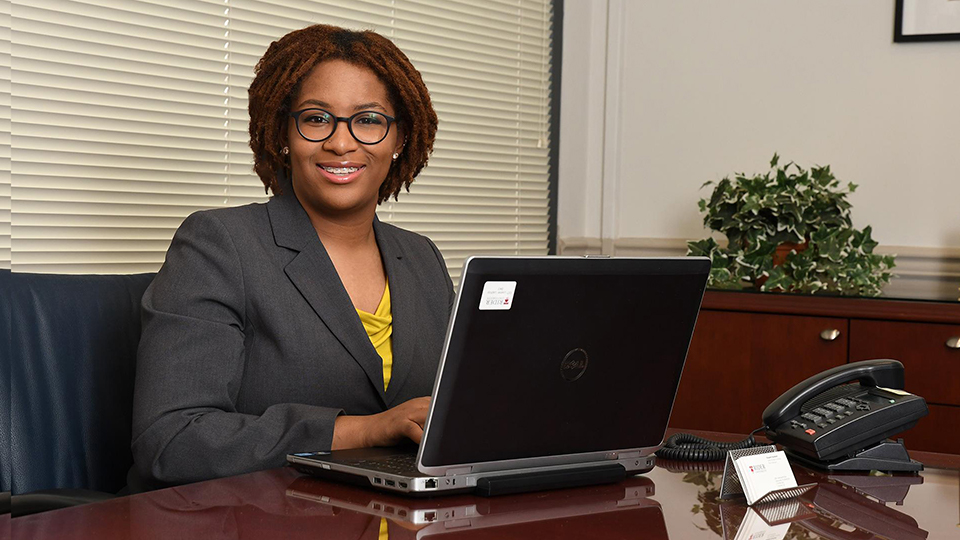 Future Global Operations Leadership Development (GOLD) Program Associate, Johnson & Johnson
Majors: Global Supply Chain Management, International Business, Marketing
I got everything I could get out of college. And I am graduating as a well-rounded student with a triple major and a full-time job.
The Proof Is In Our People
Why Rushae Chose Rider
Rushae first discovered Rider while searching for schools on the College Board website. "It had everything I wanted - a supply chain major, placement success and an emphasis on experiential learning. It also was the right size - not too big, but not too small - and close to New York and Philadelphia," she says. She visited campus and knew immediately it was the college for her. "Everyone I encountered made me feel welcome and treated me as if I was already a part of the Rider family."
Rider's Impact on Rushae's Success
As a transfer student, Rushae longed for a true campus experience. She wanted to live on campus, get involved, and make a positive impact through student government. She immediately joined several organizations and took on numerous leadership roles. She also was encouraged to apply for Rider's nationally ranked Leadership Development Program by program director Laura Seplaki. "She was adamant, and I thank her for it," says Rushae. "Through LDP, I was given the opportunity to apply the various skills and lessons that I learned. It encouraged me to lead so I would be ready to take on challenges and leadership opportunities in the real world," she says.
Continued Success
Through her business classes, Rushae became interested in Johnson & Johnson, which has close ties to the University. She attended a career fair on campus and made a point of stopping by the company's table to pick up information and spoke to a representative - a Rider alumna. That meeting led to an interview and a seven-month-long paid co-op during her junior year. "Johnson & Johnson is a great company and I knew that their co-op program would give me access to supply chain professionals that would help me learn and grow," she says. "And I was right - I made numerous great connections!"
Rushae says her business course, Management Information Systems for Global Supply Chain Management, gave her a crucial "leg up" in her co-op. "That class taught me how Systems, Application and Products (SAP) work and why companies use them. I used SAP every day during my co-op, and I am thankful for the prior knowledge that other students in the co-op program did not have," she says.
In October, Rushae was offered a full-time job within Johnson & Johnson's prestigious Global Operations Leadership Development (GOLD) Program. The GOLD program helps recent graduates accelerate their career growth within the organization through a two-and-a-half-year rotational program designed to expose them to various aspects of global supply chain management. For her first rotation, Rushae will be a global strategy analyst in Johnson & Johnson's Customer Logistics Services' Data and Analytics Department. "Rider prepared me and gave me access to a great company to ensure my success after graduation."
3+1
Rushae came to Rider as a global supply chain management and marketing major. She soon added a third major: international business. During her junior year, she spent a semester abroad studying business in Australia. "Going abroad allowed me to experience another culture and learn how business is handled outside the United States," Rushae says. "It was a great learning experience and cemented my interest in one day working internationally."

Emerging Leader
At Rider, Rushae took on leadership roles in eight different organizations. Rushae earned a Certificate in Leadership while honing valuable skills through Rider's Leadership Development Program. Rider's program was ranked #2 in the country by HR.com, a source for human resource professionals.

1 Great Job
Rushae credits Rider's Career Development and Success Center for helping her to land her first job with Johnson & Johnson. "Career Development ensures you are the 'best you' when you are looking for a job," she says. "The résumé service helps you put together a professional and cohesive résumé that can later be used during the career fairs which bring a multitude of employers to campus who are interested in hiring Rider students."
At Rider my ambition was encouraged and thus able to thrive. Rider pushed me to not only be a student with knowledge and experience, but a well-rounded leader who can create change. When I went to work in the real world, I was prepared because I had experience to back me up and the mindset that I can make an impact anywhere.
Global Supply Chain Management, International Business, Marketing