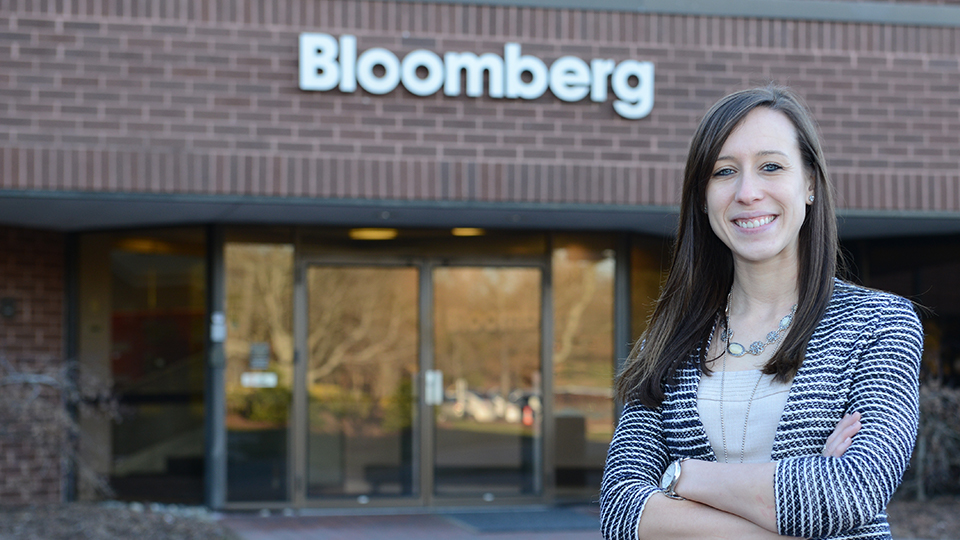 Laura

Albright

'13

,

MBA '15
Municipal Credit Analyst, Bloomberg LP
Major: Finance
Minor: Ethics
Rider gave me opportunities and I took advantage of them. I used them to develop professionally and personally.
The Proof Is In Our People
Why Laura Chose Rider
Laura knew she wanted to major in business and was drawn to Rider by the reputation of its business program. When she visited, "Rider immediately felt like home," she says. "It had the program I was looking for, a great location and it was just the right size."
After earning her undergraduate business degree, Laura decided to continue on at Rider in pursuit of a master's degree in business administration. Says Laura, "I knew it had a good business program, I knew I loved the school. There was no reason to go anywhere else."
Rider's Impact on Laura's Career
Laura became very involved at Rider in the prestigious annual Johnson & Johnson Case Competition. During her sophomore year, her team placed first at Rider and third overall at the national competition. She also competed in the Investment Challenge through the Rider Finance program. "All the competitions were extremely valuable. I learned important finance skills and developed other skills, including presentation, communication, leadership and teamwork skills," says Laura.
Laura also held two campus jobs, working four years in the President's Office and two years as a graduate assistant for the dean of the College of Business. "Working on campus was extremely valuable. I learned how to work in a professional environment with different employees and different offices," she says.
Continued Success
As an undergraduate, Laura held an internship with Merrill Lynch. She also landed a paid IT Finance Co-op with Johnson & Johnson. "My internship and co-op gave me the opportunity to apply skills in a professional environment. Working with finance professionals enabled me to learn more about the finance field. It also helped me to know that finance is exactly where I wanted to be," says Laura.
In January 2015, Laura was offered a job as a municipal credit analyst with Bloomberg LP after attending an on-campus information session hosted by Rider's Career Services. "Rider has great business connections. It helped me get the co-op job at Johnson & Johnson and this position with Bloomberg. I am where I am today because of Rider and those connections."
Challenging Herself
Laura competed in three consecutive Johnson & Johnson Case Competitions and the Rider Finance program's Investment Challenge. She also participated in DAARSTOC (Developing Administrative Abilities and Resources Through the Synergistic Training & Organizational Competencies), an executive skills-building organization for students.

2 x 6
The number of campus jobs Laura held over six years as a Rider undergraduate and graduate student.

Working in the Big Leagues
Laura had a five-month internship with Merrill Lynch and an eight-month co-op with Johnson & Johnson. She was offered a full-time job as a municipal credit analyst at Bloomberg LP.
I'm extremely happy with my career path. Every turn in the road, every opportunity I had at Rider, led me to where I am today. Now, I'm exactly where I want to be.
Laura
Albright
'13
,
MBA '15
Finance