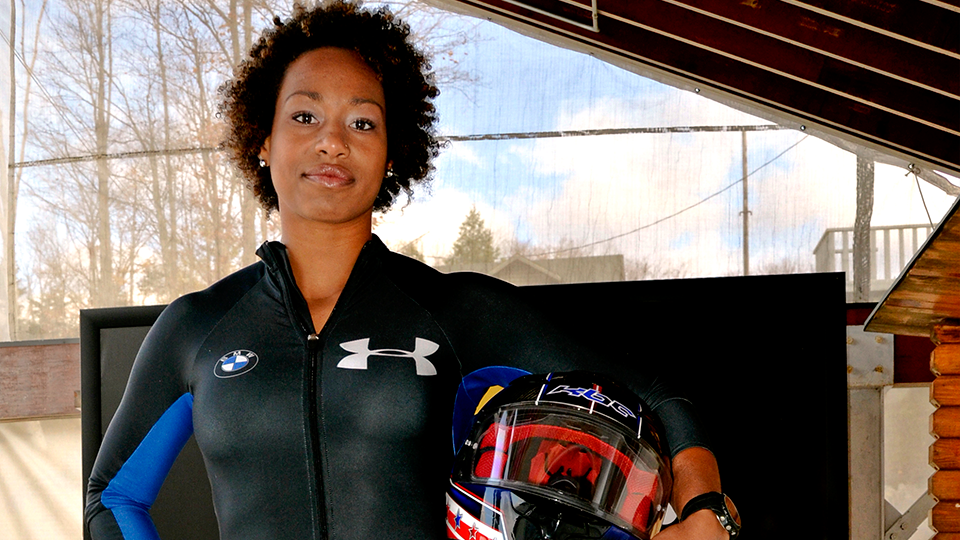 2014 Olympic Driver, USA Women's National Bobsled Team
Majors: Web Design & Multimedia, Advertising
Looking back, I believe if I made any other decision, I wouldn't be where I am right now
The Proof Is In Our People
Why Jazmine Chose Rider
"When I visited Rider, it just felt like the right fit for me. It had a homey feel for me. I liked the Athletics Department support for my drive for success and the many opportunities open to me at Rider. Looking back, I believe if I made any other decision, I wouldn't be where I am right now – competing and training for the 2014 Winter Olympics and pursuing my second master's degree."
Rider's Impact on Jazmine's Career
"I had an amazing track coach who taught me not to make excuses. He could accept any results as long as you performed to your best trying to maximize your potential. That mentality has stayed with me. Participating in Rider's DAARSTOC program encouraged me to prepare for my future and helped me develop an ability to adapt to my environment, to evolve and to prepare myself for all possibilities."
Continued Success
Jazmine was officially named to the United States Olympic Bobsled team January 19, 2014, marking the first time a Rider varsity athlete will compete in the Olympics. While on campus, she was a two-time Rider Athlete of the Year as a member of the track & field team, will be a part of the U.S. team that competes in Sochi, Russia, Feb. 6-24, 2014. During her athletic career, Jazmine has also completed her master's degree at the California University of Pennsylvania, with a concentration in exercise and sciences, and is pursuing her M.B.A.
Internships at Rider
As an undergraduate at Rider, I sought out internship opportunities for more real world experience and exposure in my field. I worked as a graphic designer and interned at a media design company. My goal was to utilize the skills I acquired in the classroom in real settings, and gain exposure to the process of building a career.
---
Follow Jazmine's Olympic Journey
Twitter: @JazmineFenlator
Facebook: JazmineFenlatorBobsled
Website: www.JazBobsled.com
Related News
Rider alumna named to U.S. Olympic bobsled team
Jazmine Fenlator '07 will compete in Sochi, Russia, in February
88 Miles per hour – the top speed Jazmine has reached driving a bobsled.

3+7+12
By the end of this season, Jazmine will have traveled to three continents, seven different countries and raced in 12 international competitions, including the World Championships and the Olympic test event in Sochi, Russia.