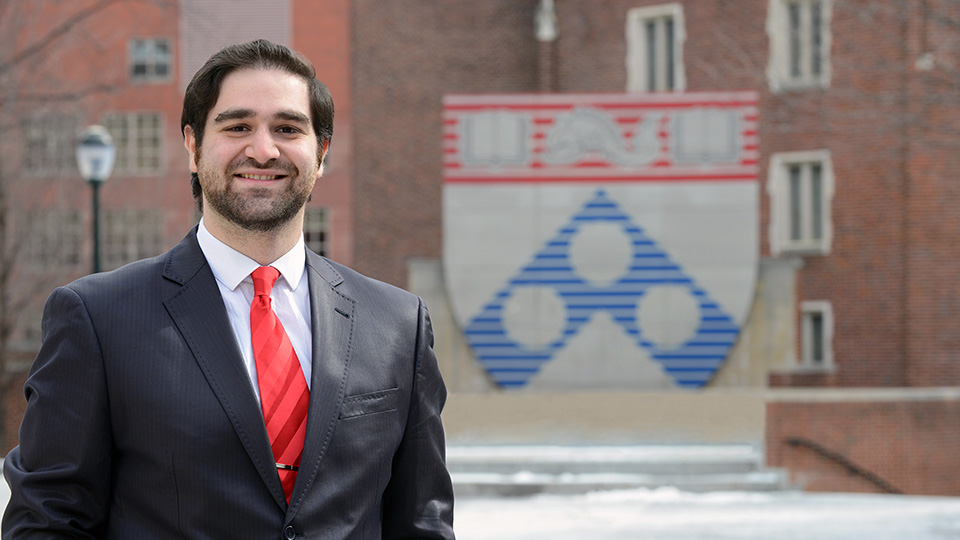 Clinical Research Assistant, Perelman School of Medicine, University of Pennsylvania
Majors: Behavioral Neuroscience, Psychology
My professors made me the scientist and thinker I am today. The breadth and depth of experience I had at Rider prepared me for my career.
The Proof Is In Our People
Why Jad Chose Rider
A native of Syria, Jad learned about Rider from a faculty member traveling there on a Fulbright scholarship. Hearing of his interest in psychology, he encouraged Jad to visit Rider's website. "I was impressed by the program and faculty research," says Jad. "But I also chose Rider because of the welcoming international admissions staff."
Rider's Impact on Jad's Career
"My very first class at Rider was with Dr. Cara DiYanni in the psychology department. It made such an impression on my life," says Jad. He immediately became involved in her research into human social cognitive development, joining other research assistants in collecting data by interviewing preschoolers in private daycare. He spent the next four years working alongside her and even designing his own research. By his junior year, Jad also was working in Dr. Todd Weber's lab studying the biological clock and the molecular mechanisms of jet lag in the brain.
"It was an amazing opportunity, especially for an undergrad," Jad says. "They taught me how to do science and taught me the tools of the trade. They set me on a path of curiosity that will drive me for the rest of my life."
Continued Success
Jad now works with a Penn Medicine research team on a NASA-funded project looking at sleep and cognitive performance of astronauts during long duration spaceflights. His work combines elements of both Rider research projects in human psychology and behavioral neuroscience. "It's amazing research. This project will have a tremendous impact on decisions regarding a future Mars Mission and space travel.
"I wouldn't be where I am today without the mentoring, research experience and education I had at Rider. If I go on to something great, it's because of what they sparked in me — a love of the scientific process and a curiosity of how the natural world works."
4 + 5 + 2

During his four years at Rider, Jad worked on five research projects with two different faculty members in behavioral neuroscience and psychology.

4 + 1 + 1
As a result of his Rider research, Jad presented at four conferences and received a Merck Undergraduate Science Endeavors Scholarship. He also co-authored an article ("The Role of Consensus and Culture in Children's Imitation of Inefficient Actions") that is currently under review.

7
While a student at Rider, Jad participated in the Baccalaureate Honors Program. He also was a member of six honor societies.
My early hands-on experience at Rider was transformative. I worked with actual scientists doing actual science. It's one thing to be in a classroom being taught science. It's another to see how it works.
Behavioral Neuroscience, Psychology