Baccalaureate Honors Program
Rider's Baccalaureate Honors Program is offered on both Rider's Lawrenceville and Princeton (Westminster Choir College) campuses in New Jersey.
Program Highlights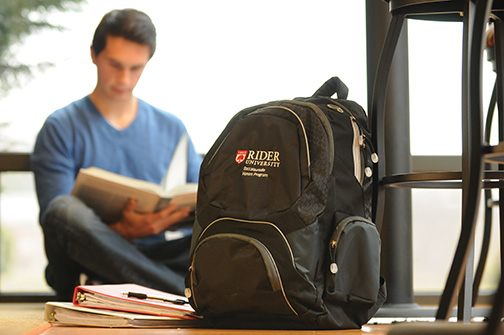 Innovative team-taught seminars are at the heart of our Baccalaureate Honors Program. These distinctive learning experiences feature two professors from diverse disciplines in the arts, humanities and sciences, who collaborate on important ideas, historical periods and contemporary issues. At least four interdisciplinary, team-taught courses are required.
You may complement the seminars with more interdisciplinary courses or choose to take one or more single-instructor courses, whether honors versions of existing courses or courses developed uniquely for the honors program.
First-Year Seminars focus on a core of classic readings complemented by texts that reflect the professors' special expertise. Through analytical reading, writing, and discussion, you'll develop your critical, interpretive and expressive skills.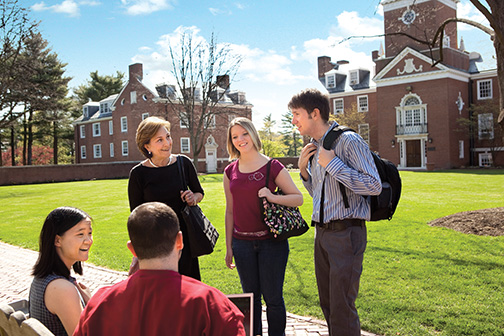 Upper-Level Seminars offer you the opportunity for in-depth inquiry into specialized and innovative research areas that may cross conventional boundaries between disciplines. These courses usually count as core requirements. They may also be taken as electives.
The Senior Thesis or Project is guided by a faculty mentor in the BHP or in your major discipline and allows you to develop original research or creative projects.
As a Baccalaureate honors student, you'll receive:
special advising,
the opportunity to live in a residential learning community in your freshman year,
priority in course registration, and
invitations to attend co-curricular events (e.g., art exhibits, film screenings, poetry slams, theater previews) which are planned by the faculty team.
SAMPLE SEMINARS
Team-taught BHP Seminar Topics and Core Substitutions

Genetic Engineering and the Philosophy of Science (Science/Philosophy)

Political Culture of the High Tech Society (Global Studies/Social Science)

Human Creativity and Artificial Intelligence (Fine Arts)

Musical Expression and Political Culture (Music/Social Science)

Politics and Philosophy of the Sixties (Social Science/Philosophy)

Natural Adventures: Journeys in American Ecology and History (Biology/History major or minor)

Text and Context: George Orwell's 1984 and Cold War Politics (Literature/Journalism History)

The Guilty and the Innocent in Law and Literature (Sociology/Law/Literature)

The Bible as Literature and Philosophy (Literature/Philosophy)

Theories of Justice and the American Common Law (Social Science/American Studies/Law and Justice)

Issues at the New Jersey Shore (Science)

Children and the Media (Social Science/major or minor in Psychology)

The Environment: A Conflict of Interest (Social Science/Science)

Gender and Sexuality in Hip-Hop and R & B (Fine Arts/major in Popular Music Culture)

Worlds Apart: Global Perspectives on Development and Inequality (Social Science/Global Studies program)

top 10%

Students invited to join Rider's Baccalaureate Honors Program generally rank in the top 10 percent of those admitted to the University.

For more information

Baccalaureate Honors
Lawrenceville Campus
Dr. Cara DiYanni
Director
609-896-7761
[email protected]

Baccalaureate Honors
Westminster Choir College
Dr. Christian Carey
Coordinator
609-921-7100 x8115
[email protected]
---
Eligibility & Graduation Requirements
Students are invited to join the Baccalaureate Honors Program as entering freshmen and may apply as currently enrolled freshmen or sophomores or as transfer freshmen or sophomores.

Students currently enrolled at Rider must have at least a 3.3 GPA at the time of application to the program.

24 Honors credits, including the 3-credit capstone or senior thesis, are required for the BHP diploma. Students must earn an overall GPA of at least 3.3 as well as a minimum 3.3 GPA in the eight required honors courses, including the senior capstone.

Honors courses may be team-taught (interdisciplinary) or taught by a single instructor. At least four of the eight honors courses taken to fulfill BHP requirements must be team-taught and interdisciplinary. These typically include the freshman seminars, BHP 100 and BHP 150.

With permission of the Director, students may take up to 9 honors credits via Honors Contracts.