Baccalaureate Honors Program
Rider's Baccalaureate Honors Program is offered on both Rider's Lawrenceville and Princeton (Westminster Choir College) campuses in New Jersey.
Program Highlights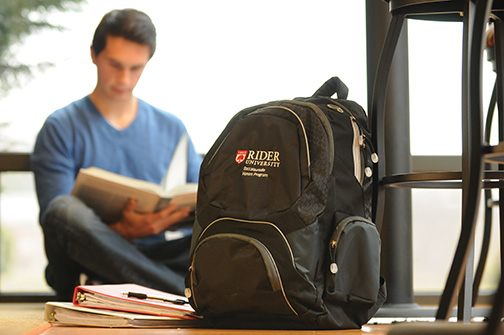 Innovative team-taught seminars are at the heart of our Baccalaureate Honors Program. These distrinctive learning experiences feature two professors from diverse disciplines across different schools, majors, and programs at Rider. These professors collaborate on important ideas, historical periods, and contemporary issues. At least 24 credits of honors credits are required. At least 15 of those credits (five classes) should be interdisciplinary, team-taught courses. These five courses include two first-year seminars and at least three upper-level seminars. Students must earn an overall GPA of at least 3.3 as well as a minimum 3.3 GPA in the eight required honors courses, including the senior capstone.
In addition to the three required upper-level seminars, BHP students must take 6 additional credits of honors courses and a 3-credit senior thesis or project (described below). The 6 credits (2 classes) can include additional interdisciplinary courses, one or more single-instructor honors courses, or non-honors courses that are contracted with the professor to include additional work that is developed uniquely for honors students. Click to learn more about honors contracts or alternative experiences (such as study abroad) that are eligible for honors credits.
First-Year Seminars focus on a core of classic readings complemented by texts that reflect the professors' special expertise. Through analytical reading, writing, and discussion, you'll develop your critical, interpretive and expressive skills..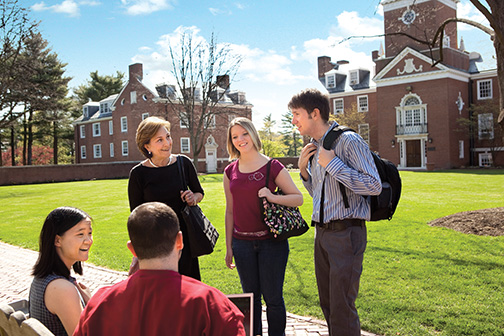 Upper-Level Seminars offer the opportunity for sophomores, juniors, and seniors to engage in-depth inquiry into specialized and innovative research areas that may cross conventional boundaries between disciplines. These courses can fulfill general education requirements, or they can be taken as electives. Read about upper-level seminars that are currently being offered, or about courses that have been offered in the past (and may be offered again).
You can also view sample syllabi from upper-level seminars, offering you the opportunity for an in-depth inquiry into specialized and innovative research areas that may cross conventional boundaries between disciplines. These courses usually count as core requirements. They may also be taken as electives.
The Senior Thesis or Project is guided by a faculty mentor in the BHP or in your major discipline and allows you to develop original research or creative projects.
---
As a Baccalaureate honors student, you'll receive:

Special advising
The opportunity to live in a residential learning community with fellow honors students during your freshman year
Priority in course registration
Invitations to attend co-curricular events (e.g., dinners, student-run social events, art exhibits, film screenings, poetry slams, theater previews) which are planned by student and/or faculty leaders in BHP

Top 10%

Students invited to join Rider's Baccalaureate Honors Program generally rank in the top 10 percent of those admitted to the University.

For more information

Baccalaureate Honors
Lawrenceville Campus
Dr. Cara DiYanni
Director
609-896-7761
[email protected]

Baccalaureate Honors
Westminster Choir College
Dr. Anthony Kosar
Director
609-921-7100 x8203
[email protected]
---
Eligibility
Students who earn a 3.5 GPA or higher in high school AND who also score 1280 or higher on the SAT (with a minimum of 620 in each subject area) or a 26 or higher on the ACT (with a minimum of 25 in each subject area) are invited to join the Baccalaureate Honors Program as entering freshmen.

Currently enrolled freshmen or sophomores, and students who transfer to Rider as freshmen or sophomores, may apply to the honors program if they achieve success in their freshmen writing classes, earn a high GPA of at least a 3.3, and/ or are recommended by a faculty member. Completion of a minimum of five courses in the honors program plus an honors capstone project is required for graduation with honors.