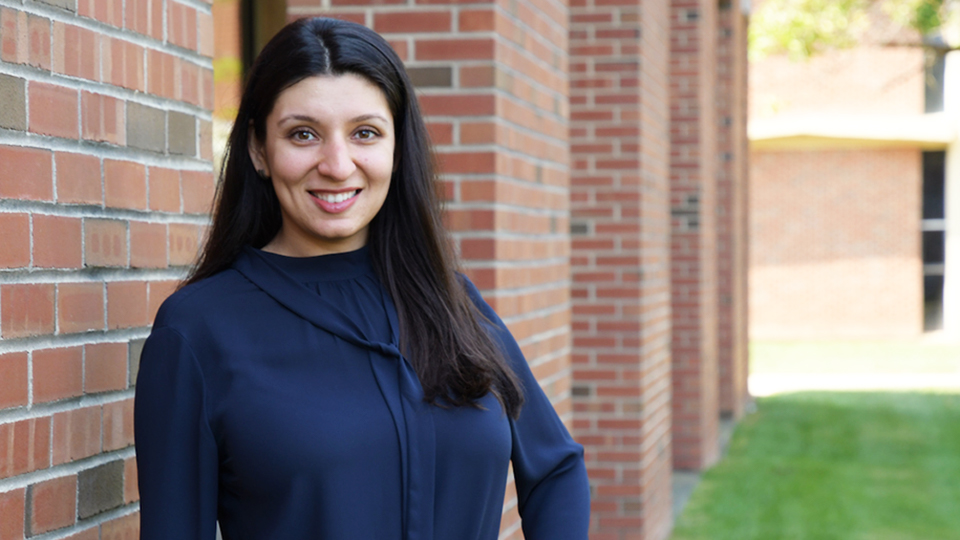 Associate Manager, Communications, Novo Nordisk
Major: Master of Business Administration (MBA)
I strongly believe in peer-to-peer mentorship and hope to be the coach that others were to me. We rise by lifting others.
Why Emine Chose Rider
Emine values storytelling as a powerful tool in communications, one which has the power to drive business results. With her background in psychology, marketing and public relations, she used her talents and quickly became an accomplished communications professional. With her success, however, she realized that she wanted a better understanding of business. Rider's MBA program was the answer.

Emine selected Rider because of three main factors of importance to her: the small class size and close attention from professors; the opportunity to interact with business professionals from the Princeton and Philadelphia areas; and the flexibility of the program, which allowed her to take evening and summer courses while maintaining a full-time job. Also weighing in her decision was the close proximity to home and the fact that Rider's Norm Brodsky College of Business is accredited by the Association to Advance Collegiate Schools of Business (AACSB International) — a hallmark of excellence in business education that has been earned by less than 5% of the world's business schools.
Rider's Impact on Emine's Career
The MBA program at Rider provided invaluable insights and touchpoints with professors and business professionals. Courses such as advanced organizational behavior, supply chain management and information technology opened her eyes to new viewpoints. She found that even an occasional extra five minutes spent speaking with a professor could introduce a new perspective from the business world that would ultimately make a difference in her career.

Emine was also involved in Rider's Gail Bierenbaum Women's Leadership Council, a community of accomplished women who champion advancing leadership, mentoring and philanthropy. She benefited from the one-on-one guidance of a mentor as well as professional workshops and social events designed to engage and enhance networking opportunities with women leaders. As women comprise over 50% of the student body at Rider, the Women's Leadership Council provides an important resource for aspiring women. Emine describes Rider's impact on her career as the "sum of the parts being greater than the whole." The cohesive community experience helped her to fine-tune the impact she now has as a business communicator.
Continued Success
Shortly after beginning the MBA program, Emine accepted a position as a project management and communications specialist at Novo Nordisk, a global pharmaceutical company. As graduation approached, she was promoted and now manages communications and patient partnership strategies. Evidence of Emine's newly attained expertise from the MBA program is how much she values measurement and analytics in communications and champions data-driven storytelling as a communicator. She believes her background in psychology and communications is better balanced with the business perspective she gained from Rider and the MBA program.

Regardless of one's career aspirations, Emine considers an MBA to be a valuable degree in almost any arena, including the arts and nonprofits, as it equips one to make better decisions in the workplace. Now, with nearly 10 years of experience, Emine has her own story to tell. She hopes to become a leadership mentor at Rider, helping other women with networking and professional development to advance their careers.
Credentials
Rider's MBA rounds out Emine's impressive educational background: she has a bachelor's in psychology from Montclair State University and a master's in public relations and corporate communications from New York University.

Business Experience
Emine's business acumen spans the pharmaceutical, energy, sustainability and consumer packaged goods industries.

Ambition
With Rider's flexible program, Emine was able to work full-time while pursuing her MBA, taking night and summer classes and spending weekends studying and completing projects.
I strongly believe in peer-to-peer mentorship and hope to be the coach that others were to me. We rise by lifting others.
Master of Business Administration (MBA)