The Rider Allies SafeZone Program
The Rider Allies Program is a campus wide voluntary program that creates allies, supports and resources for the LGBTQ+ community. It is designed to create a network of allies and visibly identify faculty, staff and students who support the LGBTQ+ population and can provide a safe and nondiscriminatory environment on campus for members of the LGBTQ+ community. They can provide support, information and resources available both locally and nationally.
The Rider Allies Program is coordinated by Jonathon Sun on behalf of the Center for Diversity and Inclusion (CDI). If you have any questions about the program, please contact [email protected].
Allies have attended Ally Training and agreed to be visible allies of the LGBTQ+ community on campus. Allies can be identified by their display of the decal below.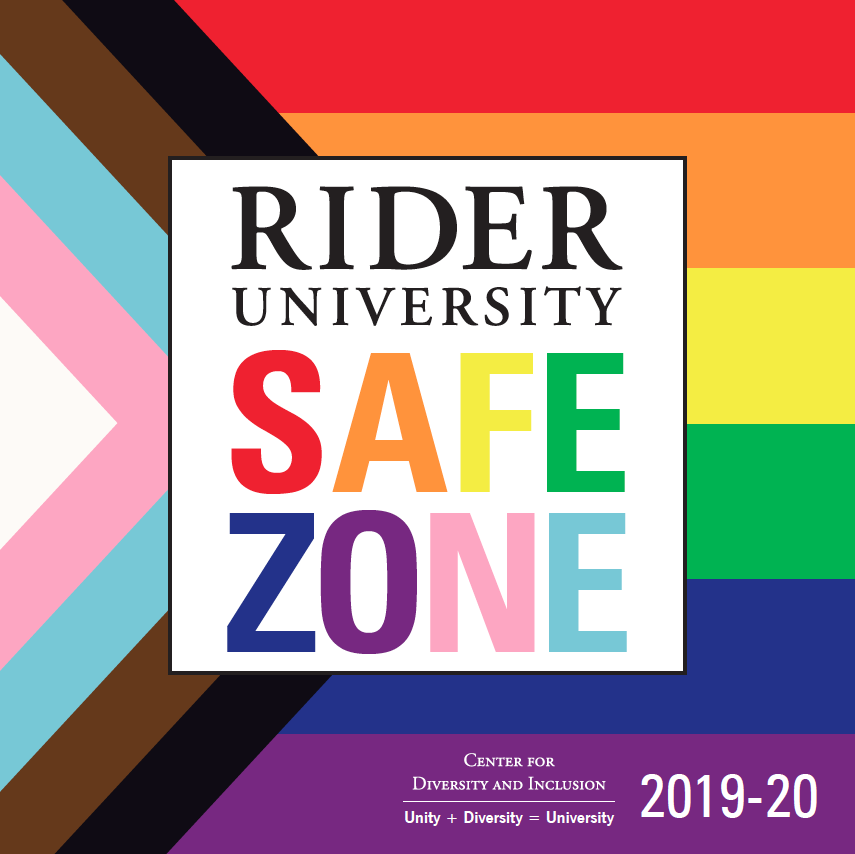 What does the sticker mean?
The display of the Ally sticker means that the owner has attended an Ally Training and agreed to be supportive and affirming of the LGBTQ+ community. It does not mean that the owner identifies as lesbian, gay, bisexual or transgender.
The absence of an Ally symbol should not be interpreted in any way nor does it imply that the person or space is not safe. The University's values, as well as nondiscrimination and harassment policies, clearly articulate the University's expectations that all community members will be treated fairly.
FAQ
If someone wants advice on what to tell his/her roommate, friends, or family about being lesbian, gay, or bisexual, how can I help?
Remember that the individual must decide for him/herself when and to whom they will reveal their sexual identity. Don't tell someone to take any particular action; the person could hold you responsible if it doesn't go well. Do listen carefully, reflect on the concerns and feelings you hear expressed, and suggest available resources for support. Help the person think through the possible outcomes of coming out. Support the person's decision even if you don't agree with it, and ask about the outcomes of any action taken.
How can I support LGBTQ+ people without my own sexual orientation becoming an issue?
Be aware that if you speak out about issues related to sexual orientation, some people may take this as an indication of your own sexual orientation. Take time in advance to think through how you might respond to this. How do you feel about your own sexual identity? Are you comfortable with yourself? Regardless of your sexual orientation, a confidence in your own self- image will make you less vulnerable.
How should I respond to rumors that someone is lesbian, gay, bisexual or transgender?
Let others know that the sexual orientation of any individual is irrelevant unless that person wishes to disclose that information. If you can, address any myths or stereotypes that may be fueling such speculation. If a particular person continues to spread rumors, talk to that person individually.
I think I might be LGBTQ+, now what do I do?
Realizing and acknowledging that you are attracted to members of the same sex is often a difficult experience. If you think you may be Lesbian, Gay, Bisexual or Transgender (LGBTQ+) you might feel anxious about what it means and what others might think.
It's normal to feel scared when exploring your sexual orientation. Fear of abandonment by friends and family or just a fear of being different is common. Here are a few suggestions and resources to help you:
There is no right or wrong answer. There is only your answer! No one can tell you that you are LGBTQ+ or straight. There is no blood test or book or expert. Be leery of anyone who purports to tell you who or what you are.
Get support. Asking for help is difficult but you may find it useful to talk to someone. If you don't think friends and family will be accepting, consider talking to a counselor who will be supportive and non-judgmental. Talking to someone can help you explore your own feelings and beliefs about being LGBTQ+, both positive and negative. There are counseling services available on campus or check the resources links below.
Check out your local Pride center. If you're lucky enough to be in close proximity to one call them up or just stop by. They often have "coming out" groups as well as other social activities. Information and links about local LGBTQ+ centers/support groups are listed under LGBTQ+ resources on the main page.
Where can I find resources on Coming Out?
The following websites can provide information on the Coming Out process:
Human Rights Campaign
Human Rights Campaign is the largest civil rights organization for lesbian, gay, bisexual and transgender Americans and works to achieve equality through advocacy and education.
Advocates for Youth
This organization provides information regarding LGBTQ+ issues and advocates for LGBTQ+ youth in communities as well as encourages self-advocacy.
ReachOut
ReachOut aims to help teens and young adults dealing with difficulty issues and struggling with mental health issues by providing information and support. All of the websites content is written by teens and young adults to help teens and young adults. Focus is on helping them face their issues by becoming aware of their strengths and how to find additional help when needed.
LGBTQ+ Resources
On Campus
SPECTRUM Pride Alliance: 609-896-5000 x7318
Counseling Services:
Lawrenceville: Zoerner House: 609-896-5157
Princeton: Williamson Hall, Rm 6: 609-921-7100 x8275
Local LGBTQ+ Resources
Support Groups/Organizations
The Pride Center of New Jersey offers the following groups:
1088 Livingston Ave.
North Brunswick NJ 08902
Phone: 732-846-2232
Men's Coming Out Group
A moderated discussion group for issues related to coming out as gay men. Men vote on the topic of the day. Meets every Wednesday at 7:30 pm at the Pride Center of New Jersey. Send e-mail to

[email protected]

for more info.
Come OUT & Play
Social networking group for gay, lesbian, bisexual and transgendered 20- to 30-somethings in New Jersey. While based at the Pride Center of New Jersey in Highland Park, events are scheduled throughout the entire Garden State. Regular meetings occur at the Pride Center on the first and third Tuesdays of each month (except for holidays).
Women's Coming Out Group
This group provides a supportive environment for women who are at any stage of the coming out process. Women 18 and older who consider themselves gay, lesbian, bisexual, or questioning are welcome. Meets on the third Thursday of every month, 7:30PM to 9:00PM at the Pride Center New Jersey.
Under the Rainbow at the Pride Center of New Jersey
Both a discussion group and a social group for young GLBT people ages 18-25. The group meets the first Friday of each month from 4:30PM-7:30PM. Please contact

[email protected]

for more details.
Bisexual Support Group
A safe space for bisexuals to come together to discuss issues pertaining to bisexuality and to socialize. Meets 7:30 pm -9:00 pm Second Tuesday of every month at the Pride Center of New Jersey.
TruSelves
A facilitated support group exclusively for and about transgender-identified individuals, regardless of where on the transgender spectrum you believe you live. TrueSelves is a safe place where you can share your feelings and experiences in an open, non-judgmental and accepting atmosphere. TruSelves meets the 3rd Sunday of every month, 4 -6 PM. For more information please contact StephanieBattaglino, 201-704-2996 or

[email protected]

.
Buck's County LGBTQ+​ Youth Center offers the following group:
The Rainbow Room at Planned Parenthood – Rainbow Room is a resource for LGBTQ+ Youth ages 14-21. The Rainbow Room meets at the Doylestown center; please call for information about times and location.
LGBTQ+ of Color
Fierce
FIERCE is a membership-based organization building the leadership and power of lesbian, gay, bisexual, transgender, and queer (LGBTQ+) youth of color in New York City.
HIV/AIDS Information & Testing Sites
Anonymous vs. Confidential Testing
In most states you can find clinics that offer "anonymous" or "confidential" HIV tests. It may be important to you to know the difference between those two terms when you choose a clinic for the test.
"Confidential" testing means that your name and other identifying information is attached to your test results. With confidential tests, the patient's name is recorded with the test results. These results are kept secret from everyone except the medical personnel and perhaps the state health department. According to New Jersey law, if the patient tests positive, his or her name must be reported to the state. The results also go in your medical record and may be shared with your insurance company if a claim is made. Otherwise, the results are kept private, just as most medical records are.
"Anonymous" testing means that your name is never used — just an ID number. That number is attached to your test results. You get your results by matching the number. Usually the results aren't written down — they are just told to you either over the phone or in person. With anonymous testing, your test results are not part of your medical record.
In New Jersey, the law allows for both confidential and anonymous testing. The individual being tested should ask the site which forms of testing they offer (confidential vs. anonymous) and, in the case of confidential tests, who may have access to the results.
"Anonymous" testing is not available in some states, so when you schedule an appointment, ask if it is available in your state.
Local Resources
HiTops (confidential)
21 Wiggins Street
Princeton, New Jersey 08544
Phone: 609-683-5155
Henry J. Austin Health Center (free & anonymous)
321 North Warren St.
Trenton, New Jersey
Phone: 609-278-5945
Robert Wood Johnson University Medical Group (free & anonymous)
Ambulatory Care Building- HIV Counseling and Testing Program
Suite One, Little Albany Street
New Brunswick, New Jersey 08901
Phone: 732-235-7114
Health Federation of Philadelphia - Women's Anonymous Test Site (confidential and anonymous)
1211 Chestnut St., Ste. 701
Philadelphia, Pennsylvania 19107
Phone: 215-246-5210 (main)
Planned Parenthood of Northern, Central and Southern NJ (confidential and anonymous)
https://www.plannedparenthood.org/planned-parenthood-northern-central-southern-new-jersey
National Resources
Amplify Your Voice
A website by and for lesbian, gay, bisexual, transgender and questioning young people addressing sexual health and issues of concern to queer youth.
The Trevor Project
National organization providing crisis intervention and suicide prevention services to lesbian, gay, bisexual, transgender and questioning youth.
Human Rights Campaign
The HRC Foundation maintains resources and publications on coming out transgender issues, LGBTQ+-related healthcare topics and information about workplace issues faced by LGBTQ+ people, notably the Corporate Equality Index.
It Gets Better Project
The It Gets Better Project was created to show young LGBTQ+ people the levels of happiness, potential, and positivity their lives will reach – if they can just get through their teen years. The It Gets Better Project wants to remind teenagers in the LGBTQ+ community that they are not alone — and it WILL get better.
General Health/STI/Sexuality
Afraid to Ask
AfraidToAsk.com offers in-depth information and graphic photographs that will give you a better understanding of highly personal health issues.
Scarleteen
Scarleteen is an independent, grassroots sexuality education and support organization and website. It provides content and interaction which seeks to provide developmentally and culturally-appropriate sexuality education and information that reflects the diversity of people and sexuality; that aims to serve all sexes, genders, economic and social classes, sexual orientations and relationship models, types of embodiment and more, including information on contraception, safer sex and sexual health, reproductive choice, masturbation, anatomy, sexual orientation and other aspects of sexual identity, gender identity and equity, pleasure and human sexual response, body image, sexual and romantic relationship formation, communication and negotiation, sexual and other interpersonal abuse, self-esteem and care and compassion in sexual enactment that is not intentionally exclusive to any one group, save privileging those in their teens and twenties.
Coalition for Positive Sexuality
The Coalition for Positive Sexuality was formed to give teens the information about sexuality they need to take care of themselves and affirm their decisions.
---
The information contained on this website page is based on Safe Zone, Safe Space and Ally programs at other colleges and universities throughout the country.