Results: Data & Success
Each year, Rider Career Development and Success conducts a post-graduation first destination survey to learn more about the career choices and outcomes of Rider University graduates. Find out what they're doing now.
---
CAREER OUTCOMES – Class of 2017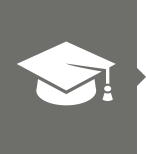 It's true: Within six months of graduation, 98% of Rider 2017 graduates are either employed full or part-time, pursuing graduate study, serving in the military or involved in a volunteer position. And that's just the beginning.
6-Month Snapshot
We put our graduates' insights to work to constantly improve and evolve our career development process to meet the demands of an ever-changing marketplace. We contacted 956 undergraduates and 369 graduate students to learn about their destinations 6 months after graduating from Rider. Nearly 79% of all undergraduates and 72% of all graduate students from the Class of 2017 responded.
---
Career Development Support

Assisted in 2017 by Rider career advisors, located within each college

Career-focused workshops presented in 2017 by Career Development and Success staff

Visited campus during 2017 Career Fairs
---
Graduate and Professional Schools
You'll find Class of 2017 alumni attending these and other graduate and professional schools nationwide.
Auburn University
Columbia University
Dartmouth University
Drexel University
Johns Hopkins University
New York University
Old Dominion University
Rider University
Rutgers University Law School
St. Joseph University
Temple University
University of Arizona
University of Chicago
University of Delaware
University of Minnesota
University of North Carolina–Chapel Hill
University of Scranton
University of Toledo
University of Virginia
Vanderbilt University
Yale University
---
Employers who have hired graduates from the class of 2017
The following is just a sampling of the nearly 150 employers who have hired Rider's Class of 2017 graduates.
AIG (American International Group)
AmeriCorps
Anheuser-Busch, Inc.
Asset TV
Bai Brands
The Ballard Group, Inc.
Big Brothers & Big Sisters of Mercer County
BlackRock, Inc.
Blue Ridge Communications Cable 11
Braun Research, LLC
Bristol-Myers Squibb
Chase Bank
CoStar Group, Inc.
Coyne Public Relations Delaware River Basin Commission
Deloitte & Touche, LLP
Dow Jones
Edison Twp. Board of Education
Educational Testing Service
EisnerAmper LLC
Ernst & Young
ESPN
The Fastenal Company
Forestburgh Playhouse
Foresters Financial
Hill, Barth & King, CPA
Hold Brothers Capital LLC
Insight Global
Johnson & Johnson
Kennedy Health System
KPMG US LLP
Lakehouse Recording Studio
Lauderhill Performing Arts Center
Lead New Jersey
The Lynx Group
Medical Diagnostic Laboratories
The Mercadien Group
Mercedes-Benz of Flemington
Mercer County Board of Freeholders
Merrill Lynch
Michael J. Hennessy Associates, Inc.
Monroe Township School District
Montgomery County Prosecutor's Office
Morgan Stanley Wealth Management
National Parks Service
Naval Air Systems Command (NAVAIR)
New Jersey Department of Corrections
New York Attorney General's Office
New York Public Library
North Bergen Board of Education
Old Second Bancorp, Inc. (OSBC)
Peace Corps
Pemberton Township School District
Penn Community Bank
PeopleShare
PNC Bank
PricewaterhouseCoopers
Princeton Orthopaedic Associates
Princeton University
Redfeather Communications
Robert Half Finance & Accounting
Robert Wood Johnson Fitness & Wellness Center
Robert Wood Johnson Foundation
Robert Wood Johnson Hospital Somerset
Sanofi US
Savvy Marketers LLC
Sequoia Films
Sesame Place
Sigma Corporation
Sinclair Oil Corp.
Synchronoss Technologies, Inc.
Tokyo Disney Resort
United States Postal Service
United Technologies Corporation
U.S. Department of Defense
Verizon Wireless
Walt Disney Company
Wells Fargo Advisors
West-Ward Pharmaceuticals LLC
WithumSmith + Brown, PC
Yelp
---
Enhance existing relationships and build valuable new connections through the Rider University LinkedIn page. You'll find updates on alumni, career events and the opportunity to cultivate relationships with like minds.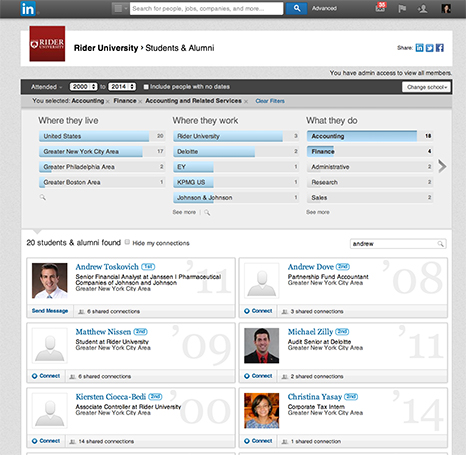 ---
See the real return on investment of a Rider University education through first-person accounts from our talented alumni.

---
A Look at Rider Success