Results: Data & Success
Each year, Rider Career Development and Success conducts a post-graduation first destination survey to learn more about the career choices and outcomes of Rider University graduates. Find out what they're doing now.
---
CAREER OUTCOMES – Class of 2018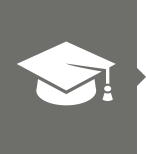 It's true: Within one year of graduation, 92% of Rider 2018 graduates are either employed full or part-time, pursuing graduate study, serving in the military or involved in a volunteer position. And that's just the beginning.
A 1-Year Snapshot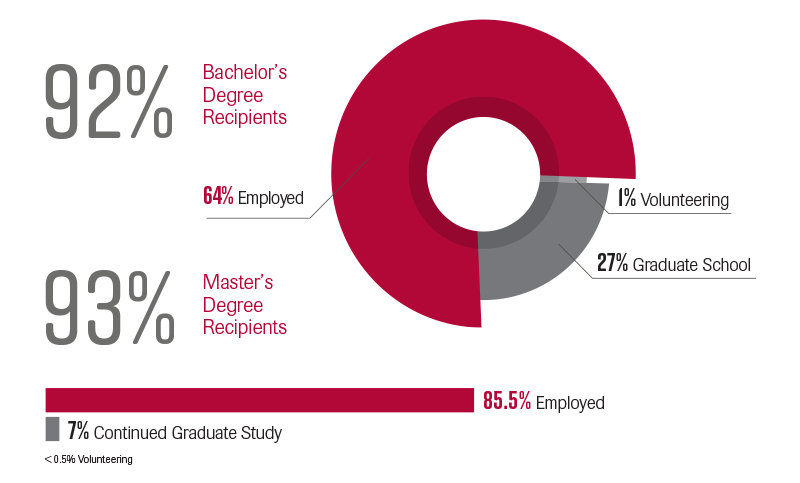 Members of our Class of 2018 are already making a difference in their professions and communities! We reached out to 975 undergraduate and 358 graduate students from Rider's Class of 2018 to learn about their career paths one year after graduation. This overview reflects more than 900 responses.
---
Career Development Support

Assisted in 2018 by Rider career advisors, located within each college


Career-focused workshops presented in 2018 by Career Development and Success staff


Visited campus during Career Fairs
---
Graduate and Professional Schools
You'll find Class of 2018 alumni attending these and other graduate and professional schools nationwide.
Boston University
Brown University
Columbia University
Drexel University
Louisiana State University
New York Institute of Technology
New York University
Pratt Institute
Rider University
The Catholic University of America
University of California San Diego
University of Connecticut
University of Economics, Prague
University of Maryland College Park
University of North Carolina at Chapel Hill
University of Pennsylvania
University of Southern California
University of Virginia
University of Washington
Vanderbilt University
---
Employers who have hired graduates from the class of 2018
The following is just a sampling of the more than 350 employers who have hired Rider's Class of 2018 graduates.
AAA
Amazon Fulfillment
AmeriHealth New Jersey
Aramark
AXA Advisors
Bancroft School
Bank of America
Merrill Lynch
Behavior Interventions, Inc.
Berkeley Township School District
Best Buy
Blackfriars Theatre
BlackRock, Inc.
Bloomberg
BP America
Brick Township School District
Bristol-Myers Squibb
Brother International
Bucks County Playhouse
Bureau of Alcohol, Tobacco, Firearms and Explosives (ATF)
Capital Health
Celgene Corporation
Cenlar FSB
Chatham High School
Children's Stage Adventures
Church & Dwight Co., Inc.
Citi
Comcast
Community Options, Inc.
Cooper University Health Care
Cranford Board of Education
Credence Management Solutions, LLC
Deloitte
DGNY Group
DHL Express
Dick's Sporting Goods
Donahue & Partners LLP
East Brunswick Public Schools
EisnerAmper, LLP
Enterprise
Ernst and Young
ETS/Educational Testing Service
EY, LLP (formerly Ernst & Young)
FedEx Ground
Fiat Chrysler Automobiles-US, LLC
Financial Principles, LLC
Fios 1 News RNN-TV
Firmenich, Inc.
First Bank
Fragomen Worldwide
Goldman Sachs
GP Strategies
Grant Thornton
Hamilton Township School District
Hopewell Valley News
Hyatt Hotels Corporation
iHeartMedia
Ingersoll Rand
Intelligent Networks Inc.<
Jackson Township School District
Johnson & Johnson
Johnson Controls
Johnson-Davis Inc.
Junior Achievement of New Jersey
K.W. Behavioral Consulting
Kidz Choice Services, Inc.
Kimmel & Silverman PC
Kingsway Learning Center
KPMG LLP
L'Oreal USA
Lakewood Public School District
Langan Engineering and Environmental Services
Lear & Pannepacker LLP
Legrand North America
Lightbridge Academy of Lawrenceville
Literacy New Jersey
Lockheed Martin
MAC Cosmetics
Manasquan Board of Education
Mathematica Policy Research
Mercer County Schools
Merrill Lynch Wealth Management
MGM Resorts International
Michael J. Hennessy Associates, Inc.
Mindshare
Moda Operandi
Montgomery Township Board of Education
Mount Holly Township Police Department
Mount Sinai Health System
Munich Reinsurance America, Inc.
Music Tech Contemporary Music School
National Junior Tennis & Learning of Trenton
NBC Universal
New Brunswick Counseling Center
New Jersey Department of Transportation
New Jersey Lenders
New York Jets
New York Life
New York Red Bulls
NJ Department of Environmental Protection
NJ Department of Labor & Workforce Development
NJ Department of Law & Public Safety
NJ Department of Treasury, Office of Management and Budget
NJ State Legislature, Office of Legislative Services
Nordstrom
Northwestern Mutual
Notre Dame High School
Novo Nordisk
NRG Energy
Obubu Tea Farm
Ouachita Baptist University
Parkway Clinical Laboratories
Paterson Charter School for Science & Technology
Penn Medicine
Penndel Mental Health Center
Pennsbury School District
PepsiCo
Philadelphia Insurance Companies
Philadelphia Phillies
Pinnacle Foods
Pipeline Supply Company
Potential, Inc.
PricewaterhouseCoopers
Princeton Child Development Institute
Princeton Garden Theatre
Princeton Public Schools
Princeton University Press
Protiviti
Prudential Financial
QVC
Ralph Lauren
Ramsey School District
Robert Half Technology
Roxbury Board of Education
RWJBarnabas Health
RWS Entertainment Group
Saint Mary's Regional Medical Center
SAP SE
Schneider National
SDI, Inc.
SEMGeeks
SHI International Corp.
Solvay S.A.
South Bergen Jointure Commission
South Brunswick School District
Spectra
Spectrum Science Communications, Inc.
Spoleto Festival USA
Stellar Academy
Stifel, Nicolaus & Company, Inc.
Syneos Health
T-Mobile
Talon Professional Services
TAM-C Solutions
Teach for America
Tekmark Global Solutions
The Arc of Hunterdon County
The Center for Autism
The College of New Jersey
The Estée Lauder Companies, Inc.
The Mercadien Group
The Prudential Insurance Company of America
---
Enhance existing relationships and build valuable new connections through the Rider University LinkedIn page. You'll find updates on alumni, career events and the opportunity to cultivate relationships with like minds.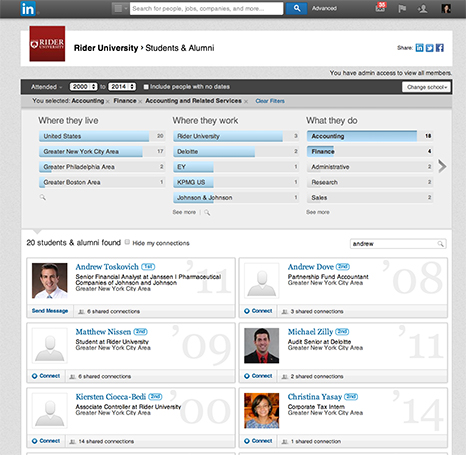 ---
See the real return on investment of a Rider University education through first-person accounts from our talented alumni.

---
A Look at Rider Success