Monday, Oct 23, 2023
Quiet your inner critic with these four tips that can help you move forward fearlessly
It's no secret that starting or returning to college as an adult learner presents its own unique set of challenges. With age comes experience but also more responsibility. Achieving a balance between academics and the extras that come with adulting can sometimes feel a bit overwhelming, but we're here to tell you that you're still well on track to reaching your educational goals.
Though getting started can be intimidating, earning your bachelor's degree can offer life-changing opportunities to discover your calling, advance your career and salary, and achieve a sense of self-fulfillment. 
New journeys are naturally uncomfortable and can come with feelings of uncertainty, but emerging from these thoughts of self-doubt can be done with a little planning, encouragement and support. Here's how. 
1. Get your head into the game
Developing an educational mindset begins with setting clear intentions. Ask yourself: where do I want to be and what will it take for me to get there? Develop a high-level mental roadmap by thinking about three to five daily habits to implement into your routine to set you up for success before starting school.
For example, these habits could be starting your day earlier, using apps to better organize your time, incorporating relaxation techniques such as meditating into your wind-down time, or simply creating a basic daily routine to maintain. Doing this early on can help you mentally prepare for not only the challenges but also the many rewards that come with developing a growth mindset in correlation to your education.
Also, consider scheduling an appointment with a Rider admissions counselor to help you navigate the admissions process and discuss options before even applying.
2. Set actionable goals
Whether you write it, type it, or save it in your notes app: make a list of your goals. Next step? Execute. Here are a few ways to get started on your educational journey:
Meet with an admissions counselor to create a plan of study based on your education and career goals. Our counselors can advise on programs with the fastest speed of completion, how many credits can be transferred and more.
Or, schedule an appointment with a faculty advisor from your prospective college to discuss your anticipated major and possible career options.
Prepare for your meeting by creating a list of five to 10 questions that help you to learn more about the program, financial aid or scholarship opportunities, course sequence and delivery options, and more. And, if you already have college credits, bring your transcript(s) to find out if your previous credits can count towards a Rider degree.
In the future, if you decide to attend, you'll have access to Rider resources like the Student Navigation Office, which offers one-on-one coaching to help you set and maintain goals, and ease into managing work, school, and other obligations.
3. Find your community
It is important to find and build a dedicated support network, especially when taking the leap to start college as a working adult. Be thoughtful about who you surround yourself with during this time because you may face challenges along the way. 
At home, work with your family members and close friends to adjust responsibilities to fit your potential new schedule. It is equally important to be aware of available support networks on campus even before enrolling. Consider talking with our counselors about getting connected with a current adult student who'd be willing to share their experience. Once on campus, we encourage you to get involved with our list of student organizations to find like-minded peers.
No matter what, throughout this journey, don't be afraid to ask questions, seek help and cultivate positive new relationships because, with the right support, this process is manageable.
4. Embrace change
Getting into the groove of your studies may be difficult, but learning to embrace the change is key. Remember, you have options, and integrating your education into your busy life has never been easier. Rider offers flexible degree and certificate programs in hybrid and in-person formats, as well as daytime, evening and accelerated course scheduling.
Additionally, our partnerships with various companies and organizations, such as Capital Health, Bank of America, Church & Dwight, and the State of New Jersey, make higher education more accessible and affordable for employees of these organizations. Plus, our counselors will work with you to identify scholarships, grants and other aid resources that you may be eligible for.  
We understand that this may be a lot to take in, so give yourself grace, keep going until you find the answers and know that we're always here to help.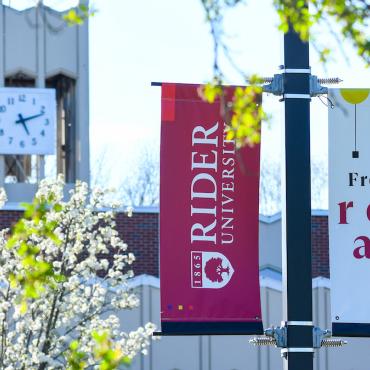 Choose a University that supports adult learners
Always remember, it's never too late to enroll in college. Earning a degree from Rider will set you up for a more rewarding future. To get started, visit our continuing education webpage to learn more about how we can support your path to your college degree, or contact a counselor for more information.
Make an appointment