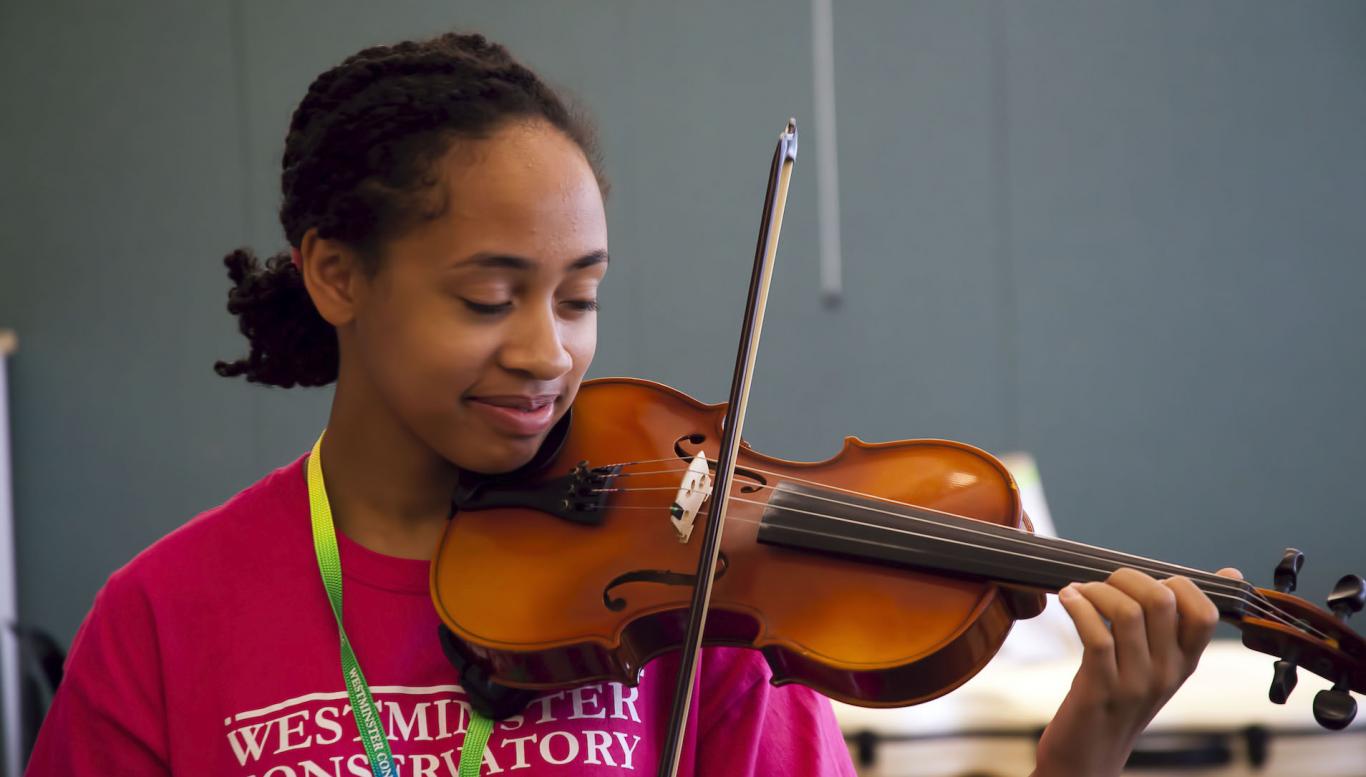 Experience Strings Day!
Westminster Conservatory, the community music school of Rider University's Westminster College of  the Arts, will hold its first Experience Strings Day on Friday, November 5, 2021. 
Offered at the Conservatory's main location on the Westminster Choir College campus in Princeton, Experience Strings Day will feature free 20-minute trial lessons, Q&A sessions with the Assistant Director, & a short performance by Westminster Conservatory string students. The free 20-minute trial lessons with Westminster Conservatory teachers offered in the afternoon will be for children between the ages of 6 through 18. Adults are also welcome to register for a trial lesson.
Learn More
About Private Lesson Instruction
During the 2021-2022 academic year, we are thrilled to announce that we will be able to provide in-person, virtual, and hybrid instruction. 
Please check our private lesson instructor's availability and their plans for the fall (in-person only, virtual only, or hybrid) the 2021-2022 academic year. Please note, this only reflects the times & days an instructor has agreed to teach not real-time availability, and is subject to change.
Music study at Westminster Conservatory presents a unique opportunity for students of all ages and stages of musicianship to achieve musical and personal growth. At Westminster, you will find a full faculty of professional musicians who teach voice, strings, guitar, brass, woodwinds, piano, and percussion. All teachers hold advanced degrees and/or certificates in music. A biographical sketch of each teacher is available on our faculty page. 
Our teachers inspire students in a collaborative environment that nurtures their passion for music. They lead them through a journey of musical theory, literature, and compositions both past and present. Students come away with an unforgettable, life-affirming experience that builds confidence and self-esteem
Private Lesson Tuition
Private lesson tuition – 34-week academic year:
30-minute lesson - $45 each
45-minute lesson - $63 each
60-minute lesson - $83 each
Private Lesson Information
Instrument
(by department)
Recommended Minimum Age (in years)
Recommended Lesson Length (for beginners)

Piano

Piano (Suzuki)

Organ

6

4

12

30 minutes

30 minutes

30 minutes

Violin, Viola, Cello

Ukulele

Mandolin, Guitar (electric, acoustic, bass)

Cello (Suzuki)

Violin (Suzuki)

6

6

8

 

4

3

45 minutes

30 minutes

30 minutes

 

30 minutes

30 minutes

Flute, Oboe, Clarinet, Saxophone,

Bassoon, Horn, Trumpet, Trombone

Recorder

Percussion

9

 

6

7

30 minutes

 

30 minutes

30 minutes

Voice

12

30 minutes

Music Theory and Composition

6

30 minutes
Families with prospective students under the minimum age listed in each section may request an interview (30-minute maximum) if they would like to be considered for private instruction. Families will be asked to complete a registration form and pay an interview fee of $30 before the interview. Upon acceptance of a student under the suggested minimum age, the registration fee and tuition deposit will be due before the student can be placed with a teacher.