Online Private Lesson Instruction
Music study at Westminster Conservatory presents a unique opportunity for students of all ages and stages of musicianship to achieve musical and personal growth. At Westminster, you will find a full faculty of professional musicians who teach voice, strings, guitar, brass, woodwinds, piano, and percussion. All teachers hold advanced degrees and/or certificates in music. A biographical sketch of each teacher is available on our faculty page.
Our teachers inspire students in a collaborative environment that nurtures their passion for music. They lead them through a journey of musical theory, literature, and compositions both past and present. Students come away with an unforgettable, life-affirming experience that builds confidence and self-esteem.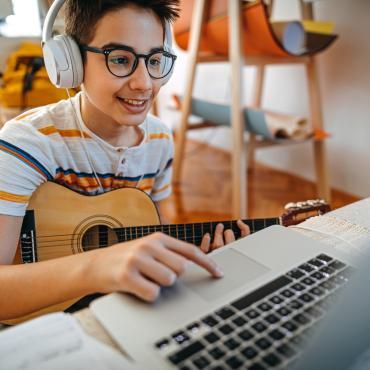 4 for 3 Introductory Offer
Now through April 2021, musicians of all ages and stages of ability can sign up for an introductory package of four lessons for the price of three. The offer is valid for both new students and current students who wish to pursue a new instrument. All lessons are delivered virtually for safety and convenience.
Online Private Lesson Tuition
Private lesson tuition – 34-week academic year:
30-minute lesson - $43 each
45-minute lesson - $60 each
60-minute lesson - $79 each
Intern faculty private lesson tuition – 24-week academic year (piano only):
30-minute lesson - $31 each
45-minute lesson - $44 each
60-minute lesson - $55 each
Intern faculty are graduate piano pedagogy students at Westminster Choir College who are planning teaching careers. Lessons may be affected by the academic calendar of Westminster Choir College and are subject to time changes mid-year.
Private Lesson Information
Instrument
(by department)
Recommended
Minimum Age
(in years)
Recommended
Lesson Length
(for beginners)
Piano
Piano (Suzuki)
Organ
6
4
12
30 minutes
30 minutes
30 minutes
Violin, Viola, Cello
Ukulele
Mandolin, Guitar (electric,
acoustic, bass), Harp
Cello (Suzuki)
Violin (Suzuki)
6
6
8
 
4
3
45 minutes
30 minutes
30 minutes
 
30 minutes
30 minutes
Flute, Oboe, Clarinet, Saxophone,
Bassoon, Horn, Trumpet, Trombone
Recorder
Percussion
9
 
6
7
30 minutes
 
30 minutes
30 minutes
Voice
12
30 minutes
Music Theory and Composition
6
30 minutes
Families with prospective students under the minimum age listed in each section may request an interview (30-minute maximum) if they would like to be considered for private instruction. Families will be asked to complete a registration form and pay an interview fee of $30 before the interview. Upon acceptance of a student under the suggested minimum age, the registration fee and tuition deposit will be due before the student can be placed with a teacher.