Why Choose Global Supply Chain Management
The following article will appear in Supply Chain Management for the Curious: Why Study Supply Chain (Eds. Vaidya, K.). The Curious Academic Publishing, Canberra. Forthcoming in 2016.
Why Consider Supply Chain Management as a Field of Study and as a Career?
By Dr. Tan Miller
Director, Rider Global Supply Chain Management Program
Norm Brodsky College of Business, Rider University
Introduction
In this article, we provide a brief glimpse into the question we pose in our title: Why consider supply chain management (SCM) as a field of study and as a career? Let's jump right into this by starting with a series of answers to this question.
You should consider SCM as both a field of study and as a career because:
It is in the "middle of everything" in a company
You can work for decades in SCM and still learn new things every day
It involves a wide and ever-broadening range of technologies
At the same time, SCM relies on "common sense" approaches – it is not "rocket science"
SCM professionals are typically bright but "down to earth" fun people
The focus is on the customer
There are endless opportunities to travel, and in the end,
SCM is fun, challenging, stimulating and much more.
SCM Is in the "Middle of Everything" in a Company
The supply chain or logistics group must have strong relationships and linkages with all other major functional areas in a firm. The Marketing and Sales/Logistics interface is an excellent example of this. Typical activities of Marketing and Sales include planning and executing promotions of existing products and launches of new products. Promotions and launches require that finished goods inventories be built and positioned in the right place, with the right quantities, at the right time. The supply chain/logistics organization has responsibility for building, deploying and maintaining inventories for a firm. Thus, effective and efficient product promotions and launches demand detailed coordination between Sales/Marketing and SC/Logistics and other major functional areas of a company. This example represents just one of the many activities and processes in a firm that require similar levels of synchronization between SC/Logistics and other functional areas.
Let's expand this discussion now beyond the confines of an individual firm. A complete supply chain consists of many individual firms that collectively transform raw materials and components into finished goods and services delivered to retailers and end consumers in markets around the world. The Supply Chain Council, a non-profit SCM organization, depicts an end-to-end supply chain as shown in Figure 1. Each individual firm has its own supply chain and logistics network, and these individual networks link together to form the overall supply chain.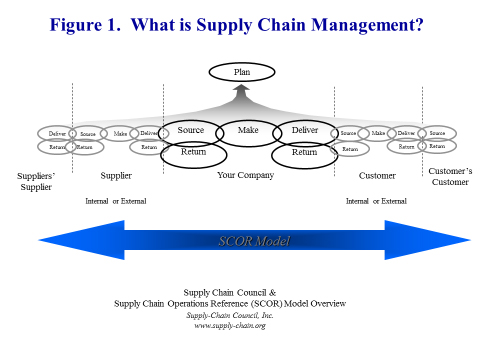 Supply Chain and Logistics practitioners must forge strong working relationships not just with other functional areas in their own firms, but also with colleagues and functional areas of both their suppliers and customers. As Figure 1 illustrates, all firms have both customers and suppliers. Therefore, when you work in SCM, you will find yourself working with colleagues both inside and outside of your own company. This creates numerous opportunities to expand your horizons, and to learn about new and different firms and processes on an ongoing basis. This all contributes to a stimulating, fun professional career where one is constantly learning and growing.
You Can Work for Decades in SCM and Still Learn New Things Every Day
The field of SCM expands and changes every day. Whether it is new technologies, new management methodologies, new firms and products – the one constant in SCM is "change". Additionally, as discussed, and as Figure 1 illustrates, SCM is also incredibly broad in scope. If we asked a SCM professional to describe this discipline in four or five words, he/she might say "Plan, Source, Make, Deliver, Return".1 Within this broad domain, there are an extraordinary number of different careers which can meet virtually any interest that an individual may have.
For those who find planning and analytic work stimulating, and who enjoy performing intricate studies of how to efficiently make and deliver products across a network, SCM offers many opportunities. Further, the type of analytic work required ranges from advanced strategic planning methods, to medium term and short run forecasting, to detailed daily scheduling of plants, warehouses and transportation.
If you are someone who would go crazy sitting behind a desk and computer all day, SCM offers countless positions that will have you on your feet and moving around every day. For example, manufacturing and warehouse directors, managers and supervisors constantly move around their facilities directing operations, interfacing with employees, making day-to-day as well as long term management decisions. These are challenging, vibrant positions that play critical roles on supply chain and logistics networks. If you are a person who enjoys buying goods and services, and interacting and negotiating with other people – then Purchasing is a key SCM function you may wish to consider. If international and/or domestic travel excites you, there are numerous SCM positions such as manager of international transportation, general SC management, and so on where travel is essential to performing the position effectively. A strong supply chain organization also needs employees with expertise in a broad spectrum of technologies. Whether it is data analytics and information technology, manufacturing processes, the use of automation in warehouse operations – the need for employees entrusted with understanding, implementing and managing technology is critical in SCM. We could go on and on about the vast range of occupations and opportunities within the field of SCM. The point is that this field offers opportunities for virtually everyone regardless of one's specific area of interest. Further, SCM organizations need both generalists who have broad knowledge of the field, as well as specialists who have a deep understanding in a specific functional area (such as packaging, warehouse operations, forecasting, etc…). Thus, whether you prefer to be a specialist, a generalist, or a mix of both, there is a place for you in SCM. Additionally, as your professional interests evolve and change over time, the breadth of SCM makes it possible for you to change, evolve and grow for decades, all while staying within the field of SCM. Finally, the training of SCM also can serve as a starting point for later careers in other fields such as general corporate management, marketing and others.
---
1 Obviously, suppliers hope that the intermediate and finished goods they deliver to customers (e.g., retailers) and consumers are not returned. In the real world of course, returns are a component of doing business for many firms. Thus, supply chain network capabilities to facilitate returns must be planned for and executed when necessary. This is often called reverse logistics and requires detailed planning and infrastructure, just as the make and deliver process requires.