Friday, May 5, 2023
'The Rider News' recognized by the New Jersey Press Foundation, Society of Professional Journalists
by Rachel Stengel '14, '20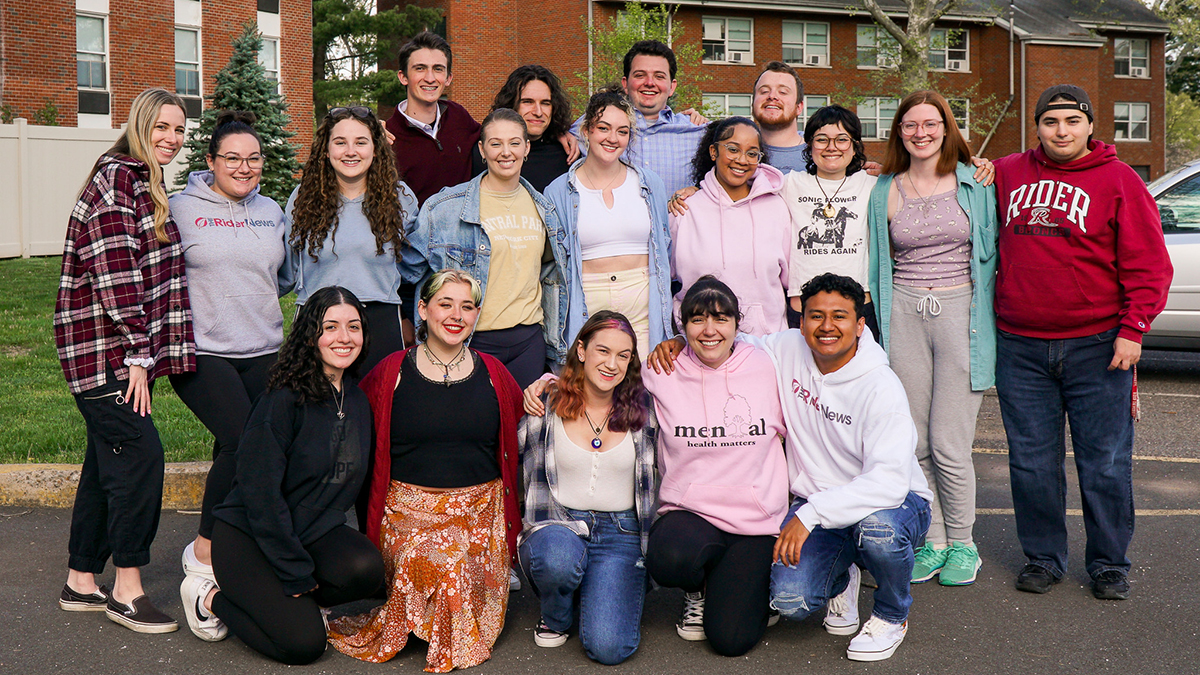 Rider University's student newspaper, The Rider News, earned a number of state-wide and regional awards for the 2022-23 academic year.
At the state level, the paper earned seven awards in the New Jersey Press Foundation's (NJPF) New Jersey College Newspaper Contest, including four first-place finishes. Regionally, The Rider News took home four honors with one first-place win in the Society of Professional Journalists' Region 1 (SPJ) Mark of Excellence Awards. 
"Every person on the staff was extremely dedicated and that showed in the awards we won," says Shaun Chornobroff, outgoing executive editor and senior sports media major. "It was a great year for the paper."
The NJPF awards are open to all four-year and two-year institutions in the state. Entries are broken into two divisions and judged in 14 categories. Rider competed against a number of colleges and universities, including Mercer County neighbors Princeton University and The College of New Jersey. 
Awards from NJPF included:
First place, Enterprise/Investigative Reporting: Amethyst Martinez, junior journalism major, outgoing managing editor and incoming executive editor
First place, News Writing: Martinez, Chornobroff and Olivia Nicoletti, senior journalism major
First place, Sports Writing: Chornobroff
First place, Layout and Design: Staff, The Rider News
Second place, General Excellence: Staff, The Rider News
Second place, Editorial Writing: Felicia Roehm, sophomore journalism major and opinion editor
Second place, Online Video: Bridget Hoyt, junior communications studies major and video editor
The SPJ Mark of Excellence Awards begin regionally with Rider competing in Region 1, which spans Connecticut, Maine, Massachusetts, New Hampshire, New Jersey, New York, Central and Eastern Pennsylvania, Rhode Island and Vermont. Schools are divided into small and large categories based upon total enrollment. Rider competed against schools such as Vassar College and Syracuse University. First-place winners will move on to the national level and compete against winners from the other 11 SPJ regions.
Recognition from SPJ included:
First place, Sports Writing: Jake Tiger, junior sports media major and incoming managing editor
Finalist, General News Reporting: Chornobroff, Martinez and Kaitlyn McCormick, junior journalism major and news editor
Finalist, Photo Illustration: Carolo Pascale, senior sports media major and outgoing sports editor
Finalist, Corbin Gwaltney Award for Best All-Around Student Newspaper
"This has been one of the most pinnacle years for The Rider News, and, as a staff, we want to continue to uphold the legacy that the newspaper has carried for decades," says Martinez. "The awards that we receive every year are just proof that The Rider News is a reputable, hardworking newspaper that the Rider community can trust."
The Rider News is a weekly, student-run publication. The student staff members are responsible for all aspects of the paper's creation as well as its online and social media presence.