Wednesday, May 3, 2023
The win gives the student team its sixth national title in the Small Business Institute Project of the Year Competition
by Adam Grybowski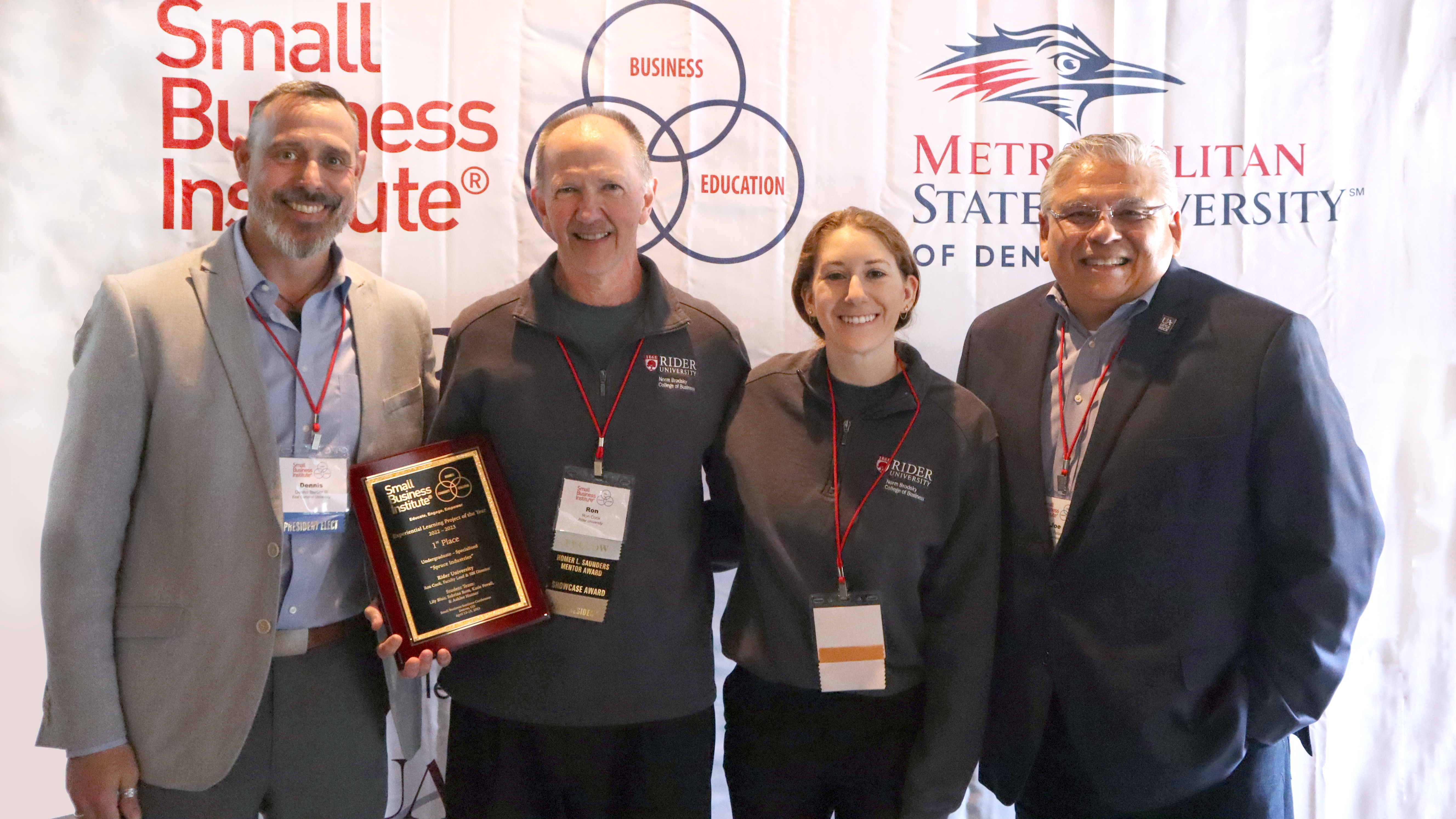 A team of Rider University undergraduate students placed first in this year's national Small Business Institute (SBI) Project of the Year Competition. 
The win gives the undergraduate team its sixth national title since it began participating in the competition in 1998. Over that time, the University has tallied a total of 39 top 10 finishes between the undergraduate and graduate divisions of the competition, which recognizes the best student consulting projects throughout the United States.
"The first place win is a testament to the hard work that the students did to understand the issues, thoroughly evaluate all the options for the client and recommend a course of action," says Dr. Ron Cook, professor of entrepreneurial studies and director of Rider's SBI program. "This real world impact is what student engagement at Rider is all about, and that the client is moving forward with the students' recommendation shows the value of these consulting projects."
The team consisted of Lily Blair '21, Katie Povall '22, Sabrina Rom '22 and Ashlee Hunter '22, who produced the consulting report as part of Cook's class in the fall 2021 semester. In the course, students act as consultants to small firms or organizations. 
That the client is moving forward with the students' recommendation shows the value of these consulting projects."
"I am so grateful that I was selected to be a part of such an incredible opportunity," says Rom, who double majored in marketing and entrepreneurship with a minor in business analytics. "A consulting project such as this one offers students real-world experience where they get to learn hands-on. I think opportunities like this are immensely more valuable than sitting in the classroom or reading a textbook." 
This year's client was Spruce Industries, the Rahway, New Jersey-based business that provides cleaning supplies to schools and hospitals. The student report, which Spruce intends to implement, focused on the best option to meet increased demand. The team analyzed the firm's current warehouse, the organization of its products and its shipment processes to determine the best solution for warehouse expansion. 
"I can't overstate how important these projects are to clients," says Daniel Josephs, executive vice president and chief operating officer of Spruce Industries. "It isn't just about getting the students real-world experience. It is also helping real-world small businesses get high-level information and consultation."
David Molnar '76, Rider's entrepreneur in residence, served as the team's volunteer mentor. Now retired, Molnar is a former vice president of sales of Heraeus Sensor Technology who has often assisted students participating in the SBI competition. This year, along with Cook, he held weekly meetings with the team to provide additional information, help with industry contacts and serve as a sounding board for their ideas. 
"Having an industry professional like David step up to be a resource for the student team improved the overall quality of their efforts," Cook says.