Wednesday, May 3, 2023
Kaitlyn Wong joined the league's social and digital content team in December
by Adam Grybowski
Image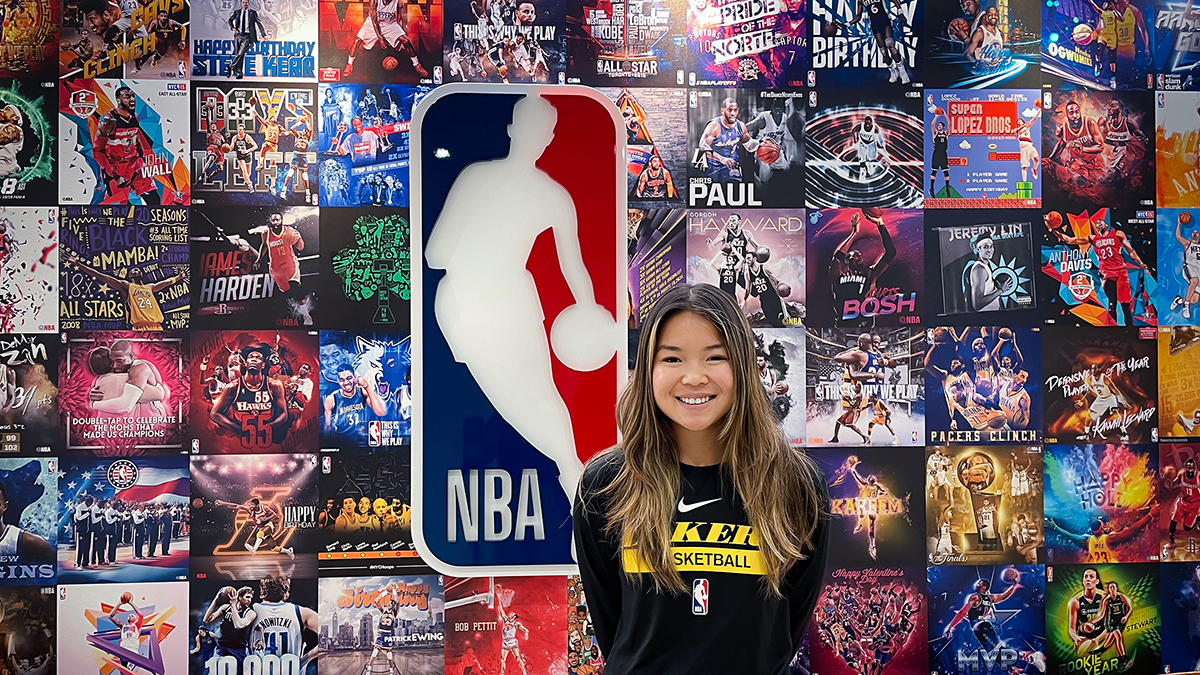 In January, when many of her peers were anticipating the start of their final college semester, Rider University senior Kaitlyn Wong was busy preparing for a different kind of milestone. 
At the time, Los Angeles Lakers superstar LeBron James was on the cusp of overtaking Kareem Abdul-Jabbar as the NBA's all-time leading scorer. Newly hired by the league's social and digital content team, Wong worked closely with her colleagues to ensure the historic event would be memorialized and celebrated on its many platforms.
When James broke the scoring record with a fadeaway jumper in the third quarter against the Oklahoma City Thunder on Feb. 7, Wong was in front of her computer while fans celebrated around the world. She was busy interacting with colleagues, helping to make sure their coordinated efforts unfolded as planned. 
"One of the coolest parts was seeing members of my team be on site for coverage," Wong says. "This is just the beginning for me, and I realized that one day that could be me."
Her aspirations are built on a strong foundation. As a student, she has already held two full-time jobs. Last fall, before accepting her current position with the NBA, she was the director of digital marketing for GameRX Sports, which produces a line of topical treatments for athletes. Wong is now part of a team that produces and manages content for all of the NBA's social and digital platforms. Their reach is staggering. The league's Instagram account, its most popular social media platform, has 96 million followers from all around the world.
I wasn't sure it was possible for me to get this job, but people seem to end up in the places they're meant to be."
Transitioning from being a student to a professional, Wong has had to learn to trust herself. That began with the decision to apply for the job in the first place. For anyone on the job hunt, especially those just starting out, she recommends disregarding anxieties about not being qualified enough for the job. 
"You never lose anything by applying," she says. "It's up to the hiring team to figure out if you are or are not qualified. I wasn't sure it was possible for me to get this job, but people seem to end up in the places they're meant to be."
The dual major in marketing and sports management came to Rider from Los Angeles, having been accepted into the University's Business Honors Program, which is extended to about 50 students in each entering class. She also played three seasons of Division I soccer in Lawrenceville, New Jersey.
Of all her college activities, Wong says joining DAARSTOC, Rider's executive skill-building organization, was perhaps the most valuable. The group offers workshops and weekly meetings to help students build a set of skills that can help them succeed and advance professionally. She leaned on the group to help her navigate her entrance into the corporate world, which began fully remote and has since transitioned into a hybrid model that includes time spent working in person at the NBA offices in Secaucus, New Jersey.
"It's been really nice to surround myself with like-minded students who are on the same path as me," Wong says.