Thursday, Feb 23, 2023
Maddie Caccavale works with the music industry's best as a Grammy U representative
by Rachel Stengel '14, '20
Image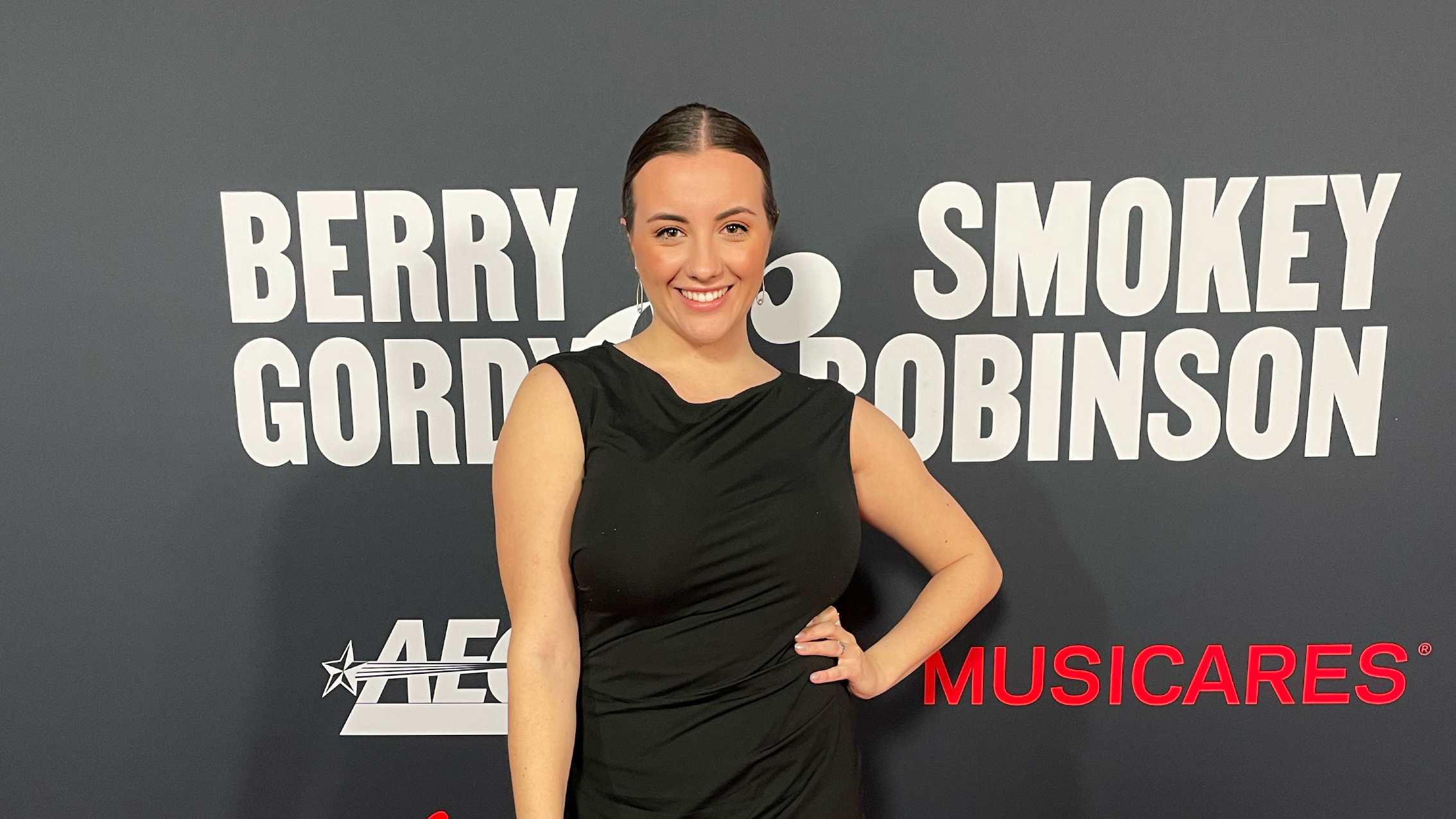 The first album Maddie Caccavale ever bought was Taylor Swift's Speak Now in 2010. Over a decade later, she had the opportunity to celebrate music's biggest night in the same room as the pop star. 
The senior arts and entertainment industries management major attended the 2023 Grammy Awards ceremony on Feb. 5 as part of her internship with Grammy U, the Recording Academy's membership for college students pursuing careers in music. Caccavale is one of just 14 nationwide representatives for the program; she oversees the organization's New York Chapter.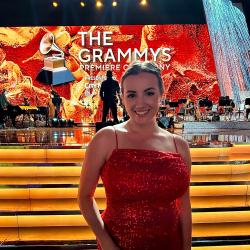 "The Grammys were electric for a reason this year," she says. "It was the first Grammys fully back in Los Angeles, in person, in about two-and-a-half years." 
Prior to the ceremony, she attended the Grammy Premiere Ceremony, an un-televised celebration where other, less-mainstream Grammy Awards are presented. She had a third-row seat to see Viola Davis become an EGOT — the winner of an Emmy, Grammy, Oscar and Tony — a coveted goal for many performers. 
Stevie Wonder, Harry Styles, Sheryl Crow, John Legend, Elton John, Beyonce and Lizzo are just some of the other superstars she encountered during the week of a lifetime. Caccavale worked and volunteered throughout Grammy Week in Los Angeles at a number of Recording Academy events. She captured social media content during the Grammy Special Merit Awards, which honored a number of artists, including The Supremes, Nirvana, and Ann and Nancy Wilson. She and her fellow Grammy U representatives also planned a master class hosted by Grammy-winner Jacob Collier and Grammy-nominee Jessie Reyez. 
She attended the Academy's MusiCares gala, which annually honors a musician for his or her contributions to the field and philanthropy. For the first time ever, two legends were honored — Berry Gordy Jr. and Smokey Robinson. She also attended a showcase of up-and-coming artists, an improv jam session and a full production tour of Crypto.com Arena, home to the Grammy's ceremony. 
"We were booked and busy," Caccavale says. "The whole thing was a big learning experience. This was a huge opportunity for me to soak up everything I could and network with the biggest people in the industry I want to break into."
This was a huge opportunity for me to soak up everything I could and network with the biggest people in the industry I want to break into."
As the New York chapter Grammy U representative, she oversees 1,000 members. She pairs students with professional mentors, plans local and nationwide events and works with New York Chapter college campus representatives to help gain new members. 
Previously, Caccavale has interned with The Rocks Management, Warner Music Group and United Talent Agency. Throughout all of these experiences, she says she has grown tremendously from when she first started her collegiate career. She credits her professors for providing a strong, practical foundation, particularly Todd Dellinger, associate professor and program coordinator for Rider's arts and entertainment industries management major, and Linda Lorence Critelli, assistant professor. 
"Starting out at Rider, I was the kid in the back of the classroom that didn't say anything," she says. "Linda saw something in me that I didn't see. She's really mentored me and has been a huge reason as to why I've been successful. She's taught me everything that I know and put in recommendations for me. It's been great to have someone like her in my corner."