Monday, Nov 7, 2022
The free, online event to feature award-winning poets and jazz musicians
by Tatiana Sciancalepore
Vincent Toro, multi-disciplinary artist and assistant professor of English, will be co-hosting A Beautiful Bond, a poetry and jazz performance to be live streamed Nov. 8.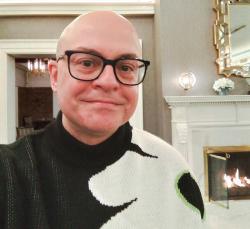 A Beautiful Bond was conceived by Toro and celebrates the deep-rooted connection amongst Black and Latinx communities and their shared struggle for liberation. The performance, co-hosted by Grammy-winning jazz artist Christian McBride, is part of City Verses: Elevating Voices Through Jazz and Poetry, a collaboration between NJPAC and Rutgers University–Newark. It aims to strengthen jazz and poetry education, performance and appreciation during a time of increasing racial division. The event was made possible by a grant from the Andrew W. Mellon Foundation. 
"A Beautiful Bond is a wholly unique arts experience," says Toro. "It brings together some of the most prominent contemporary poets and luminaries from the jazz world for what is an electrifying concert celebrating the centuries-long history of solidarity between Black and Latinx people in the Americas."
The program will include original poetry performed by Lincoln Center Poet-in-Residence Mahogany L. Browne, National Endowment for the Arts (NEA) Fellow and Whiting Award winner Aracelis Girmay, Kingsley Tufts Poetry Award winner John Murillo and State Poet of New York Willie Perdomo. Musical interludes by a jazz trio featuring NEA Jazz Master Reggie Workman, Nasheet Waits and Sullivan Fortner, along with discussions between Toro and McBride, will be interspersed throughout. The evening will conclude with a live, online chat with attendees. 
Toro, a poet, playwright, stage performer and educator says he is passionate about building bridges in the fight for equality. He is the author of two poetry collections: Tertulia, which was a finalist for the Omnidawn Poetry Prize, and Stereo.Island.Mosaic., which was awarded the Sawtooth Poetry Prize and the Poetry Society of America's Norma Farber First Book Award. Toro has been published in dozens of national and international publications, and has taught creative writing, global contemporary poetry and literature with a Latinx focus throughout the U.S. and internationally. 
Originally recorded live at NJPAC and Clement's Place, a jazz lounge on the Rutgers–Newark campus, A Beautiful Bond's public distribution was delayed due to several pandemic-related circumstances. After more than a year's wait, it will be live streamed via Facebook live Nov. 8 at 7 p.m. and will remain available online for future viewing. For more information, visit njpac.org/event/a-beautiful-bond.