Wednesday, Sep 27, 2023
Family recognized for lifetime of hazing prevention advocacy
Image
Rider University presented Gary and Julie DeVercelly with the Sesquicentennial Medal of Excellence during the "Critical Conversations: An Evening with the DeVercelly Family" event held on the Rider campus on Sept. 25. The event was co-hosted by the Rider University Greek Council and the Student Involvement Office to commemorate the start of National Hazing Prevention Week and highlight the family's remarkable advocacy work.
The Sesquicentennial Medal of Excellence celebrates those within the Rider community who have made exceptional contributions to enhance the Rider experience for students, alumni and the broader community. It was presented to the DeVercellys by University President Gregory G. Dell'Omo, Ph.D., who commended them for their unwavering dedication, saying "I can't think of anyone more worthy to be recognized for their tireless and passionate work in service to Rider, college students and parents across the country."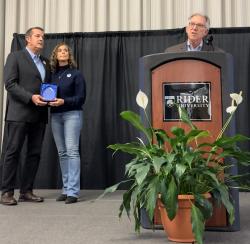 The DeVercellys' journey into hazing prevention advocacy began with the tragic loss of their oldest son, Gary Jr., as a result of a fraternity hazing ritual in 2007. Since then, they have been dedicated to raising awareness about the dangers of hazing and working to prevent similar tragedies from occurring on college campuses.
During her remarks, Julie DeVercelly passionately emphasized the need for change, declaring "Hazing is 100% preventable, 100% unnecessary. There are positive, healthy alternatives to hazing." 
Their nationwide efforts have been instrumental in advancing more effective anti-hazing legislation, notably transforming the Report and Educate About Campus Hazing (REACH) bill into the Stop Campus Hazing Act. This legislation aims to enhance hazing reporting on college campuses, institute comprehensive hazing education and prevention initiatives, and provide families with readily available information to help them make informed decisions about joining on-campus organizations.
In addition to their legislative efforts, the DeVercellys serve on The Clery Center Board of Directors, an organization committed to aiding higher education institutions in implementing robust campus safety measures. They have also left a lasting impact through their documentary work. In 2015, they produced the award-winning documentary We Don't Haze, and they are currently collaborating with acclaimed director Daniel Catullo on Protect the House, a six-part series that sheds light on families affected by fraternity hazing tragedies.