Monday, Oct 30, 2023
Six graduates recognized for exceptional career success and service
by Tatiana Sciancalepore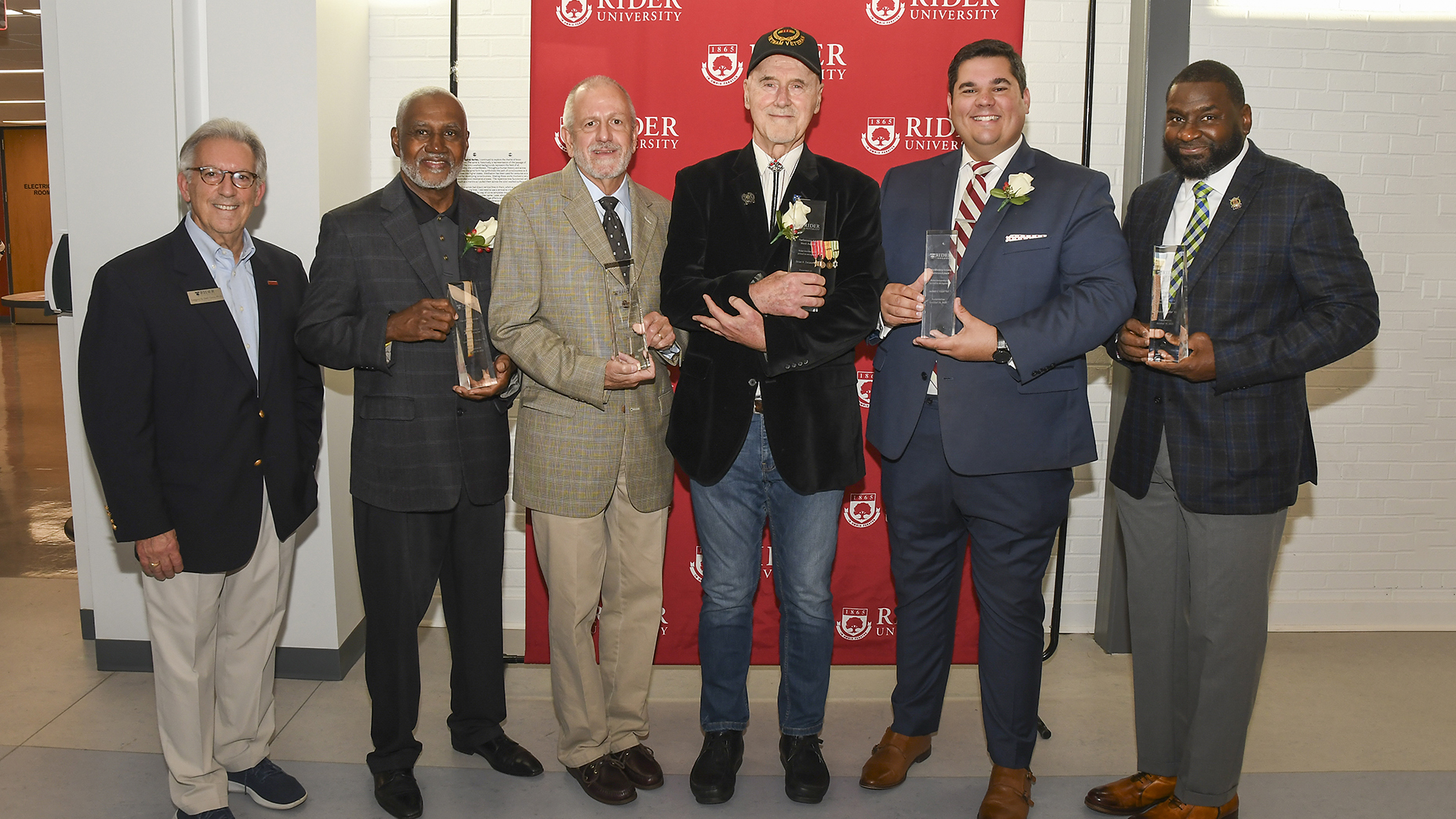 Rider University celebrated the achievements of six distinguished alumni at the annual Alumni Awards Ceremony held on Oct. 28 during Homecoming Weekend. The honorees were recognized for their remarkable professional achievements as well as their invaluable contributions and unwavering dedication to their respective fields, communities and alma mater.
2023 Alumni Award recipients
Holly Hempel '96 was presented with the Distinguished Alumna Award, which is given to those who have achieved exceptional attainments in life, thereby reflecting credit and glory on Rider University. 
Hempel's legal career at Nelson Mullins Riley & Scarborough LLP spans over a decade. She ascended to partner in 2007 and has held the pivotal role of team leader since 2014. Her responsibilities expanded further in 2020 when she assumed the position of assistant group leader, managing a team of over 500 litigators. 
Hempel's dedication and outstanding contributions earned her the "Rising Star'' designation in the Georgia Super Lawyers publication from 2009-13 and she was recognized as the Kerry Harike Joedecke Atlanta Young Lawyer of the Year in 2006. She was honored with the Sara Turnipseed Women on the Go Award in 2015. Hempel has served as the president of the Atlanta Counsel of Younger Lawyers and as a board member of the Atlanta Volunteer Legal Foundation. She is also a member of the National Association for Women Lawyers, Georgia Association for Women Lawyers, Litigation Counsel of America and DRI - The Voice of the Defense Bar. 
During her undergraduate years at Rider, Hempel was a Presidential Academic Scholar, a member of Phi Beta Kappa Honor Society and Omicron Delta Kappa National Leadership Honor Society. She graduated magna cum laude from Rider with a Bachelor of Arts in Political Science and earned her law degree from Wake Forest University School of Law in Winston-Salem, North Carolina. 
Edward John Butler '86 is this year's recipient of the Lawson R. McElroy Award in Engaged Learning, which is awarded to a Rider alumnus or alumna who works in either the private or public sector in support of student or employee learning outside of the formal classroom. 
For more than 40 years, Butler has helped troubled youth find their place as productive members of society. He has held numerous roles within the New Jersey Department of Corrections, Division of Juvenile Services and local facilities. He turned YouthBuild, a program providing academic instruction, construction and life skills to young adults, into a national model and one of the largest re-entry programs for juvenile offenders in New Jersey. He also transformed the largest juvenile facility in the United States, the Charles Hickey Jr. School in Baltimore, into a thriving, national model for servicing adjudicated youth.
Butler attended Rider on a full academic and athletic scholarship. He earned a Bachelor of Arts in Fine Arts and Education, while also participating in the campus Army ROTC program, which launched a 17-year career for him as an officer in the United States Army National Guard.
David Molnar '76 was presented with the Gordon E. Prichard '63 Award for Volunteer Service, which is bestowed annually upon a Rider graduate who has distinguished him or herself as exemplary in providing volunteer service to Rider University. 
For more than a decade, Molnar has been a steadfast supporter of Rider University. He served on the advisory board for Rider's Center for Entrepreneurial Studies from its inception in 2014 until 2022 and continues to serve as entrepreneur in residence. He continually offers his expertise as a judge in the Norm Brodsky Business Concept Competition, actively engaging with students and sharing his invaluable insights. Molnar also serves as a distinguished guest speaker in numerous classes at Rider while providing mentorship for the Veterans Entrepreneurial Program and the Small Business Institute. He holds a Bachelor of Science in Commerce with a major in marketing from Rider.
Gregory Owens '76 is this year's recipient of the Harold L. Conover Leadership Award, which is bestowed annually upon a Rider graduate who has distinguished him or herself as an exemplary leader in the field of nonprofit, community or government service. 
A licensed master social worker, Owens has become a highly sought-after keynote speaker, trainer, facilitator and consultant on issues of racial disparity, racial disproportionality, racial justice, bias, equity and inclusion. He has been called to address topics such as implicit bias; health literacy and culture; effective approaches for working with young Black males; and mastering difficult conversations. He has also lent his expertise in the areas of leadership development, cultural competence and the science of bias, anxiety and threat. Owens earned his bachelor's degree in sociology from Rider. 
Most recently, he has focused on transformative leadership, advising the North Carolina Department of Health and Human Services, the Wilson County Department of Social Services in North Carolina and the Office of Court Administration in New Jersey.
In March of this year, he was honored with the Champion for Justice Award from the New York State Chapter of the National Association of Social Workers in recognition of his long-standing work to eradicate racial disparities in various systems, and determination to seek justice and fairness for families and communities throughout the United States and abroad. 
Jim Vasil '14 was presented with the Outstanding Young Alumnus Award, which is awarded to a Rider alumnus who has completed his studies at Rider University within the last 10 years and who has achieved notable success in his work, resulting in a positive reflection on the University. 
Vasil serves as PIX 11's only devoted reporter to the State of New Jersey. Throughout his career, he has covered breaking news, politics and emotional feature stories. Additionally, he is a two-time Mid-Atlantic Emmy Award-winner and a six-time nominee. 
Previously, he served as a reporter for News 12 New Jersey and WFMZ-TV 69 News in Allentown, Pennsylvania, and as a video journalist for Spectrum News in Albany, New York. He has covered numerous historic events, including the Jan. 6 U.S. Capitol riot, the 2020 presidential election, the aftermath of the devastating earthquakes in Puerto Rico and the COVID-19 pandemic. 
Vasil earned his bachelor's degree in radio and television from Rider. During his time at the University, he was an active member of Rider's own television station Rider University Network and earned the F. L. Ferris Journalism Trophy, which is presented to an outstanding student journalist over his or her four-year college career. 
Brian Delate '75 was presented with the Performing Arts Merit Award, which is presented to Rider alumni who distinguished themselves through exceptional achievement in the field of performing arts, arts education or community arts.
Delate, who earned his bachelor's degree in fine arts from Rider, has had an illustrious career in film, television and theater. Most notably, he has appeared in The Shawshank Redemption, The Truman Show, Sudden Death and in Oscar Wilde's Salome on Broadway with Al Pacino. Outside of Broadway, he has performed on stages in Europe and Asia, and on television he has appeared in the Law & Order franchise, Rescue Me, and in recurring roles on daytime television, among other shows. Delate also wrote and directed the award-winning indie feature Soldier's Heart. 
Delate served in the Vietnam War as a decorated non-commissioned officer and has been deeply involved in the veterans' community, addressing PTSD and suicide prevention. His military experience and passion for the arts led to the creation of his play, Memorial Day, which was developed at The Actors Studio in New York with encouragement and guidance from Ellen Burstyn and Harvey Keitel. The play was presented in New York, Los Angeles and Hanoi, Vietnam, as well as at Rider University during a special engagement.