Friday, Apr 28, 2023
Annual event connects generous donors with their scholarship recipients
by Diane Cornell
Image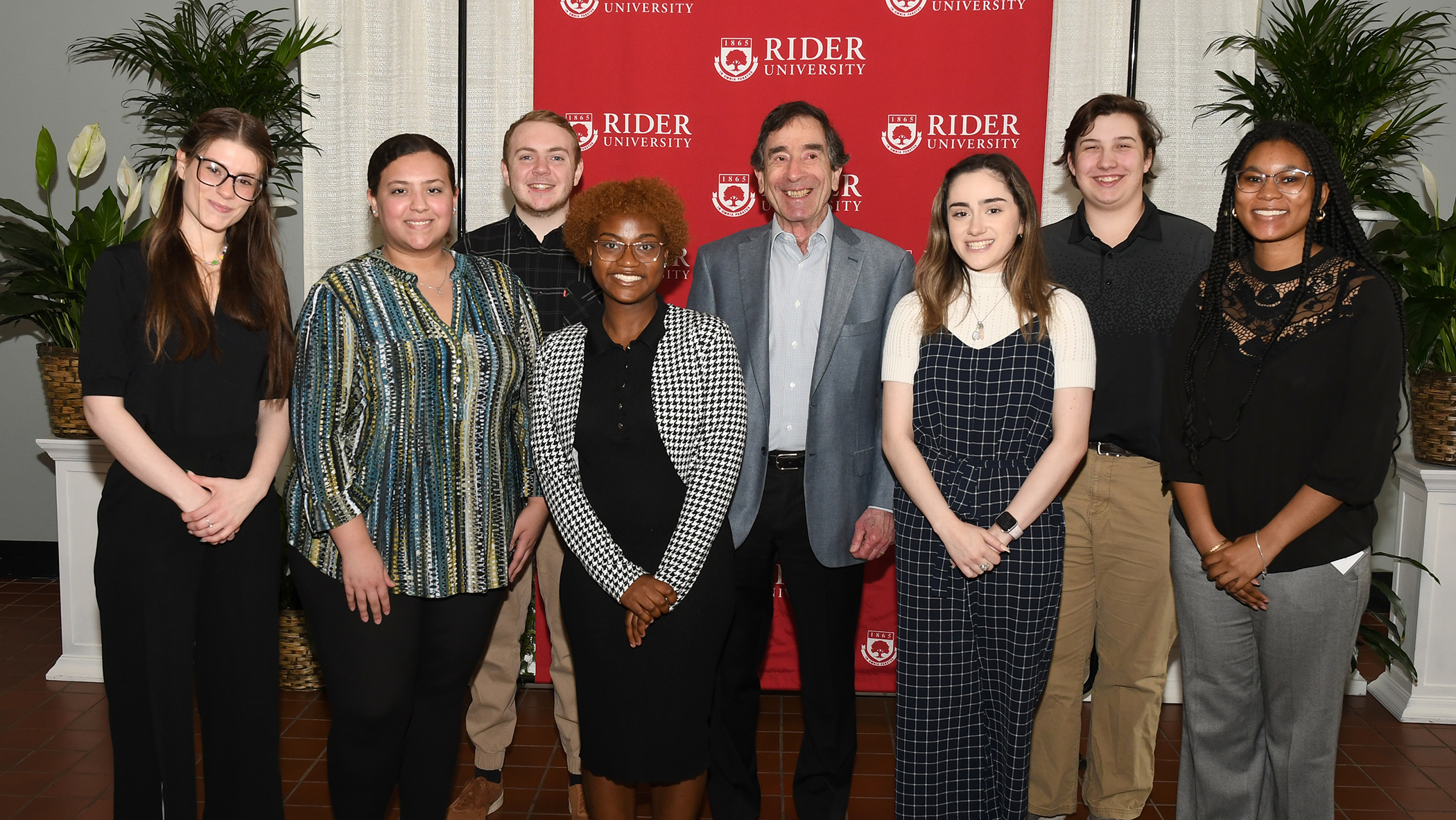 Rider University held a scholarship luncheon for donors and recipients of named scholarships on April 18. More than 130 donors, alumni, students, faculty and staff members attended the event, held on campus in the Cavalla Room of the Bart Luedeke Center.
The event provides an opportunity for generous donors of undergraduate and graduate scholarships to meet and build connections with the students their philanthropy supports. During the event, six new scholarships were announced that were awarded for the first time this academic year:
The Dominic H. '73 and Joanne Balzano Endowed Scholarship
The Carolyn Smyth Duckett Memorial Endowed Scholarship
The Robert Erb '55 Endowed Music Education Scholarship
The Gary W. Hough '81 Endowed Accounting Scholarship
The Dr. Eugene Marsh '13, '18, '21 Memorial Endowed Veterans Scholarship
The Anna B. Stokes Endowed Music Scholarship 
"Endowing a scholarship means it will exist for all time," noted Rider President Gregory G. Dell'Omo, Ph.D., during his remarks at the luncheon. "It is not just an investment in today's student, but in future Rider students as well."
Since the start of the University's Transforming Students – Transforming Lives comprehensive fundraising campaign in 2018, 36 new endowed scholarships have been created to support Rider students. Building Rider's endowment and increasing scholarship support is one of the campaign's three priorities.
The University has 339 endowed scholarships which are awarded on an ongoing basis during the academic year. Last year, 830 students received nearly $3 million in donor scholarship support. 
It is not just an investment in today's student, but in future Rider students as well."
The annual event hosted by University Advancement, features extraordinary scholarship recipients who memorably share their personal stories. This year's speakers were senior Zeinabou Ly, the first recipient of The Joan C. Mazzotti '72 and Michael C. Kelly Endowed Scholarship, and junior Alex Long, who received his scholarship from The UPS Foundation.
Long, a health sciences major from Flemington, New Jersey, is a brain cancer survivor who received the life-altering diagnosis just prior to starting his freshman year at Rider. 

"Cancer took away my ability to perform simple tasks like walking, talking, sleeping… you name it, I couldn't do it without help. But I got up every morning with the mindset, 'I'm going to be better today' and with each small step I took, literally, I was. With intense physical, occupational and speech therapy I was able to do things I loved again."
Junior Alex Long (right) received a scholarship from The UPS Foundation and spoke at the event. MaryAlice Breuninger (left), vice president of Independent Colleges and Universities of New Jersey, represented the organization, which facilitated the scholarship.

Senior Zeinabou Ly (center) was the first recipient of The Joan C. Mazzotti '72 (right) and Michael C. Kelly (left) Endowed Scholarship and spoke at the event.
He credits his scholarship with helping him achieve his educational goals.
Ly, an information systems major minoring in business analytics and Chinese, is a first-generation college student from Lyndhurst, New Jersey, who told those gathered that receiving her scholarship "allows me to focus on my studies and career advancement without worrying about how I will afford my education. Since I have not had to worry about financial pressures, I have been able to make the Dean's List every semester and maintain a 3.9 GPA."
Vincent Milano '85 and University Trustee Michele Powers '84, who both have endowed scholarships to Rider, spoke about the lasting importance endowed scholarships have on the University as a whole.
"The Rider University I attended was a better institution from the one my parents attended thanks to the people who gave their time, talent, vision and money to enhance it," Powers noted. "The Rider University you attend today is better still because of the same vision and generosity of others. No one achieves their goals alone."
A photo gallery from the scholarship luncheon can be found here.