Friday, Mar 5, 2021
Junior George Afoakwah is a biology major aspiring to a molecular biology or cardiology career
by Diane Cornell
A junior biology major from North Brunswick is the first recipient of the Jonathan Yavelow Endowed Scholarship, a fund established by more than 120 alumni, colleagues and friends to honor the beloved science professor who died in October after teaching at Rider for 38 years.
The scholarship recipient, George Afoakwah, will use his award to continue his studies at Rider in order to fulfill his aspirations of a career in either molecular biology or cardiology.
"I am very thankful for the support," says Afoakwah. "My education is only possible because of the many kind people that have invested in me." To them, he says, "Your gift goes a very long way. It affects me and my immediate family, my community, and the people I work with at this University and in my future career. I am very grateful."
Afoakwah grew up in Ghana and came to the U.S. with his brother in 2016. He says he was drawn to Rider because of its small size and close-knit community. "I knew it was a university where I could get the attention I need and build relationships. Many of my friends at other universities have classes with 100-plus students. They do not get as much attention and assistance from faculty as I do at Rider. Here, the community is small, which makes it easy to stand out and also get necessary help."
At Rider he has been active on campus, joining the pre-med society, French club and intramural soccer and becoming a supplemental instructor for students enrolled in Chemistry 122. Off campus, he practices the martial art Muay Thai and is a youth leader at St. Paul's Methodist Church in Franklin Township.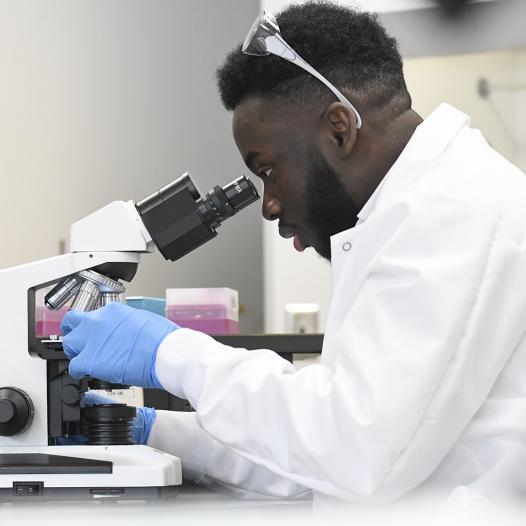 My education is only possible because of the many kind people that have invested in me.
The Jonathan Yavelow Endowed Scholarship supports undergraduate science students with financial need and was initiated by Yavelow's many colleagues, alumni and friends as a way to honor his legacy. During Yavelow's long career at the University, he served as the assistant dean for the sciences, faculty director of the University's Health Studies Institute and the chair of the biology department. In 1995, he received Rider's Frank N. Elliott Award for Distinguished Service, which is presented annually to individuals who have demonstrated extraordinary service to the University.
Yavelow also helped to convene and lead the Science Advisory Board and was especially proud of the students in the Ronald E. McNair Post-Baccalaureate Achievement Program that he mentored. The program prepares students from underrepresented backgrounds for the pursuit of doctoral studies in the STEM disciplines.
"As we continue to mourn Jonathan's loss, it is meaningful to know that his legacy of helping others will live on through the number of students supported by this scholarship," says Dr. Kelly Bidle, dean of the College of Liberal Arts and Sciences.
Contributions to the Jonathan Yavelow Scholarship Fund can be made by visiting rider.edu/YavelowScholarship or by mailing a check, payable to Rider University, c/o Courtney Sledge, University Advancement-LIB-137, Rider University, 2083 Lawrenceville Road, Lawrenceville, NJ 08648-3099.