Friday, Jan 20, 2023
Janssen Pharmaceuticals grant provides study skills and the opportunity to meet diverse role models
by Diane Cornell
Image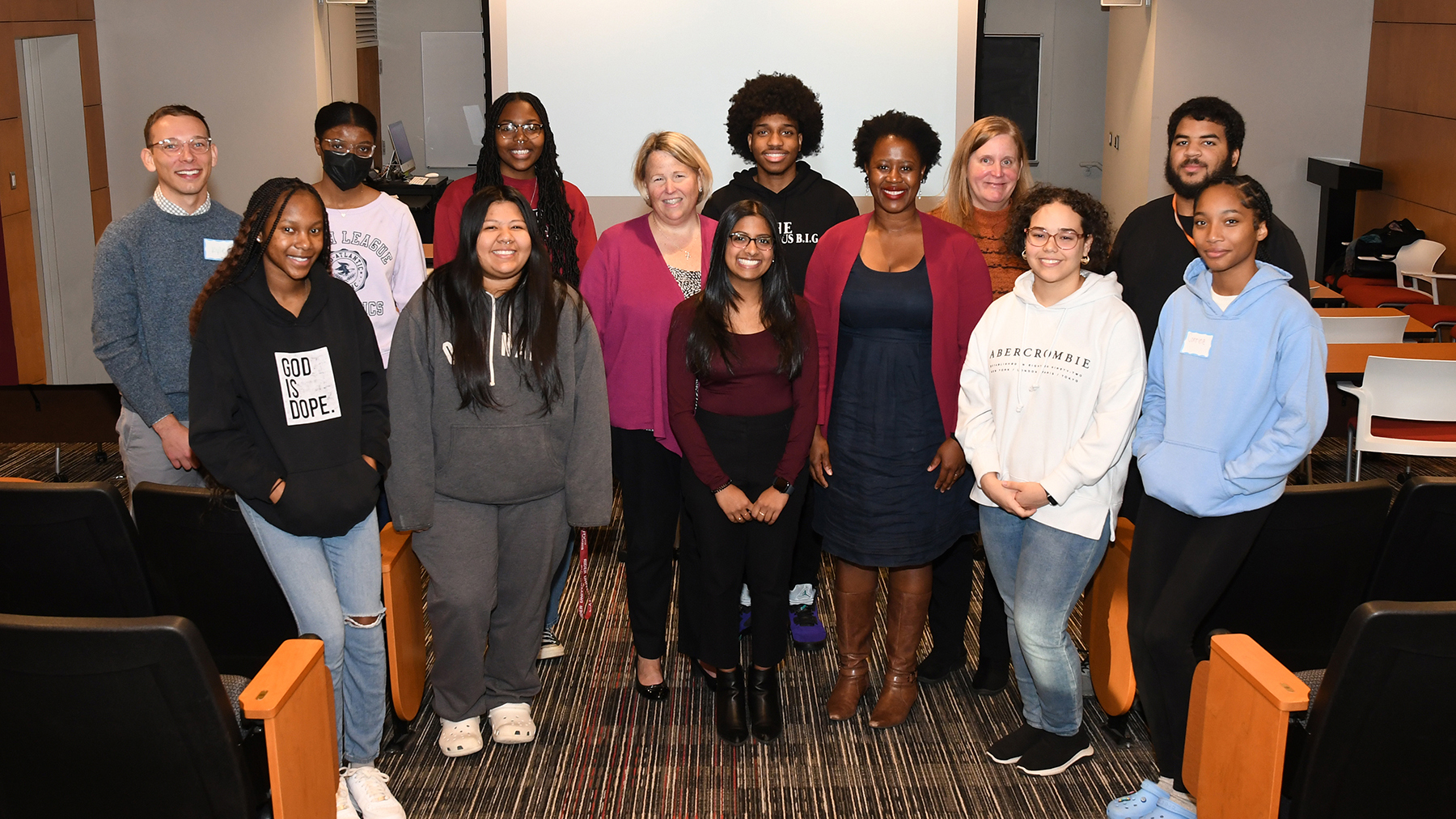 Recognizing the need for greater diversity within the scientific workforce, Rider is strengthening its support of underrepresented students as they pursue a career in the sciences. With the help of Janssen Pharmaceuticals, who is providing more than $20,000 in funding, Rider has launched a new program called Making Connections that encourages and supports underrepresented Rider students as they pursue careers in STEM fields. 
About 20 first-year Black and Hispanic students are participating. The students, called Janssen Scholars, are enrolled in "Principles of Biology I," a rigorous initial course that all those majoring in the sciences or health care are required to take. The project aims to provide a cohort experience to students and to address some of the challenges students may face, including inadequate high school science preparation and few role models.
"These students have the drive and passion to pursue a career in the sciences, but challenges in their daily lives can limit them from honing their skills and fully demonstrating their abilities," says Dr. Kelly Bidle, dean of the College of Arts and Sciences. "We are hoping this type of holistic support will have a positive impact on grades and benefit students' overall retention in college."
According to the Pew Research Center, "Black and Hispanic workers remain underrepresented in the science, technology, engineering and math (STEM) workforce compared with their share of all workers."
At Rider and elsewhere, poor performance in the introductory biology course, which is a gateway to the rest of the science curriculum, not only prevents students from continuing in the sciences, it can impact their confidence and cause them to question their future in college.
In the past, feedback from students and observations from Rider's STEM Student Success team have found that lack of understanding of the real-life application of scientific processes and diminished confidence are two key stumbling blocks for successful completion of the course.
These students have the drive and passion to pursue a career in the sciences."
By offering students weekly team building activities, assistance with study skills, financial incentives such as a free textbook, along with the opportunity to meet diverse role models, the program hopes to retain more underrepresented students and ultimately create a more diverse workforce within the scientific fields.
Already some students are seeing the benefits. "The weekly meetings have helped me tremendously as a first-semester student," says Christopher Whyte, a biochemistry major. "I can practice my thinking and communication skills, do better on tests and also retain the information better."
To further engage students, another project component invites diverse speakers to campus to talk about the challenges they have overcome while pursuing their career path. Last semester's speakers were Daria Brockington-Gray '21, an assistant scientist at Evotec, a biotechnology company; Majory Colon Mena '21, a 6th grade science teacher at KIPP Hatch Middle School in Camden, New Jersey; and N'Goundo Magassa, product director for Janssen Pharmaceutical Companies, who offered this advice to students, "Be curious, ask questions, collaborate with others, and clearly communicate your thoughts."
"I am really grateful for the guest speakers who have shared their study habits and experiences," says biology major Maxwell Pierre. "They have helped me find ways to improve academically, and I feel more confident in my major."
"The Janssen Scholars program lets us, as science students, see our options and the multiple opportunities we have when we leave," says Arleny Paulino, health sciences major.
The Janssen funding also provides professional development for high school science teachers in order to address curriculum gaps so that high school graduates are better prepared for college-level coursework.
"By incorporating all these elements we hope to improve the retention of underrepresented students in the sciences. This in turn will lead to developing a more diverse workforce in the sciences which will help to broaden our approach to scientific questions, as well as create more mentors and role models for people of color," says Bidle.