Friday, Nov 3, 2023
Leadership gift supports University's 'Transforming Students – Transforming Lives' campaign
by Diane Cornell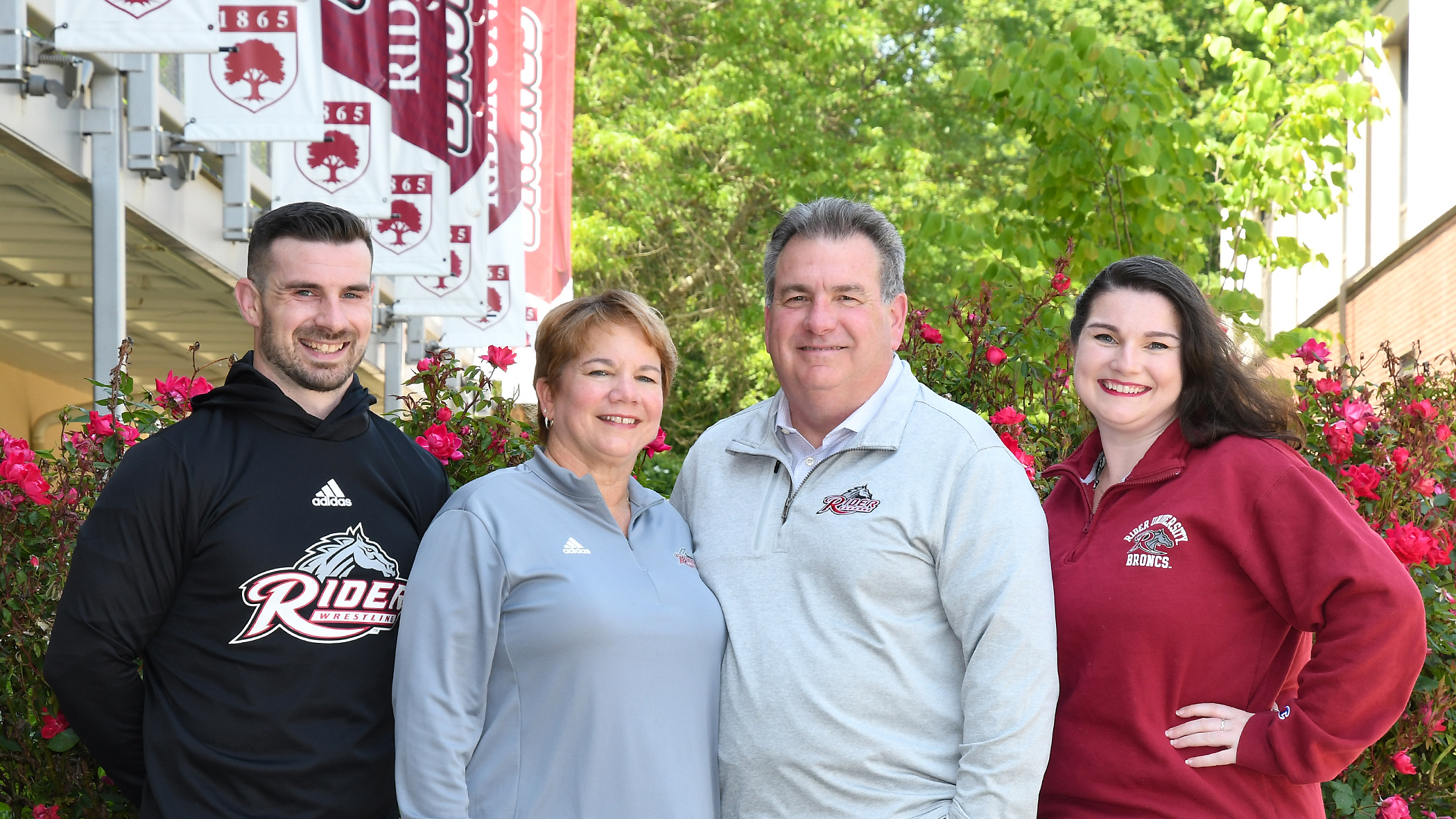 Rider University has announced that the family of Mike Reca '93 and Cheryl Reca have made a $100,000 irrevocable bequest to the University's Transforming Students – Transforming Lives fundraising campaign. When realized, the gift will support Rider's Gary Taylor Wrestling Center.

Taylor, the former head coach of the wrestling team, died last year. During his legendary 39-year tenure, (1978 to 2017) the Rider wrestling program won 14 conference championships. Since 1980, 17 different Rider wrestlers have earned 19 All-America honors, including two-time winners John Carvalheira '98 and Chad Walsh '17. In 2021, Jesse Dellavecchia '20 became Rider's first-ever national finalist.
"When I first came to work here, I had an athletic background and knew many of the coaches, like Don Harnum [now Rider's Athletic Director] and Gary Taylor. Through my position in Facilities Management, and interactions together, we not only formed bonds as colleagues, but we also became close friends," says Reca, vice president of university operations at Rider. "I saw the positive impact athletics had on the campus community and my family wanted to show their support."
Reca's son, Drew '16, competed for the wrestling team while a student. He is now Rider's associate director of major gifts. Reca's daughter, Casey '19, was a member of the track & field team while a graduate student. "We have always been an athletic family," Reca says. "My wife was a three-sport athlete in college and I played baseball at the collegiate level for a couple years."
We feel that this gift will solidify our appreciation for all that Rider University is."
Reca acknowledges that giving to the University is a financial investment, but also an emotional one as well.
"If you have ever worked at Rider, or been a part of this community for an extended period of time, you know how special this place is," he says. "No matter what happens here, there is a uniqueness and camaraderie to the campus community that you can't find anywhere else. Rider has been such an integral part of my family for well over 30 years. We feel that this gift will solidify our appreciation for all that Rider University is."
Rider University President Gregory G. Dell'Omo, Ph.D., thanked the family for their commitment to the wrestling program and their support of Rider. "This is a gift that will benefit generations of student-athletes to come," he says. "It is a meaningful gift that speaks volumes about the Reca family's ongoing connection to the University, and their dedication to its success. We are grateful for their support." 
Making a gift in your will or living trust is known as a bequest. Learn more about how to leave Rider in your will at https://rider.myplannedgift.org/.