Tuesday, Nov 1, 2022
Inverso led the Broncs to three MAAC Championships in his 12 years
by Rider Sports Information
Image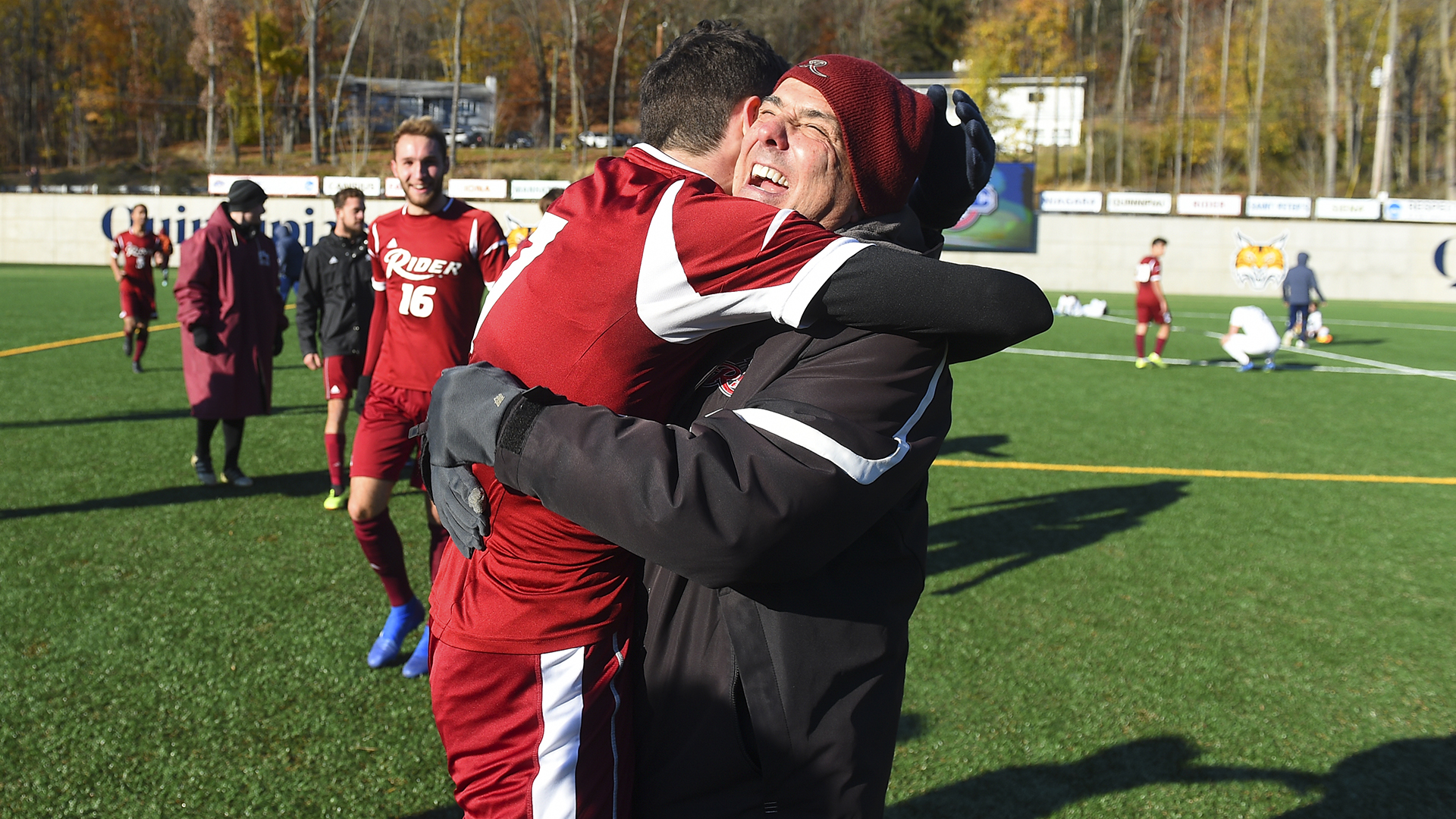 Rider University Men's Soccer Head Coach Charlie Inverso announced he will retire following the Broncs' season finale against Canisius on Nov. 2. In his 36 years as a head coach, including 24 years at Mercer County Community College and the last 12 at Rider, he posted a 529-137-39 record, including a 95-91-25 mark (.509 winning percentage) at Rider.

The 2015 NSCAA Northeast Region Coach of the Year led the Broncs to Metro Atlantic Athletic Conference (MAAC) Championships and NCAA Tournament appearances in 2015, 2016 and 2018. He led the Broncs to MAAC Championship game appearances in five of seven years from 2015-21. During that period, he led the Broncs to a 69-41-13 record (.614 winning percentage), including a .643 winning percentage in league play. Following a 44-year span without an All-American, Inverso led Christian Flath '17 and Jose Aguinaga '18 to the honor in back-to-back seasons. Rider spent much of the 2015 and 2016 seasons in the national rankings.

"I just need a change but I definitely want to keep coaching," says Inverso. "If you want to do this job the right way, it takes 10-12 hours a day and very few of those hours are on the field. I want to be on the field more and to keep learning and improving as a coach wherever that will take me. I still have a lot of things I want to accomplish in this game and hopefully God has a plan for me. Honestly, I came here with the intention of staying four to five years, get the team in the playoffs and move on. What the team accomplished starting in 2015 went beyond my wildest dreams and I thank the players and assistant coaches for this. I always saw Rider as a place to build something great."

Inverso has coached 41 All-MAAC honorees, including 18 on the First Team, 12 on the Second Team and 11 on the All-Rookie Team. Inverso has also coached two MAAC Rookies of the Year, one MAAC Defensive Player of the Year and one MAAC Offensive Player of the Year.
I always saw Rider as a place to build something great."
The Broncs have also achieved in the classroom on Inverso's watch, with 117 players earning MAAC All-Academic Team honors. In 2017, Elliott Otmani '18 also earned United Soccer Coaches Scholar All-America First Team honors and followed with Google Cloud Academic All-District First Team honors in 2018. Under Inverso's tutelage, Otmani also achieved on the field as a four-time MAAC All-Championship Team honoree and two-time MAAC Championship MVP.

"When Charlie was hired in 2011, his main charge was to improve the competitive standing of the men's soccer program and the competitive experience for our student-athletes," says Rider Athletic Director Don Harnum. "That certainly happened in a big way and I appreciate his tireless efforts. I wish Charlie and his family nothing but the best moving forward. We will begin a search for a new coach immediately."

In addition to his work at Rider, Inverso was presented with one of the inaugural Advocacy Awards of Excellence, presented by the United Soccer Coaches at its 2019 Convention in Chicago for his work with Mooch Soccer. He was inducted in Mercer County Community College's inaugural Athletics Hall of Fame class in June 2021.

Inverso was familiar with Rider before he became head coach. His father, Teddy Inverso '50, graduated from Rider, taking classes at night for eight years. 

"He was first generation Italian and the youngest of eight and the only one in his family to attend college," he says. "He had so much pride in the school. He would always say, 'best business school in the country, kid.'"