Saturday, Jun 3, 2023
Broncs defeat top-seeded Coastal Carolina
by Rider Sports Information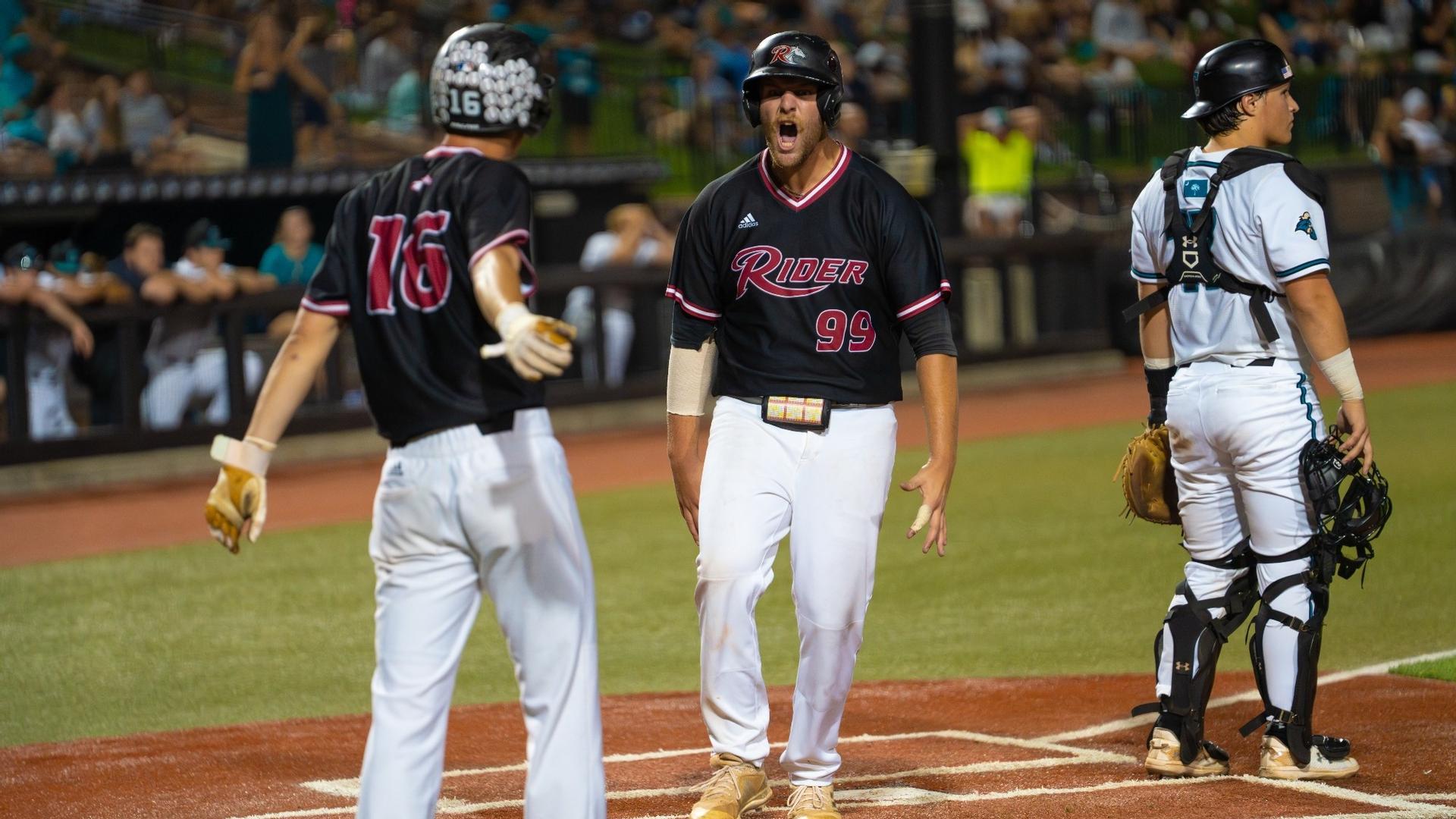 The Broncs defeated top-seeded and 10th-ranked Coastal Carolina, 11-10, in 10 innings on June 2. The Broncs improve to 36-19 on the season, while the Chanticleers fall to 39-20. The win is the first in the NCAA Tournament since the 1987 season, when Rider won three games and was just one win away from reaching the College World Series. 
 
The Broncs struggled early as the Chanticleers opened up a five run lead, scoring one in the first, two in the fourth and two in the fifth.
 
Rider did not get its first hit of the game until the seventh, but once they did, the floodgates opened. Luke Lesch '23 and Brendan O'Donnell '23 drew back-to-back walks to open the inning. Socrates Bardatsos '23 then singled to load the bases. Jack Winsett '23 got the Broncs on the board with a two-run single. 

After Coastal went to the pen, senior Jordan Erbe and sophomore Erich Hartmann hit back-to-back doubles that tied the game 5-5. John Volpe '23 then singled to put runners on the corners with still no outs. Scott Shaw '23 singled back up the middle to give Rider its first lead of the game. Senior Brian Skettini followed with a single of his own that stretched the lead to 7-5. With two away, Bardatsos drew a walk to load the bases and Winsett delivered a two-run single for the second time in the inning, putting Rider up 9-5.
 
Coastal Carolina did not go away quietly, tying the game with a two-run homer in the seventh, an RBI single in the eighth, and a sacrifice fly in the ninth.
 
The Broncs maintained their composure in extra innings. Erbe led off the tenth with a walk. Junior Richie Sica executed the sacrifice bunt to move Erbe into scoring position, where Volpe delivered a single to score Erbe. With two away, Skettini singled back up the middle to score Volpe, and put Rider up 11-9.
 
The Broncs allowed a run in the bottom of the tenth and coastal loaded the bases with two outs. A shallow fly to center would have easily scored two runs to walk-off the game for the Chanticleers, but Sica made a diving catch for the final out to secure the victory.

The Broncs advance in the winner's bracket and face second-seeded Duke at 6 p.m. on June 3 with the winner advancing to the Regional Final.