Friday, Apr 21, 2023
Co-founder Nick DeAngelo '14 helps operate Tacoholics, which now boasts multiple locations on the Jersey Shore
by Adam Grybowski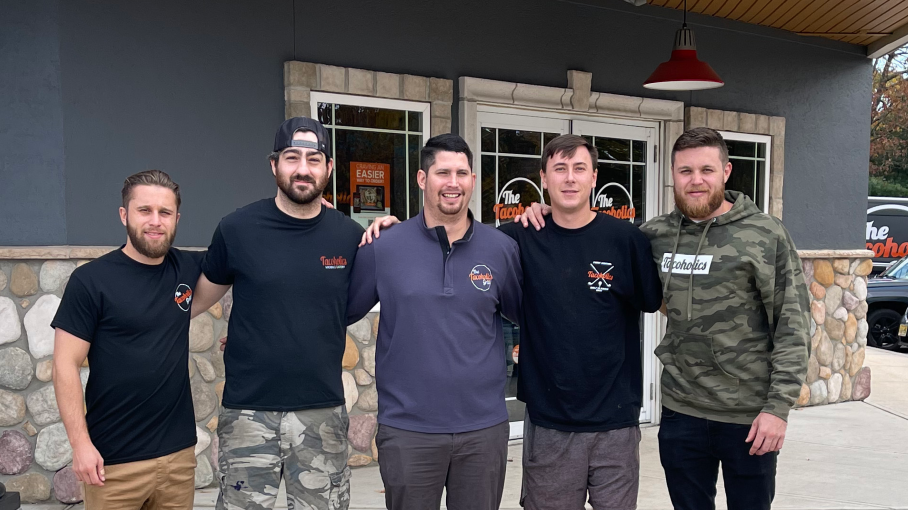 Brimming with entrepreneurial confidence and hungering for more and better tacos, three childhood friends founded a food truck in 2016 named, aptly and irreverently, Tacoholics.
At the beginning, the business was nearly a disaster. The founders began with no professional cooking experience and a credit card instead of a business loan. In their minds, purchasing a food truck seemed to be the quickest route to achieving their twin goals of owning their own business and working for themselves. 
"How hard could this possibly be?" Nick DeAngelo '14 recalls thinking.
Their truck, used and purchased on credit, practically fell apart in the hours leading up to their first event. First the propane gas stopped working, then the water lines followed suit. Held together by Band-Aids and a prayer, the truck arrived two hours late. Despite the bumps in the road, the food was an immediate hit, with a "crazy big line the entire day," as DeAngelo remembers it.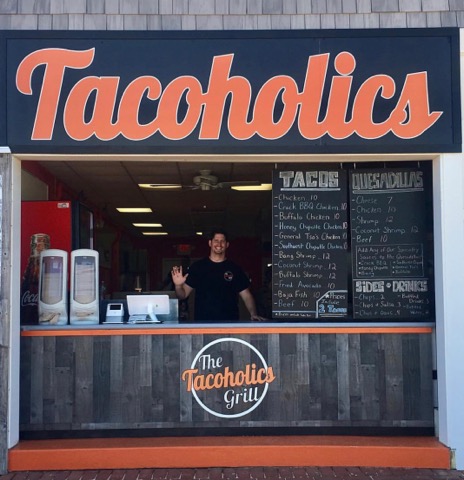 Bootstrapped from the beginning, the business now boasts six brick and mortar restaurants along the Jersey Shore, with a seventh location on the way and franchising opportunities becoming available in the near future. The Tacoholics truck also continues to roam. 
Seven years after starting their own business, DeAngelo and his cofounders, Rob Bruno and Lou Raccuglia, continue to apply grit, persistence and will to make Tacoholics a success. 
"We had to throw our egos to the side or we realized we weren't going to make any money until we figured out our systems," DeAngelo says. "We always want to listen and become better. We want to be the best."
We always want to listen and become better. We want to be the best."
Tacholics began when the three friends were vacationing in Florida not long after each had graduated from college. Feasting on tacos, they got the sense that they could make a better product. Back in Jersey, they retired to Bruno's kitchen to experiment. 
"We started cooking, and we kept cooking until we figured it out," says DeAngelo, who graduated from Rider with a bachelor's degree in accounting and worked full time as an auditor for the state of New Jersey until two months after the first restaurant opened. "None of us were anything special when it came to cooking, but I'd come home from work and we'd work on a new sauce. Almost all of them are still on the menu to this day."
Tacoholics' menu doesn't aspire to replicate authentic Mexican cooking. Instead, the three founders wanted to simply create food that they liked. They use flour tortillas instead of corn, and their menu items include buffalo chicken, bang-bang shrimp and fried avocado. "We knew what people liked in our area, and we knew what was missing," DeAngelo says. 
Their approach has proven to be a winning formula. The truck proved popular enough that the lifestyle and tourism website bestofnj.com named Tacoholics one of the state's best food trucks. The founders have taken on two additional partners, Steven Bruno and Ryan Gazarek. Another Rider alumnus, Brian Duckworth '14, who was DeAngelo's college roommate, is now the company's vice president of marketing. 
About a year and a half after hitting the road, Tacoholics opened its first brick and mortar restaurant in 2017. Like with the truck, the three founders suffered setbacks. They projected they could open the restaurant within a month. It ended up taking a year. Leading up to the opening, they painted the walls themselves to ensure they'd be ready. 
"We've made so many mistakes, but we're always getting better," DeAngelo says. "We're looking to keep our foot on the gas. We want to get our food out there and keep growing."