Thursday, Mar 23, 2023
$1 million fund expands access to global learning for students with financial need
by Diane Cornell
Image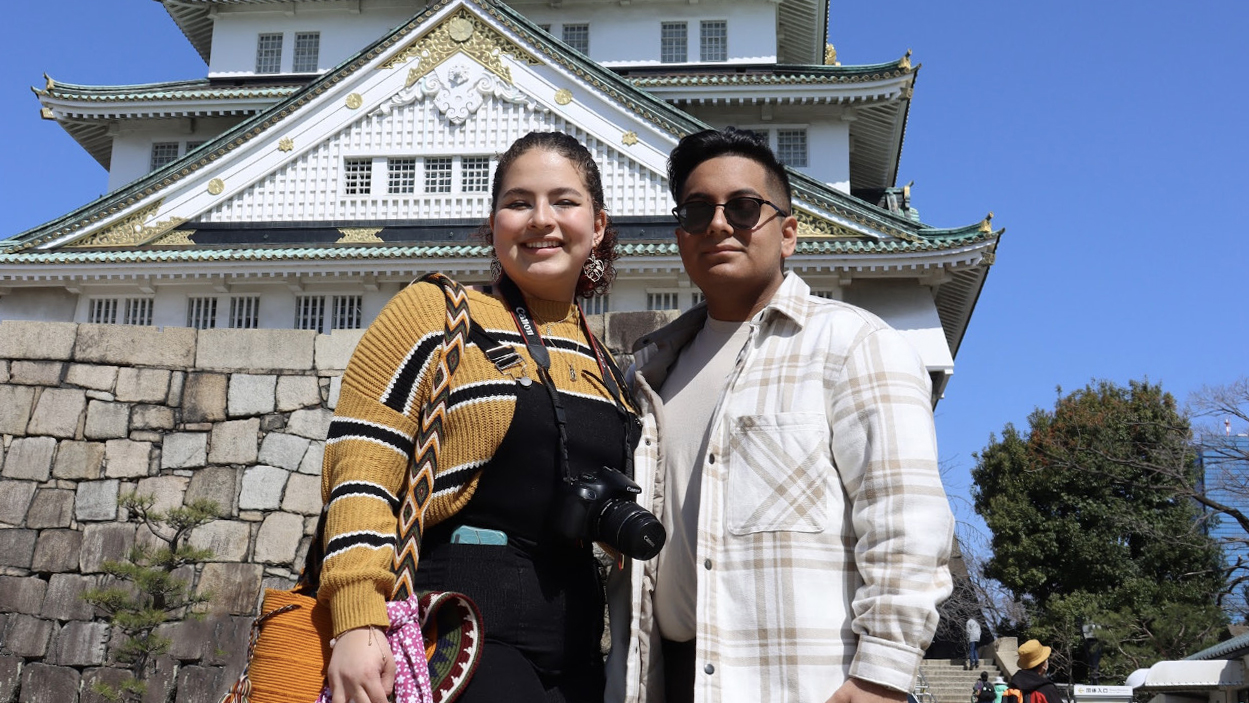 A $650,000 gift from Trustee James (Jim) P. Bush '80 and his wife, Nancy, has expanded access to global learning opportunities for students with significant financial need. The gift is another way alumni and friends of the University are choosing to participate in Transforming Students – Transforming Lives: The Campaign for Rider University, a comprehensive fundraising effort to enhance the student experience.
The couple's gift will go to the James P. Bush International Immersion Endowment, raising overall support for the fund to $1 million. The Bushes established the fund in 2018 to provide a stipend to business majors for short-term travel abroad. 
Now, through their latest gift, the Bushes have broadened the scope of the fund to support students of any major with financial need who wish to experience Rider's short-term foreign travel programs. The size of the award has increased as well and will now pay for the complete cost of a trip, which typically ranges from $4,500 to $5,500. Before students received a $2,000 stipend.
"We are so grateful to the Bushes for opening this opportunity to more students," says Kim Algeo, director of Rider's Office of International Education. "Through their generosity, study abroad will now be available to a much broader student population, particularly underrepresented students, who may not otherwise consider it a choice during their time at Rider. Such an experience can be a highlight of their college experience." 
During his time as an accounting major at Rider, Bush never had the chance to study abroad and had limited travel outside the U.S. That changed when his job relocated to Singapore. With a limited understanding of the culture, geography or language of the region, he and his family lived there for four years, an experience he calls invaluable and life changing.
"So much can be learned about different cultures and perspectives from seeing a country firsthand," says Jim, a retired American Express executive. "Travel is an incredible learning experience, one that my family and I certainly appreciate, and we want as many students as possible to benefit from the enriching experience of international travel."
This semester 10 students received awards to travel to Japan, Greece, Ireland, Scotland and England. Applicants are required to submit a 350-word essay on why they wish to participate in study abroad and what they hope to gain from the experience.
As an award recipient, junior health sciences major and Bonner Community Scholar Andy Huerta spent spring break in Japan, a country he says he has always dreamed of visiting. "This trip taught me to appreciate a culture that is so distinct from my own," he says. "I couldn't be more grateful for this opportunity."
Sidney Martinez, a senior theatre major, also participated in the Japan trip, calling it an opportunity of a lifetime to immerse in a culture she has long admired. "Being able to connect with people who have the same passions as I have, regardless of the language barrier, has impacted me in ways I cannot begin to describe," she says of the experience, which provided exploration of traditional and modern Japanese theater. "This trip has truly been a dream come true. I certainly will never forget this experience."
Among next semester's 17 short-term programs are trips to Brazil, Panama, Morocco, South Africa, Poland and Spain.
To learn more about international study programs, the Office of International Education will hold two events this semester. Students interested in applying for the James P. Bush International Immersion award, are encouraged to attend a reception to meet Jim Bush and hear from previous recipients on April 3 at 6 p.m. in the Mercer Room in Daly Dining Hall. On April 4 from 11 a.m. to 1 p.m. in front of the Student Recreation Center, the office will host a study abroad fair. Students can stop by either event to have their questions answered.
Study abroad programs provide invaluable learning experiences that foster students' academic, personal and professional growth. To help support Rider students, make a gift to the Transforming Students - Transforming Lives Campaign.