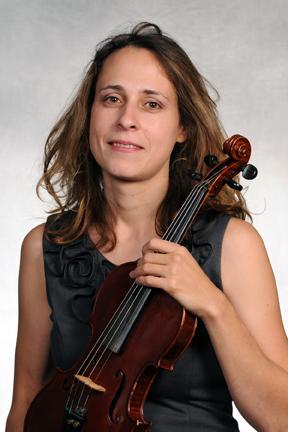 Urska Haule Fegus was awarded the Zois Scholarship for gifted students at the age of 14 and kept it through her college years. She received a Master of Music in violin performance and pedagogy from the University of Ljubljana in a class of Slovene violin professor and soloist, Volodja Balzalorsky. Through her college years, she attended the International Summer Masterclasses in Groznjan and performed in many cities along the Adriatic Coast. At the international masterclasss in Bled she worked with Dejan Bravnicar, a student of I. Oistrach. She formed a piano trio at the Academy of Music in Ljubljana performing contemporary as well as traditional works in their recitals at major venues.
Urska's other passion is being a chamber musician. She played in the Academy Chamber Orchestra led by cellist, Ciril Skerjanec. Before and after graduation, she played in the Slovene Symphony Orchestra - the main national recording orchestra -and joined tours to Italy, Austria and Switzerland. In 2000 she got the permanent first violin position in the Slovene National Theatre-Opera and Ballet, Ljubljana, and enjoyed being part of it for six years, until moving to the United States.
Always inspired by the human voice, she loves interacting with children and is also a Kindermusik educator. As a mother of two boys, she was attracted to the Suzuki approach of teaching and after she got SAA grants for teacher training in 2008 and 2009, she was guided and mentored by Canadian teacher trainer Paule Barsalou and many others among them Judy Bussoat, Allen Lieb, Kimberly Meiers Sims, Ed Sprunger and Linda Stieg. Closeness to New York City gave her the opportunity to actively participate at the 2009 Starling-DeLay Symposium on violin studies, where she was greatly influenced by baroque violinist, Monica Hugget.
She enjoys spending summers with her family at Aspen Music Festival and the Ljubljana Music Festival, and is always expanding her pedagogical and musicological knowledge as well as professional performance training. Her teaching experience began in the Brunswick Academy of Music, and continues in the New Jersey Chinese Elite Preparatory School. She is a member of both ASTA and SAA, and maintains her private studio in Belle Mead, New Jersey.