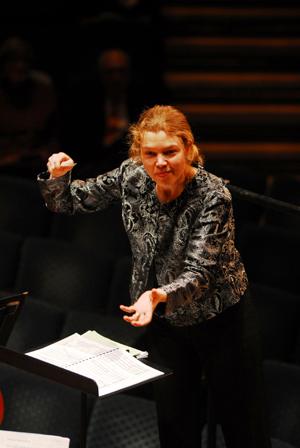 Now in her sixth season as conductor and music director of the Westminster Community Orchestra, Ruth Ochs has led the orchestra in performances of major orchestral and choral-orchestral works, including symphonies by Beethoven, Brahms, Haydn, Mozart, Saint-Saëns, Shostakovich and Tchaikovsky. Under her leadership, the orchestra continues to feature choral ensembles and soloists from the Westminster Conservatory of Music and collaborate with Westminster Choir College students in piano concerto concerts and readings of new music. She is also conductor of the Princeton Charter School/Westminster Conservatory Youth Orchestra and in her ninth season as the conductor of the Princeton University Sinfonia.
Ms. Ochs has guest conducted many ensembles, including the Princeton University Orchestra, the Concerto Soloists of Philadelphia and faculty ensembles at the Westminster Conservatory of Music. Prior to her work in New Jersey, she was music director of the University Orchestra at the University of Texas (UT) and the Austin Philharmonic, and conducted the top ensembles of the UT School of Music's acclaimed String Project. Ruth Ochs studied conducting at the Pierre Monteux School in Hancock, Maine, with the School's director, Maestro Michael Jinbo. In 2008, she served as the school's first conducting associate.
Ms. Ochs holds degrees in music and orchestral conducting from Harvard University and the University of Texas at Austin, and she is completing her Ph.D. in Musicology at Princeton University with a dissertation on 20th-century Polish music. She lives in Princeton with her husband, cellist Tomasz Rzeczycki, and their sons, Sebastian and Krystian.