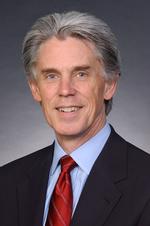 Emeritus Dean and Director of Westminster Choir College of Rider University Robert Annis retired from his position on December 31, 2014. He has performed as clarinetist with numerous orchestras and chamber music ensembles and as a recitalist throughout the United States. Formerly a member of the San Antonio Symphony, he began substituting with the Boston Symphony and Boston Pops while an undergraduate student at New England Conservatory. His performances have been broadcast on the Public Broadcasting System, National Public Radio, and the Tokyo Broadcasting System. He has appeared on over 40 recordings for such labels as Philips, Nonesuch, CRI, Koch, Northeastern, GunMar, Crest and Delos labels.
As clarinetist since 1975 and former executive director of Collage New Music, he has participated in the commissions and premieres of more than 200 new works, including 80 world premieres. The ensemble's recording of John Harbsion's Mottetti di Montale, with mezzo-sopranos Janice Felty and Margaret Lattimore, was nominated for a 2006 Grammy Award in the Best Small Ensemble Performance category. Annis is one of only seven musicians who compose the core of Collage New Music, whose mission is to commission, perform and record contemporary classical music. The ensemble strives to provide an arena for the union of composer, performer, and listener through its annual series of concerts, ongoing recordings and innovative programming.
Seiji Ozawa, Gunther Schuller, Sir Michael Tippett, Milton Babbitt, Peter Maxwell Davies Clark Terry and Vanessa Redgrave are among those who have appeared as guests with ensemble. Presentations by Collage New Music have ranged from intimate chamber performances to fully-staged chamber operas and music with extensive electronic equipment. Collage New Music has also been featured at the Tanglewood Contemporary Music Festival, including the opening concert for the 2001 festival, as well as in broadcasts on PBS television and Entertainment Tonight.
Before his appointment as Westminster's dean, Robert Annis served as dean of enrollment services at New England Conservatory and on the faculties of the New England Conservatory and Brown University. He has served as a consultant and advisor to educational institutions and arts organizations in the areas of enrollment management, strategic planning and marketing. Currently, he serves as chair of an accreditation team for the Middle States Commission on Higher Education and as chair of the Music Director Search Committee for the Princeton Symphony Orchestra.
As an author he has written an essay and discography on Harold Wright and a number of articles for educational journals. Mr. Annis has presented lectures at universities in the United States and abroad. He is a graduate of the New England Conservatory of Music, the University of Southern California, the Tanglewood Music Center and the Harvard University/College Board Admissions Institute. He is the recipient of the 'Ludi' Award from New England Conservatory in recognition for his exemplary service.