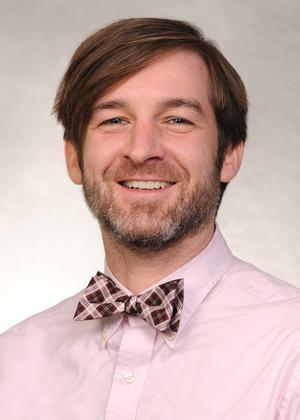 Justin D Burton received a PhD in musicology from Rutgers University in 2009. His research revolves around popular music/culture, music technologies, hip hop, and critical race theory. Recent publications include "From Barthes to Bart: The Simpsons v Amadeus," Journal of Popular Culture 46:3 (2013): 481-500 and a review essay of Watch the Throne (Jay Z and Kanye West) and Undun (The Roots) for the Journal of the Society for American Music 7:3 (2013): 343-47. The former engages the Mozart myth as it appears in two iconic popular audiovisual works, using Roland Barthes as a guide to better understanding audience reception of The Simpsons, Amadeus, and Mozart more broadly. The Throne Undun review compares two collaborative projects that approach the idea of "luxury" from differing but overlapping vantagepoints. Forthcoming is "Dancing Silhouettes: The Mobile Freedom of iPod Commercials," Oxford Handbook of Mobile Music Studies. Ed. by Sumanth Gopinath and Jason Stanyek. New York: Oxford University Press, 2013 (forthcoming). The chapter looks at and listens closely to early dancing silhouette iPod commercials in the context of Apple's corporate branding as well as the histories of silhouettes. He is working on a book, Posthuman Pop, that combines his interests in critical theory, hip hop, and music technologies.
Justin co-edited with Karen Tongson, Gustavus Stadler, Anthony Kwame Harrison, and Eric Weisbard the print and online versions of the Journal of Popular Music Studies 24:3 (2012) and is currently co-editing with Ali Colleen Neff a future issue of JPMS called "Sounding Global Southernness," which will explore southernness as a counterpoint to North Atlantic modernity, featuring essays that explore music-making practices across the postcolonial, Black Atlantic, and Third Worlds. As web editor for the International Association for the Study of Popular Music, US Branch (IASPM-US, iaspm-us.net), Justin curated original popular music scholarship, collaborated with related music and sound sites like Rock's Backpages and Sounding Out!, and worked to make the site an integral part of the field of popular music studies. He currently serves on the IASPM-US executive committee.
As an Assistant Professor at Rider University, Justin has helped to design and launch the new BA in Popular Music Culture. He teaches a number of courses at Rider, including the Digital Composition of Popular Music, Gender and Sexuality in Hip Hop and R&B, Black Music in America, Writing about Music, and Music and Technology in a Mobile Society, and also directs capstone projects, which are designed for seniors to apply their skills to complex, student-led projects in their graduation year. Justin also serves as a faculty member for Rider's Gender and Sexuality Studies and Multicultural Studies programs.
More can be found at his website, justindburton.wordpress.com.