For students entering 3rd - 8th grades.
Image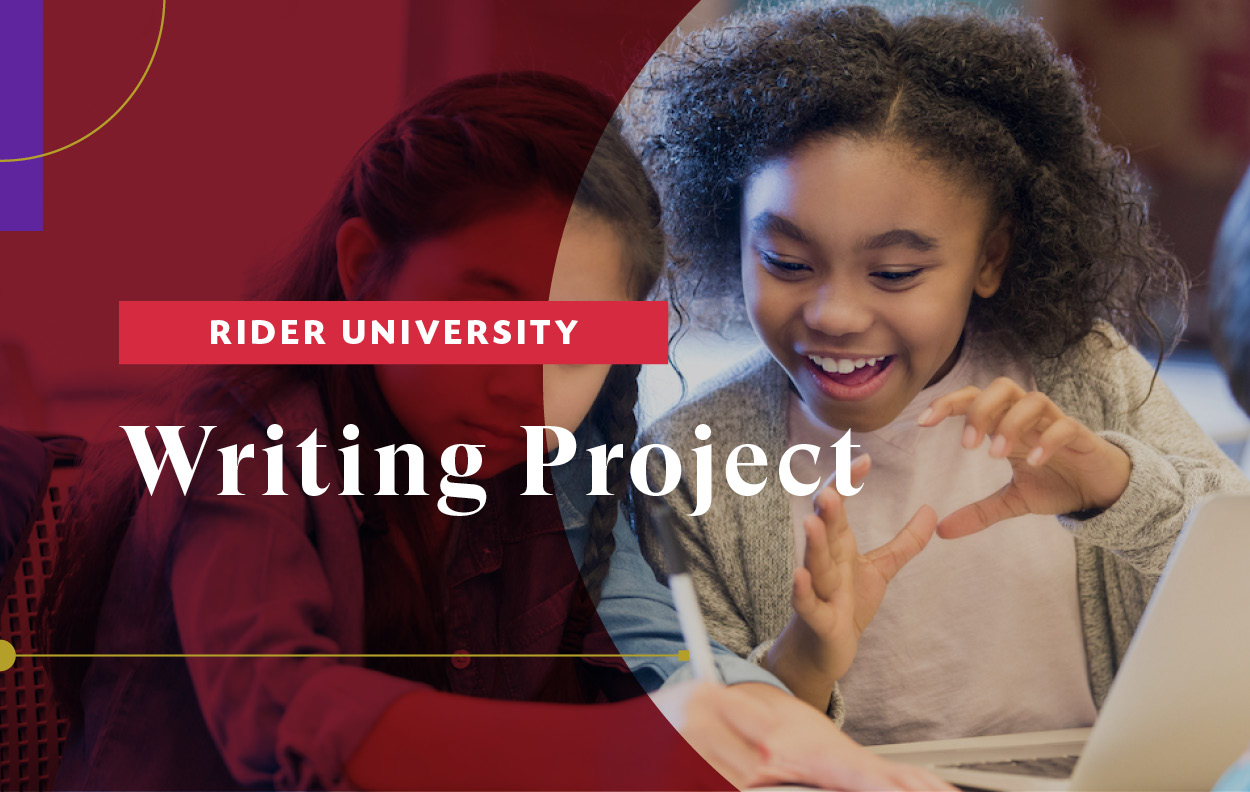 Rider University Writing Project is excited to offer an eight session writing camp for children entering 3rd - 8th grades. It is designed for students of all reading and writing levels. Students who attend this writing camp will have an opportunity to work and learn alongside certified, experienced teachers whose goals are to inspire and support writers of ALL abilities. Teachers will model writing, and share the writing of real authors so children can study and talk about the features of "mentor texts" to inspire their own writing.
Download the flyer (PDF) to share the information with your students. 
Daily camp life
The camp will run Monday, Tuesday, Wednesday and Thursday for two weeks. Each day will start at 9 a.m. and end at noon. Campers are asked to bring a light snack, a water bottle and a book at their independent level. The final day of camp will end with a celebration of writing so writers can share a favorite piece with their families and friends
What to expect
Meet other young writers and share your work with them each day. 
Write daily in a supportive and relaxed environment as you give and get feedback from your peers.
Engage in the writing process, (generating ideas, drafting, revising, editing and publishing) while exploring a variety of genres.
Learn techniques to revise writing by trying age-appropriate strategies and gaining confidence as a writer.
Contribute a piece of writing to be published in an anthology. Everyone will receive a copy!
Camp is NOT
One on one tutoring 
A skill-and-drill setting 
Standardized test preparation 
Author Celebration
Students will celebrate their writing on Thursday, July 20. Parents and siblings are invited to attend. Start time is to be determined. 
The details
Dates: Monday through Thursday, July 10 to 13 and July 17 to 20, 2023 
Time: 9 a.m. to noon
Location: Rider University, 2083 Lawrenceville Road, Lawrenceville, NJ 08648.
Cost: $300 per child
For children entering 3rd - 8th grades (rising 2nd graders welcome, please consult with program coordinator before enrolling to ensure it is a good fit for your young child)
How do I register? 
Complete the online registration form. 
Print and sign the Model Waiver, Release and Consent Form. 
Mail $300 payment (cash or check) per child and the completed Model Waiver, Release and Consent form to: 
Attn: Laurell Parris 
Rider University 
Bierenbaum Fisher Hall 102K 
2083 Lawrenceville Road 
Lawrenceville, NJ 08648
Checks should be made payable to "Rider University." 
For more information, please contact director of the Rider University Writing Project, Laurell Parris, at [email protected] or 609-896-5000 ext. 5527.
Date & Time
-
All Day
Monday through Thursday, 7/10-7/13 and 7/17-7/20 from 9 a.m. to noon
Rider University
2083 Lawrenceville Road
Lawrenceville, NJ 08648
United States
Register now