Join fellow alumni and Chef April Dodd of Christopher Kimball's Milk Street Cooking School for two private virtual cooking classes!
Cooking Classes
Recipes and the zoom link will be provided in the confirmation email after registering below.
The Flavors of Fall
This fall we will be making a delicious Roasted Acorn Squash with Brown Butter & Orange Sauce plus Pinchos Morunos (Spiced Pork Tenderloin Bites).
Winter Fare
For the winter, we will prepare Rigatoni with Ricotta-Sage Pesto plus Italian Farro and Vegetable Soup.
Questions? Contact the Office of Alumni Relations at 609.896.5340 or [email protected].  
Date & Time
About Chef April Dodd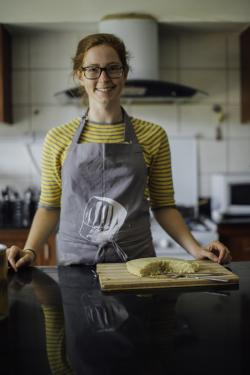 April Dodd began her culinary career at Middlebury College, where she discovered a love of nourishing people while supporting local economies through food. Since then, her cooking pursuits have included managing the college's food preservation program; working in a bio bakery in France; developing recipes for a cupcake shop; founding a culinary skills training program in Nairobi, Kenya; a stint as the chef at a women-only retirement community in her hometown of Lexington, KY; and working as a consultant to the UN Food and Agriculture Organization. She is thrilled to be back in the kitchen as the Manager of the Milk Street Cooking School.