Congratulations 2022 Graduates!
Graduate Ceremony
Thursday, May 12, 2022
procession beginning at 6 p.m.
Alumni Gym, Rider University
Lawrenceville, NJ
Undergraduate Ceremony
Saturday, May 14, 2022
procession beginning at 2 p.m.
Cure Insurance Arena
Trenton, NJ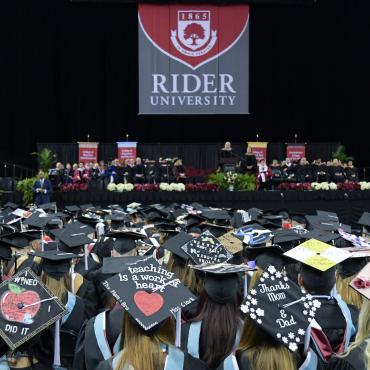 Commencement Program
Download the official 2022 Rider University Commencement Graduate and Undergraduate Program.
View the Program (PDF)
What to expect during Commencement
Greening Graduation
In support of Rider's commitment to sustainability, several green initiatives are part of Commencement planning. We aim to limit printed communication materials by utilizing mainly electronic communication. The Commencement program is printed with vegetable-based inks on FSC-certified paper with 10 percent post-consumer waste recycled content. Graduates wear eco-friendly caps and gowns that are made from 100 percent, post-consumer recycled plastic bottles, with an average of 25 bottles used to make each gown. Funding for the GreenWeaverTM graduation gowns has been provided by the Rider University Energy and Sustainability Steering Committee (ESSC).  Since 2011, Rider University has helped to divert over 331,475 plastic bottles from landfills
Questions
Please contact the Commencement office at 609-896-5261, or e-mail [email protected].