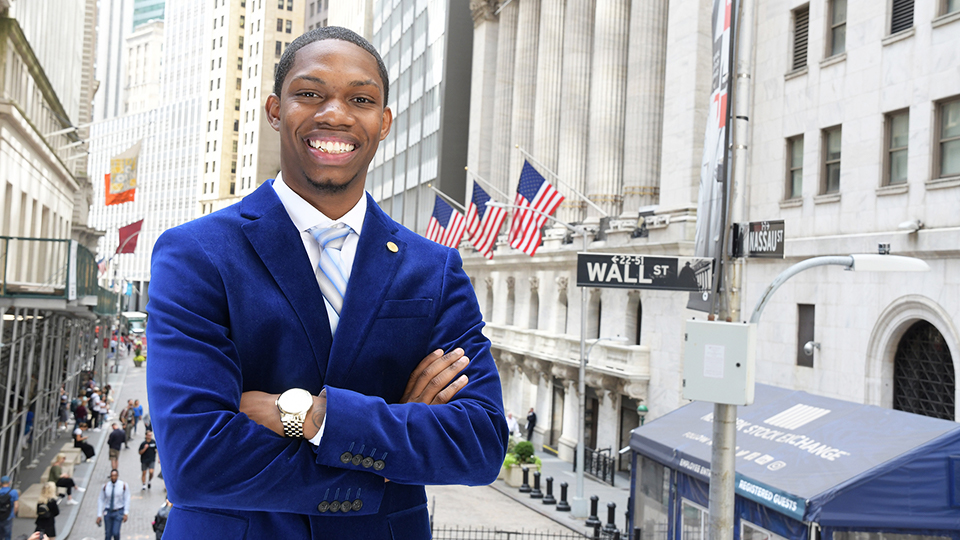 Audit Associate in Financial Services, KPMG
Major: Accounting
Minor: Data Analytics
Rider University showed me things that I did want, and offered me so many opportunities to start to change my destiny and pursue new interests.
Why RahQuan Chose Rider
As a young man growing up in the inner city, RahQuan King knew all too well the cruel pattern of poverty and crime that surrounded him. From a young age he was determined to break out of his hardscrabble life, and Rider University gave him the chance. The lush green campus, with more trees than he had ever seen in his lifetime, came to symbolize the wide-open possibilities for growth that he was searching for.

A warm and welcoming community at Rider eased his transition, and RahQuan immediately made connections with students and faculty. In his first year, he joined Aspiring Accounting Professionals, an extra-curricular group that helped him realize his path as an aspiring businessman and entrepreneur. With his knack for math and business, a solid work ethic and a natural ability for networking, RahQuan was determined to end the cycle of poverty that he had known. In May 2019 he proudly walked at Rider University's graduation ceremony, the first generation college student in his family.
Rider's Impact on RahQuan's Career
As a sophomore, RahQuan became a community assistant, a position that helped defray the cost of his education but also let his personality and aspirations shine. With guidance from his career advisor and faculty members he expanded his initial course of study in accounting to include finance and data analytics, setting the stage for his entrepreneurial transformation. He also met Dr. Evelyn McDowell, an associate professor of accounting, who he fondly recalls as his "Rider mom." McDowell was always there to help him, guide him and talk to him about his future. As his world opened up he was determined to try everything, soaking up exposure to different people, culture and ideas that had so eluded him growing up.

RahQuan took advantage of all that Rider had to offer, getting involved in over 15 different campus organizations, including student government, sports activities, residence life, professional societies and Greek life. In the fall of his senior year he was presented with a life-changing opportunity — a trip to "Inc. 5000," an entrepreneurial conference, with a select group of Rider students accompanied by distinguished alumnus Norm Brodsky '64. Speaker after speaker challenged him in surprising ways: to be happier in life, to be financially conscious, to be a leader and, ultimately, to find his life's purpose. Two additional Rider-sponsored trips following graduation (a study tour in Ireland and the Oxford Innovation Intensive in England) underscored how four years at Rider had changed his life.
Continued Success
RahQuan had an offer in hand to serve KPMG's Wall Street clients a year before graduation. He is now focused on learning everything he can as an associate in financial services while also studying to obtain his Certified Public Accountant license. He describes his hard work at Rider as "paying off a million times over," but he is not only referring to his business and employment success. For RahQuan there has been an underlying purpose — to change the dynamic of his last name, to do things differently and to blaze a new path for his family.

His purpose continues to guide him. Years ago, he promised his grandmother that he would break the cycle of poverty that gripped his family. He now serves as a mentor at Rider, helping to inspire others with his drive to build a better life. While his long-term goal is to own his own business, for now he is content to gain experience in the business world and serve as a role model through his success and entrepreneurship.
First Generation
A point of pride for RahQuan is being the first in his family to earn a college degree. He was also influential in encouraging his younger sister to attend college.

Traveler
Coming from the inner city, RahQuan had never been out of the United States until traveling on Rider University-sponsored trips to Ireland and England. He has now set his sights on Spain, Australia and the Caribbean.

4 + 5 + 15
In 4 years of study at Rider, RahQuan gained work experience through 5 paid internships in accounting and finance and participated in more than 15 campus organizations.
Growing up in an inner-city environment, I saw every day what I didn't want to become. Rider University showed me things that I did want, and offered me so many opportunities to start to change my destiny and pursue new interests.
Accounting