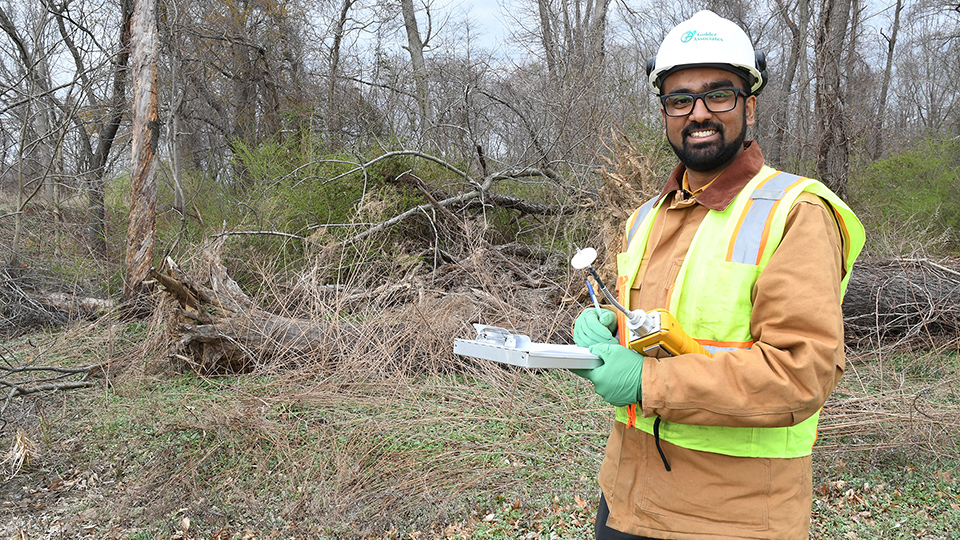 Geologist at Golder Associates
Major: Geosciences
Working in the field and in the lab made my learning relevant. It helped guide my career path and shaped my goals.
The Proof Is In Our People
Why Muhammad Chose Rider
Muhammad, a native of Pakistan, had visited the United States during middle school and knew he wanted to attend college here. He chose Rider because of its geosciences program and community service opportunities, which were important to him. "I was immediately impressed by the sense of family among students and faculty," he says. "From the very start, Rider offered a welcoming learning environment with great opportunities and individual attention."
Rider's Impact on Muhammad's Career
Although he originally aspired to work in the petroleum industry, Muhammad became interested in hydrology and soil science through his classes and research. As a freshman, he began working as a research lab assistant with Dr. Hongbing Sun, studying the geochemical environment of arsenic in stream water and soil in local watersheds. He later worked on another project with Dr. Sun examining lead concentrations in soil and stream water.
"It was exactly the environment I was looking for. I did field, lab and analytical work. I participated on teams as well as spent time figuring things out on my own. I also presented research at professional meetings — an invaluable experience that made my learning relevant."
Continued Success
Three months after graduating — a year early — Muhammad landed a job with the New Jersey Department of Environmental Protection as an environmental services trainee. He also worked on a short-term project as a monitoring research assistant with the Delaware Riverkeeper Network. "Working on those research projects was extremely important to my career," he says. "When I graduated, I already had years of experience." Muhammad is now a geologist with Golder Associates where "I'm able to fully utilize the array of field and technical skills I developed at Rider."
3+2
Muhammad earned his bachelor's degree after just three years of study. As an undergraduate, he worked as a research lab assistant on two separate projects with geology Professor Hongbing Sun.

300 Hours x 3
The number of community service hours Muhammad completed each year as a Bonner Community Scholar. He volunteered at The English School in Lawrenceville where he worked with children and tutored adults through the ESL program.

Developing Leader
Muhammad cultivated leadership skills through Rider's Leadership Development Program and his involvement in various organizations. He held leadership positions as president of the Rider Student Muslim Association and garden manager of Rider's Green Acres community garden. He also served as a writing tutor at the Student Success Center, where he discovered his talents as a writer.
Rider helped launch my career. My hands-on experiences working in the field and as a research lab assistant put me light years ahead of the competition.
Geosciences