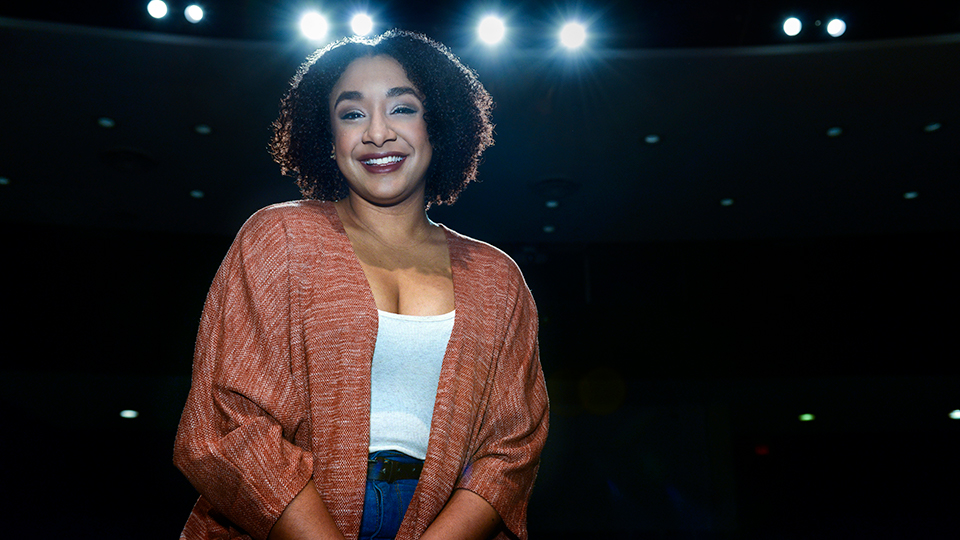 Toured nationally with Ragtime and currently, a Disney Cruise Line MainStage performer
Major: Music Theatre
I would never have toured with Ragtime if I hadn't gone to Rider. When I walked into that audition I was fearless and I was confident. I knew I had the education and the preparation.
The Proof Is In Our People
Why Milika Chose Rider
During high school, Milika visited Rider as a Student for a Day. As an aspiring musical theatre major, she sat in on several classes in the major, including "Styles and Genres." "Students were performing in front of the professor and getting feedback," says Milika. "It was so cool and the talent just blew me away. I wanted to be a student there. It was exactly the type of class I wanted to be in."
Rider's Impact on Milika's Career
Milika arrived at Rider with very little experience and training. "I knew I could sing, but I had no repertoire. And I never thought I could act," she says. Milika credits private lessons with voice teacher Carolann Page for transforming her singing. "She pushed me to sing notes I never thought possible and helped me discover a voice I never knew I had."
With help from Prof. Page and accompanist, Louis Goldberg, Milika worked daily to build her repertoire. Both gave her five songs to learn each week. She also worked closely with acting faculty Trent Blanton and Miriam Mills. "These are people who know the business," says Milika. "They gave me my repertoire and gave me confidence in my acting. They helped me get out of my shell and onto the stage."
Continued Success
Milika gained valuable experience appearing in five main stage Rider productions: Three musicals (The Full Monty, All Shook Up, and Once on This Island), a play (Machinal) and a cabaret (The Human Heart). She also served as assistant director for one of Miriam Mills' plays (Reasons to be Pretty). As she gained confidence in herself as a performer, she began traveling to Philadelphia and New York City for auditions.
In April 2015, Milika took a one-hour train ride to Chelsea Studios for an open call audition for the Tony-winning musical Ragtime. After two callbacks, she was offered an ensemble role. "It was amazing. I was so excited!" she says.
1 in 500
Milika was one of 500 young women who showed up for the Open Call audition for Ragtime.

5+1
The number of main stage productions Milika performed in at Rider as a sophomore, junior and senior. She also served as assistant director of Reasons to be Pretty.

Minutes to Success
Milika traveled 60 minutes by train for her Ragtime open call — her third professional audition in New York City. She also drove 45 minutes by car for an audition in Philadelphia. "Rider's location is absolutely critical for theatre majors," she says.

Coming Back
Milika returned to Rider following the 2015-16 national tour of Ragtime and graduated in Spring 2017. After graduation she traveled to Maine where she performed for Ogunquit Playhouse in the new musical From Here to Eternity. In 2018, she joined the Disney Cruise Line as a MainStage performer.
I'm a Jersey girl who'd never been beyond the East Coast. But I had this incredible experience touring the country with Ragtime — before I even graduated! I'm having a blast. I'm 23 and I'm living the dream, thanks to Rider.
Music Theatre