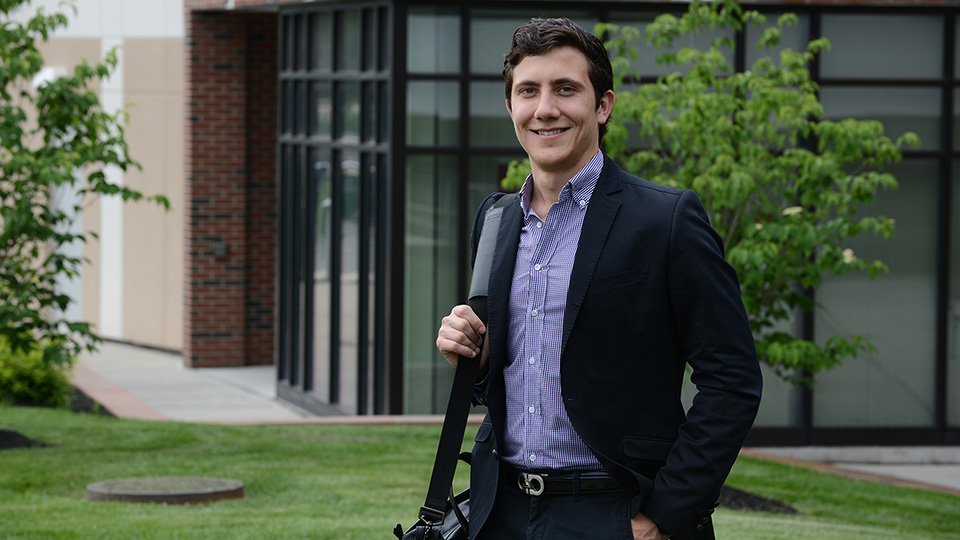 Regional Manager for Latin America, Kings Education
Major: Finance
I was looking for a good business school and I found it at Rider. They gave me a great education with all the knowledge and tools I need to do well in business and finance.
The Proof Is In Our Students
Why Marlon Chose Rider
Born and raised in Venezuela to Italian-born parents, Marlon grew up speaking Spanish, Italian and English. Having spent time with his family on holidays in the United States, he aspired to earn a business degree from a college near New York City and its diverse culture. "Rider was the perfect fit," says Marlon. "It's a good school with a great faculty and business program. It's also a great environment for studying for someone like me."
Rider's Impact on Marlon's Career
Marlon adjusted quickly to college with support from the Rider staff, including his international counselor and professors. "I never felt homesick at Rider. I was too busy doing things and going places. I got into the American culture, made a lot of great friends and even gained work experience there," he says.
He got involved in various campus clubs and organizations and soon began working for the Admissions Office as a tour guide. On trips home to Venezuela, he coordinated Rider information sessions for prospective international students at the U.S. Embassy in Caracas. He also provided counseling to prospective international students and served on campus as a mentor. "Representing Rider abroad was challenging, but it gave me real world experience. It also helped me develop my presentation and business skills, and make important connections."
Continued Success
As a finance major, Marlon landed an internship with Eataly Export, Inc., where he was able to apply marketing and finance skills. With the help of his professors and knowledge gained through his Entrepreneurship classes, he also was able to conduct market analysis and develop financial projections and financing plans for possible business ventures. He put those plans on the back burner after receiving an unexpected job offer from Kings Education in Los Angeles, where he now oversees sales, recruitment and marketing in Latin America. "Rider gave me all the tools I needed: I was knowledgeable about business and I had all the skills."
3 Job Offers After graduating from Rider, Marlon had three job offers. He accepted the offer at Kings Education in Los Angeles, where he uses skills in finance, accounting, marketing and recruitment as regional manager for Latin America.

3+2
The number of clubs and organizations Marlon become involved in as a Rider student. He also took on two leadership positions.

Representing Rider
Marlon spent three years working for the Rider Admissions Office as a campus tour guide and recruiter. On trips home to Venezuela, he organized information sessions for prospective students at the U.S. Embassy in Caracas.
I came out of Rider as a professional — someone who knows how to interact and how to make decisions. I had a great, great education.
Finance