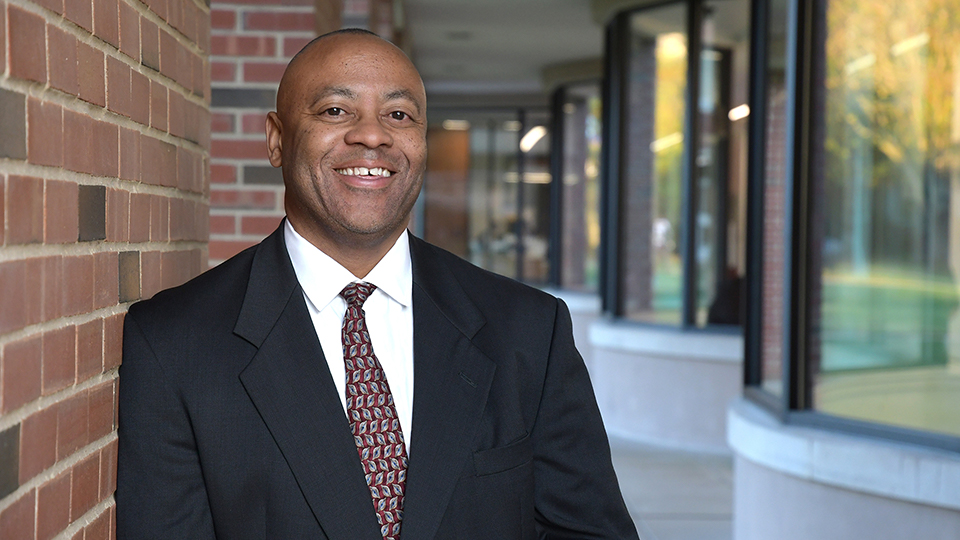 Assistant Vice President, Retirement Investments Product Manager at Bank of America Merrill Lynch
Major: Executive Master of Business Administration (EMBA)
Rider's EMBA program gave me a global perspective and the understanding that I am a citizen of the world.
Why Lynch Chose Rider
Born in Trenton, N.J., Lynch is a dedicated family man who has enjoyed the Princeton area as the foundation for his extensive financial services career. Lynch is a retirement investments product manager and has had an accomplished career with Fortune 500 companies for many years. When the prospect of returning to academia for an advanced degree in business administration came up, the Executive MBA (EMBA) program at Rider University was a perfect fit. With a strong academic background (he has an undergraduate degree in engineering from the University of Pennsylvania) and his ambition to be a better leader, Lynch was motivated to shore up his knowledge, increase his people-focused skills and pursue an advanced degree in business to further his success.

Lynch opted for the intensity of the EMBA program, making a commitment every Saturday for 14 months while maintaining his already busy schedule with work and family. The EMBA program, tailored to business professionals, provided an opportunity for collegial engagement and group work designed to push students to think and perform at a higher level to make an impact in the business world.
Rider's Impact on Lynch's Career
The EMBA program has given Lynch an added credential, but more importantly exposure, networking opportunities and a greater knowledge of people. Passionate about leadership, advocacy and professional development, Lynch found the EMBA program enhanced his understanding of the business world. A defining moment was the program's international trip – a 13-day immersion for his EMBA cohort. The group traveled to Croatia and Germany, comparing the emerging financial market in Croatia to that of Germany's mature financial market. Learning first-hand about the cultures and business practices of other countries gave Lynch a global perspective, something he plans to incorporate as a manager.
Continued Success
Lynch has been successful as an assistant vice president and retirement investments product manager at Bank of America Merrill Lynch, responsible for managing the investment product and strategy inventory for 200 fund partners, $200 billion in investments, 50,000 accounts, 20,000 financial advisors and 10,000 investments. His achievements in business draw on his outgoing demeanor and skill as a "people person," where he thrives on making connections and searching for authenticity in his interactions. He is a firm believer in a business model being kinder and gentler, focused on people as much as the bottom line. The EMBA was an accomplishment for Lynch and his family that he hopes will lead him to a future managing a large organization or enterprise development.
Leadership
Advocating for professional growth and development, Lynch won a Bank of America Global Diversity and Inclusion Award as a leader who started and ran a successful mentoring program.

Global Perspective
Lynch had never traveled to Europe before the EMBA's International Business Seminar to Germany and Croatia. For him it was the culmination of the program, providing cross-cultural awareness of the international economy in a fast-changing and highly competitive marketplace.

3 + 2 + 1
With a loving wife, three daughters and two granddaughters, Lynch carved out time from his busy family life to pursue an advanced degree designed to accommodate working professionals.