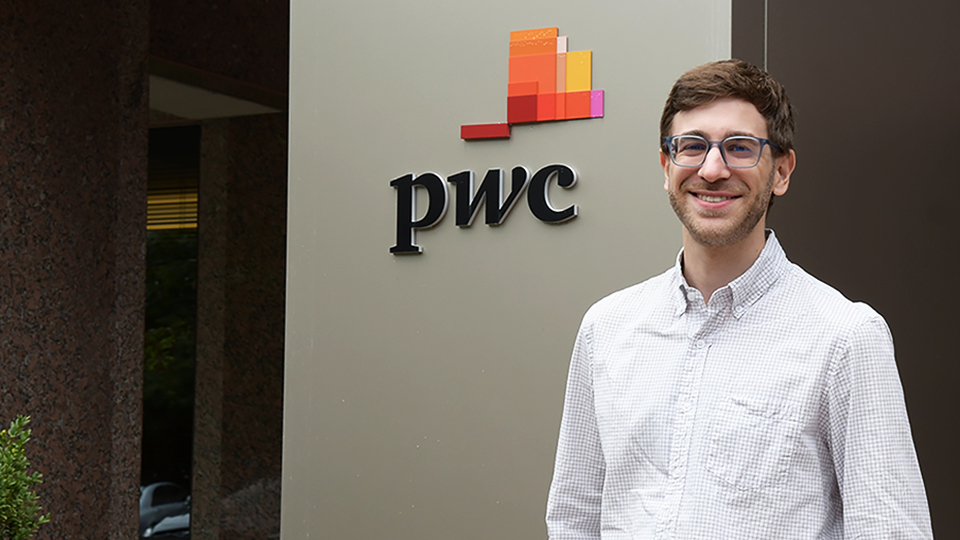 Global Mobility Services Tax Associate at PwC
Major: Master of Accountancy
Every day I face new scenarios at work, and I realize I have the confidence to tackle anything, thanks to Rider.
Why Kyle Chose Rider
The path from classically trained clarinetist to accountant may take a circuitous route, but for Kyle Rubin of Newtown, Pa., the pieces fell into place almost seamlessly. After receiving a bachelor's in music from Syracuse University, he chose to switch gears instead of pursue work in the music industry. He obtained a job at a law firm and learned about basic income tax and estate planning. He was surprised to learn that he enjoyed and was adept in the income tax portion, a discovery that ultimately led him to Rider University's Master of Accountancy program.

With no prior business school classes, Kyle needed to fulfill many prerequisites. He appreciated the flexibility of the MAcc program, where he could take both online and evening classes and complete the degree requirements in just two years. It also afforded him the unique position of maintaining his law firm position, where his responsibilities overlapped nicely with his studies. As a graduate student, he discovered a close-knit community that was there to support him and was deeply invested in his success.
Rider's Impact on Kyle's Career
The MAcc program was targeted to Kyle's focused interest in tax accountancy and through faculty members and his membership in Beta Alpha Psi, the international accounting and finance honor society, he made invaluable connections. In addition to the curriculum, group work, projects and presentations, he took advantage of the many opportunities offered through Rider to grow his career, including professional development events, career fairs, public speaking training, resume writing and interview preparation. As a graduate assistant, he worked on promoting business concept competitions for high school students, mirroring his belief in investing in young students to help them learn and grow as adults. Doors started opening for him, ultimately leading him to PwC.
Continued Success
Throughout his studies, Kyle knew he had made the right choice in selecting Rider. That was confirmed when he received his first call back from PwC for a position. In his current role as a tax associate in the global mobility services department at PwC, he works with people and companies all over the globe, supporting employees who are working internationally with tax compliance issues. Always one who relishes experiencing new things, from international foods to all genres of music, he has a position that affords him an opportunity to learn about different traditions and business practices in an environment that supports diversity.

Kyle is currently studying for the CPA exam with a short-term goal of completing it by fall of 2020. Simultaneously he plans to work as hard as possible to build his career as a tax accountant. As he pursues his business path, music is still very much a part of his life. He keeps up his interest in clarinet performance on the weekends, playing in a church choir and with a local New Jersey orchestra.
Global Perspective
Kyle interacts daily on a global scale, helping companies that have employees working internationally with tax compliance through the network of PwC global offices.

Honor Student
Kyle was a member of Beta Alpha Psi, an international accounting and finance honor society with a chapter on campus at Rider University. He found his involvement extremely beneficial, attending professional events and social activities designed to help build his network.

Mentor
Kyle served as a graduate assistant in the Norm Brodsky College of Business. He worked on the Norm Brodsky Business Concept Competition, designed to promote exceptional effort, skill and creativity among high school students.
Rider University helped me learn how to learn. Every day I face new scenarios at work, and I realize I have the confidence to tackle anything, thanks to Rider.
Master of Accountancy