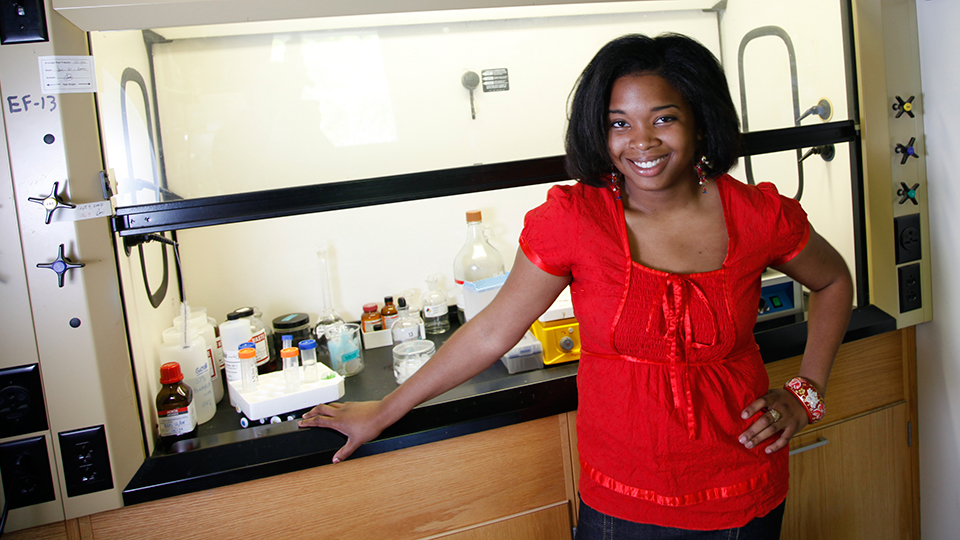 Ph.D. Candidate, University of Medicine and Dentistry of New Jersey (UMDNJ), Biomedical Science
Major: Biology
Minor: French
Working in Dr. Yavelow's lab at Rider made me realize I really like lab work and research — and that changed my career path.
The Proof Is In Our People
Why Kimyata Chose Rider
Drawn by the small campus, small class sizes and the one-on-one attention offered by the science department, Kimyata initially came to Rider to study biology as her first step toward becoming a medical doctor. During her sophomore year, Kimyata began working in Dr. Jonathan Yavelow's lab exploring ways to isolate and sequence the BRCA2 breast cancer gene. "I realized I really liked working in the lab. It gave me the opportunity to apply what I learned in biology and chemistry class. It was a different way of thinking and learning. And that changed my career path."
Rider's Impact on Kimyata's Success
Kimyata believes her learning went beyond the classroom and lab at Rider. "Rider prepared me well. The small class sizes, hands-on learning, one-on-one communication with my professors, the interest they took in me and their willingness to provide extra help after hours — all of that helped prepare me for the future."
In addition to working on independent research, Kimyata was involved in various campus organizations, held leadership positions and worked as a resident advisor. "All my activities provided such great experience for me and taught me to manage my time. Throughout my years at Rider, I was exposed to different careers in science through workshops, seminars and career development. That helped me realize there were other career options out there."
Continued Success
Kimyata is now a doctoral candidate at the University of Medicine and Dentistry of New Jersey where she is working in Dr. Theresa Chang's lab in the Public Health Research Institute. Her current research is aimed at understanding the proteins involved in HIV infection and developing more antiviral therapies and other treatment.
"Working side-by-side with professors in the lab at Rider taught me how to communicate with them and gave me a comfort level that I took with me to grad school. It gave me the confidence to pursue science and a Ph.D. It helped prepare me for the next step," Kimyata said.
Scholar
Kimyata was nominated by one of her Rider professors for a McNair Scholarship, which covered all her tuition costs during her junior and senior years. As a McNair Scholar, she was encouraged to pursue research and received guidance in applying to graduate school.

3 Years
Time that Kimyata spent working in Dr. Jonathan Yavelow's lab doing hands-on experiments and research on the breast cancer gene.

Time Management
Throughout her four years at Rider, Kimyata honed her time management skills through various activities and leadership positions, ranging from math tutor and resident advisor, to treasurer of the Intervarsity Christian Fellowship and vice president of the American Medical Student Association.
I will always be grateful to Rider and the resources and mentors there who helped motivate and encourage me to pursue my career.
Biology