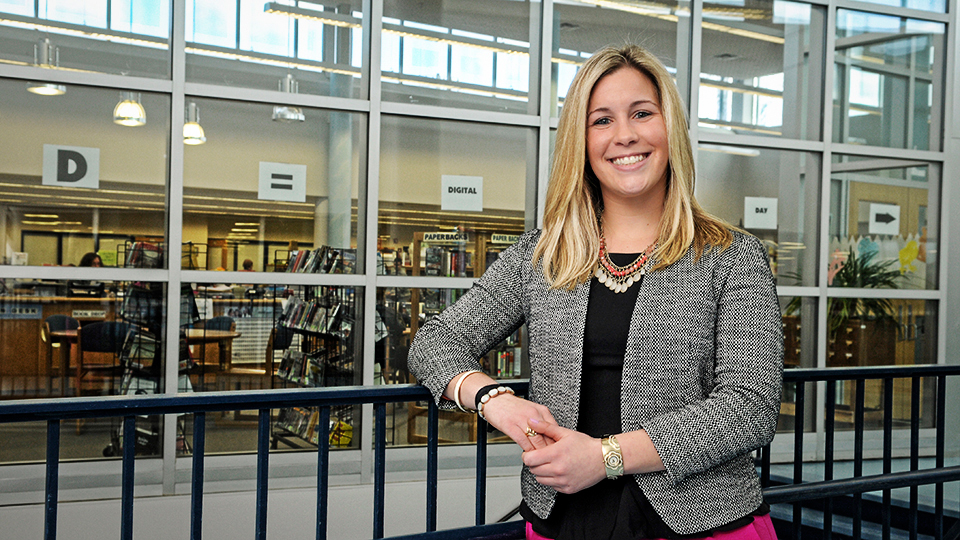 Kelly

Crist

'10

,

M.A. '12
Guidance Counselor at Middletown High School North
Major: Sociology
Choosing Rider was the best decision of my life.
The Proof Is In Our People
Why Kelly Chose Rider
As a transfer student, Kelly came to Rider to join the field hockey team, but immediately fell in love with the campus, the people and the college atmosphere. "Rider is a close knit community. Everyone on campus is friendly and everyone wants to help you succeed."
Academically, athletically and socially, Rider was a perfect fit for the future Guidance Counselor. "Rider offered all I was looking for in a college: an intimate campus setting with personable professors and faculty, small class sizes, the opportunity to get involved, and tons of school spirit and Rider pride," notes Kelly.
Rider's Impact on Kelly's Success
Kelly's graduate professors helped her to learn, grow and succeed. "Professors Trevor and Julie Buser inspired me to pursue my current career. I can't thank them enough for the impact they had on my career and my life."
It was the small class sizes and personal relationships she developed at her time at Rider that made her experience special. "My professors cared about me, my coaches became a second family and my years at Rider were some of the best of my life."
Continued Success
Kelly always knew she wanted to pursue a career in education, and she credits her professors at Rider that helped prepare her for the rigors of working in a large school. "I was completely prepared to take on the workload I have now – thanks to my professors at Rider."
Through undergraduate and graduate school at Rider, Kelly learned the necessary skills to be successful in her career. "Rider's School Counseling program far exceeded my expectations. The professors stood as role models and inspired me to become the best I can be."
"I am so happy with my career. This is what I always dreamed of doing."
Since graduation, Kelly changed high schools and now works in her alma mater. "I have a Rider pennant in my office, everyone in school knows where I went to school, and my friends now are the ones I made at Rider."
1 + 2
While getting her master's degree, Kelly completed a practicum at Robinson Elementary School and two internships at West Windsor-Plainsboro High School South; all of which gave her the confidence and the skills she needed to handle the area life situations one faces everyday as a school counselor.

3 Months
The time it took Kelly to land her first job after completing her Masters in School Counseling.
I was completely prepared to take on the workload I have now – thanks to my professors at Rider.
Kelly
Crist
'10
,
M.A. '12
Sociology