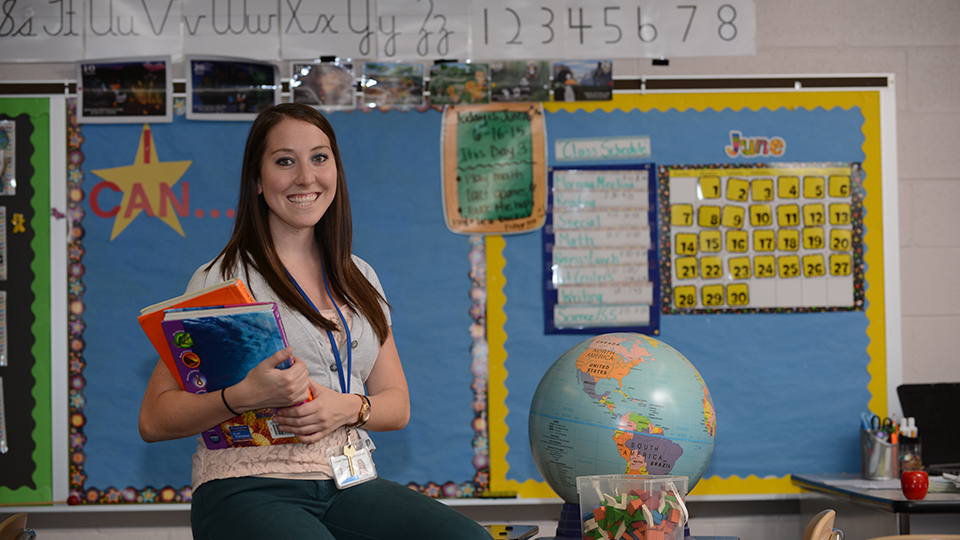 Third Grade Teacher at Logan Elementary School
Majors: Elementary Education, Journalism
I've received really good, positive feedback about my effectiveness as a first-year teacher. I owe that to the great education I received at Rider.
The Proof Is In Our Students
Why Katie Chose Rider
When Katie came to visit Rider, the aspiring teacher already knew about the University's accredited and respected education program with field placement opportunities beginning sophomore year. She also knew Rider offered a degree in journalism — another major she wanted to pursue. What excited her was the feel of the close-knit community. "I knew right away it was a school where I could walk around campus, see people I knew and say "hi," says Katie. "I felt at home."
Rider's Impact on Katie's Career
Through her field placements at four different schools, Katie gained valuable classroom experience teaching children at a variety of grade levels. She built a professional résumé along with a portfolio with sample lesson plans, videos and photos of herself teaching. She also learned about the Common Core State Standards and teacher evaluations. "I had strong credentials and actual experience I could talk about," says Katie.
Continued Success
In addition to teaching, Katie gained hands-on experience through campus activities, including working as a staff writer and editor on the Rider newspaper. "We had advisors, but students wrote articles, organized storyboards and layouts, and decided on photos," she says. "It was amazing. I learned a lot about design and interviewing. I even interviewed Carl Bernstein and Erin Brockovich!"
Katie, who double majored in journalism, also landed a 5-month internship at Philadelphia Magazine. The magazine later hired her as a freelance fact-checker. After graduating, she was offered two teaching positions and is now a third grade teacher at Logan Elementary School in Logan Township, NJ. "My journalism degree and experience helped me to stand out," says Katie. "I brought a different set of skills to the classroom."
3+1+1 The number of classroom field experiences and student teaching assignments Katie had while attending Rider — plus an editorial internship at Philadelphia Magazine.

2 The number of jobs Katie held on campus as an admission tour guide and newspaper editor.

2+2
Katie was offered two jobs within two months of graduating.
"At Rider, we learn to teach by doing through field placements and internships. It was the best preparation. When I was hired as a full-time teacher, I knew what to do because I'd already done it."
Elementary Education, Journalism